---
SENIOR NATIONALS ROUND UP
Senior National Championships 2022
Saturday 5th March
Players congregated at Bells Sports Centre in Perth for this year's senior national championships. With the last championships only taking place in October, due to the enforced Covid break. The action from October was still fresh in the memories of the players, coaches and the watching spectators. The Perthshire weather was certainly cold and frosty however it did not take long for the heat to be turned up in the hall with a day of some dazzling play.
The big change for this year's tournament was the equal prize money for both the men and women which was a fantastic touch with the upcoming International Women's Day.The theme is to break the bias and it is great to see our sport contributing towards this.
Mens Singles
With an entry of 35 players split into 9 groups with the two top players from the groups proceeded through to the knockout stage of the tournament. There were no major shocks in terms of expected seeds not coming through their groups however it was who would come through as the group winner or runner up which caught the eye.
In group four we nearly had the first shock of the tournament as number 4 seed Danny Bajwa from Dumfries found himself down two sets to zero and facing four match points trailing 10-6 against David Hay from Dundee who for this season as based himself at Grantham College where the hard work was certainly paying off with some sharp play. Danny must have studied the arts of houdini as he turned the match around and won 11-7 in the final set.
We did have a shock in group seven where the experienced internationalist Niall Cameron lost out to exciting junior prospect Borui Chen. Borui trailed two sets to one however showed fantastic consistency to win the match 11-7 in the final set.
In group eight Sean Doherty overcame the seeding as he prevailed in three straight sets over Drumchapels Yaser Razouk however following Seans results this season and only returning scottish table tennis after a hiatus. You may find Sean will be seeded in future tournaments. It was always going to be tough for whoever Sean would face in the group stages as he is not a player you would want to face early in the tournament.
Two preliminary matches were required before we moved on to the last 16. South Ayshires Kieran Walker defeated Stirlings Yubo Rasmussen in an entertaining encounter and in the battle of North Ayrshire clubmates Jamie Johnson and Nathan Hogg; Nathan moved through to the last sixteen stages.
Last sixteen highlights saw David Hay push number five seed Calum Morrison all the way to a fifth set where Calums experience overcame his younger opponent. Borui Chen moved forward to the quarter finals defeating Murrayfield coach Gordon Muir in five sets. Danny Bajwa was ruthless in ending Niall Cameron's campaign in three straight sets. North Ayrshires Chris Main took out Yaser Razouk in four sets which on paper was the match of the round. Sean Doherty defeated John Hannah in three sets. Gavin Rumgay, Colin Dalgleish and Martin Johnson all moved through to the quarter finals with little trouble in their matches.
In the Quarter Finals it is best to start with the match between Danny Bajwa and Martin Johnson which contained the point which has since gone viral on social media where at the time of writing this report there are thousands of shares, likes and comments throughout the world of Table Tennis. Iif you have not seen it yet then i would simply say it is a must see. I can not do it justice describing what happened in the report however I suspect most have seen it by now. Martin came through this match in four sets to move to the semi finals however this will always be etched in everyone's memory just simply for the moment which has been dubbed the point of the century.
Calum Morrison defeated Chris Main in three sets and Colin Dalgleish moved through also in three straight sets to end Borui Chen's impressive run to the quarter finals.
Danny and Martin may have had the point of the round however Gavin Rumgay and Sean Doherty had the match of the round. It was nip and tuck throughout as Gavin took the first set, Sean then replied and this repeated until we moved into the final set. In the final set it was hard to back against our 15 time champion and Gavin took the match, opening an early lead where it was too difficult for Sean to pull back.
Semi Finals saw both Colin Dalgleish and Gavin Rumgay move through to another final against each other however both matches were certainly different with 3-0 scorelines. Colin had the upper hand throughout against Calum Morrison although 1st and 3rd sets were close Colin was just always ahead to control the match and take the victory.
In the Gavin and Martin match it was all about the missed opportunities Martin missed in the first two sets. He just could not find that winner or possibly the fact that Gavin would not make an error. In a carbon copy of their semi final in October's championships, Martin put Gavin under great pressure however credit to Gavin for once again finding a game plan which took him through to another national championship final.
Gavin and Colin faced off against each other in the final for the 4th year in a row and with Colin looking to level the head to head in finals with Gavin. In the final Colin came out the blocks fast taking the first two sets. Set number two was full of tension as Colin took it 16-14. Gavin replied taking a key third set 11-9. Colin's standard of performance was not dropping and in set number 4 he took it 11-8. Leading three sets to one Colin was looking strong putting pressure on Gavin to increase his performance and to overcome the deficit. Gavin has never backed away from a challenge on the table and that's what transpired. The match remained tight however Gavin would just keep opening a 2-3 point in the set in set five & six and with his strong serve and receive game this would always be difficult for Colin to get back into it. Gavin levelled the match and took it to the final set decider.
This match deserved seven sets and the tension within the hall was there for all to see and hear with both players having strong support. Gavin like the previous two sets, just got his nose in front and secured victory 11-7 in the final set. Gavin with usual outgoing celebration for title number 16 and Colin gracious in defeat they certainly brought a great match and great advert to our game.
Ladies Singles
The ladies competition had an entry of ten players as they played out in two groups with top two players from each group moving forward to the semi finals.
Group 1, we saw top seed and defending champion Rebecca Plaistow drawn with Lara Stirling, Jessica Hogg, Shannon Brown and Alisa Khalid. This group did go to the script and Rebecca topped the table and Lara took the runners up position.
In their match to decide who would come out on top Rebecca prevailed in three sets. Rebecca didn't have it all her own way in the group dropping sets to Dumfries Shannon Brown and Drumchapels Alisa Khalid. In the match which would ultimately decide the runners up position Lara came through against Alisa in three sets.
Group two contained Lucy Elliott, Faye Leggett, Holly McNamara, Paula Callaghan and our furthest travel competitor for the event Joan Smith from Shetland. Like group one; the two top seeds did make it through to the semi finals however for these ladies there was certainly some twist and turns before they got there.
Leading up to the final match face off between Lucy and Faye. North Ayrshires Holly McNamara and Drumchapels Paula Callaghan played a great five set match with Paula coming out on top. Holly then continued in another five set thriller this time against Lucy Elliott pushing all the way to deuce in the fifth set with Lucy winning 12-10. Faye moved through her matches with little trouble only dropping one set against Paula. In the group decider Faye moved into a two set lead over Lucy however Lucy showed great determination in levelling the match at two sets all. For the second time in the group Lucy came out on top 12-10 in a final set to take the top billing and Faye moved through to the semi finals as runner up.
The semi finals saw group one winner Rebecca Plaistow up against Faye Leggett and group two winner Lucy Elliott faced off against Lara Stirling. Faye was in outstanding form shocking the number one seed and multiple time champion from South Ayrshire. Faye took victory in three straight sets and was able to subdue the two winged attack that was being thrown at her and made very little enforced errors. In the second semi final Lucy out powered her opponent from Falkirk and moved to another national final in three straight sets. Lucy just did not let Lara in the match and was impressive throughout.
Ladies Final saw a repeat of the earlier group match and if the standard and tension was anything to go by what a match we had in store. It is worth noting that these two also played out a classic when the nationals was held in October where again Lucy managed to close out a tight match. Faye started very strongly securing the first set in quick fashion, Lucy not able to find her groove with expansive attacking game. In set two Lucy did come back into and won the set to deuce however this was the last time Faye allowed her opponent any opportunity as she went on to secure the next two sets to take a 3-1 lead in the match. Faye clearly learned from their match earlier in the day with a definite game plan to reduce her opponent and this continued in set five where the Edinburgh youngster took her first senior national title winning the set 11-9. The result was very tough for Lucy to take considering her win against Faye earlier in the day, however fantastic effort in coming through and participating in another national final.
Mens Doubles
There was no shocks in the men's doubles as at least three of the expected pairings to reach the semi finals did so however the quarter final match between the youngsters of Nathan Hogg & Jacob Munro v Charlie McGowan & Borui Chen was the tough one to call however it was the Hogg/Munro pairing which prevailed and moved forward to the semi finals winning in three tight sets.
In the semi finals we saw the number one seeds going for their third title in a row. The pairing of Martin Johnson & Danny Bajwa taking on Chris Main & Sean Doherty. The older pairing of Main/Doherty took the victory and won in three straight sets to end the young pairing's quest for three in a row.
Semi-final number two saw the pairing of Colin Dalgleish / Calum Morrison being ruthless in dispatching the young pairing of Hogg & Munro in three sets to move to the final. I'm sure both Jacob and Nathan were delighted in going so far in the tournament and relished the experience.
The Men's doubles final was certainly a cagey affair as doubles matches can play out as the match went on the standard improved with neither pair giving anything away. It was the Dalgleish & Morrison team that took the opening set however Main & Doherty fired back and took the next two sets to take the lead. Calum and Colin replied and took set number four to set up a final set decider. It was Sean and Chris who edged in front and took the set and their first title as a pair. This was another triumph for Sean a doubles category and after many attemps Chirs first national title.
Ladies Doubles
In a straight shootout semi final draw saw defending champions Lucy Elliott & Rebecca Plaistow take on Shannon Brown & Paula Callaghan. There was little trouble for the Elliott & Plaistow pair as they moved through to the final in three straight sets.
In the other semi final, Lara Stirling & Holly McNamara faced Faye Leggett & Alisa Khalid. This match although reads as a 3-0 victory for Faye & Alisa it was anything but straightforward as Lara & Holly can count themselves unlucky to lose out to deuce on every set.
The final was an entertaining affair as the first final to be played out on the day and was a highlight for the watching crowd. The first set did not seem like it was ever going to end however it was Faye & Alisa who pipped it winning 18-16. Set number two the defending champions recovered and took it a little easier than the first set scoreline. It was Faye & Alisa who then recovered taking another tight set 11-9. The crowd sensed a possible shock as our multiple time champions were in trouble however the pair recovered and took set four and set up the final set decider and they managed to stay clear and took victory 11-8 in the final set and another ladies doubles title.
Mixed Doubles
The final event to be played out on the saturday as always is the mixed doubles. Patience is certainly required for the participants as our control table juggles the events in the singles and doubles to then get completion of the mixed doubles. In summary this means waiting for Colin Dalgleish. This is not to take anything away from the event as it brings an entertaining conclusion to the day's play.
Making their way through to the semi finals we saw top seeds and defending champions Colin Dalgleish & Rebecca Plaistow take on Chris Main & Holly McNamara. Colin and Rebecca moved through to the final taking the match 3-1 and a chance to go for another title
In the next semi final the Drumchapel pair of Yaser Razouk & Lucy Elliott faced off against Sean Doherty & Alisa Khalid. The first set Yaser & Lucy took with relevant ease however Sean & Alisa can count themselves unlucky as they lost sets two and three to deuce where a couple of key points they could of found themselves leading the match however this was not to be the case as Drumchapel paired moved forward to the final.
The last final of the day was a tight affair with Colin & Rebecca taking the first set 11-9 the second set was even tighter as the defending champions moved into a two set lead taking it 15-13. Yaser & Lucy rallied and picked up set number three as they looked to fight back. It was not to be; Colin & Rebecca picked up another mixed doubles title winning the set four 11-8.
This brought a close to this year's senior championships. There was a fantastic buzz in the hall throughout the day with the watching crowd treated to some fantastic play. You will see from the results and the report that so many matches went deep into the sets. We had players throwing themselves to the ground to do anything to win that point and the passion shown for winning and losing for a game that means so much to our players. A massive well done to our champions and huge thank you to referee Stewart McGowan and his team for ensuring the event ran smoothly. This was not the end of our weekend as we went again with Juniors the next day.
Mixed Doubles Winners Colin Dalgleish & Rebecca Plaistow
Mixed Doubles Runners Up Lucy Elliott & Yaser Razouk
Mens Singles Winner Gavin Rumgay
Mens Singles Runner Up Colin Dalgleish
Mens Doubles Winners Chris Main & Sean Doherty
Mens Doubles Runners Up Calum Morrison & Colin Dalgleish
Ladies Doubles Winners Lucy Elliott & Rebecca Plaistow
Ladies Doubles Runners Up Alisa Khalid & Faye Leggett
Recommended Posts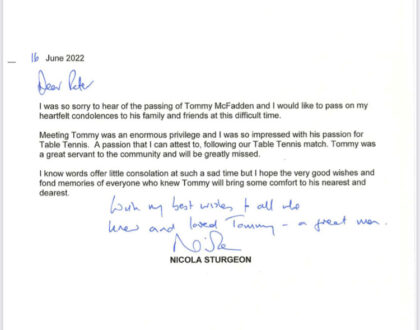 June 27, 2022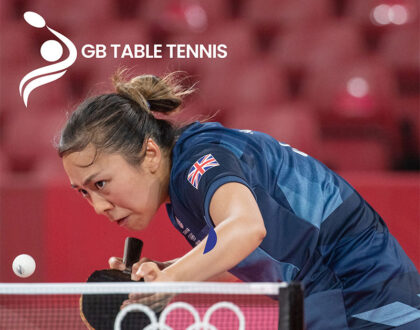 June 10, 2022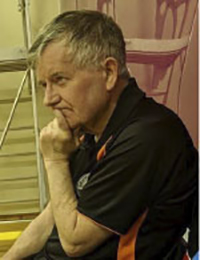 June 06, 2022