---
Nationals Junior Report and Results
Scottish National Championships results
Scottish Junior National Championships 2021
Report by Mark Lundberg
It was day two of the championships and the players arrived at Bells Sports Centre. This time it was Juniors to take centre stage and could they provide the same drama as the Saturday?
Once again we saw a very good entry for the tournament with players travelling from all parts of the country to take part. I'm sure the parents of players missed the early morning alarm going off to act as chauffeurs to their future champions to take them to the sport we have missed so much with covid enforced break to competition table tennis.
This time it was Deputy Referee for the day Barry Johnstone who welcomed the players and gave the housekeeping rules for the day ahead. Just after 9am we were set for the action ahead with the matches being called to the table.
Junior Girls
The eight entrants for the competition were split into two groups of four with number 1 seed Faye Leggett from Edinburgh heading group 1 and number 2 seed Amelia Norbury also from Edinburgh leading the 2nd group. With the two top players moving through to the semi finals.
Group 1
Faye had little trouble overcoming her opponents as she continued to show the good from the day before winning her group to move to the semi finals awaiting the runner up from the 2nd group. The battle in this group would come from the other players to who would proceed through to the Semi Final.
Maria De Silva from Dumfies took on the higher ranked Jessica Hogg from North Ayrshire. In an interesting observation we saw Greig McDonnell in Maria's corner. Greig the father of Hannah from Penicuik who was playing in group 1. This meant Maria's father Dylan coached Hannah in this group. This shows the community we have within our game with two girls from different parts of the country being able to use the support of each other to help them succeed.
Speaking from experience know the stresses at times of having a parent in your corner however I'm sure both girls are far more polite in their conversations during the match than I ever was to my dad however I thought it was a nice touch
Back to the match in hand and what a match it was we saw Maria keep her cool and sealed victory 11-9 in the 5th Set. Enter Megan Mulhern from DrumchapeL who would have her say in how this group would end up. Megan defeated Maria in her match and then Jessica then went on to beat Megan This would mean top table would have their first head scratching moment of the day after reviewing the group on countback it was determined Jessica would proceed to the semi final.
Group 2
This group threw up some interesting close matches, no more than the group deciding match between Amelia Norbury and Holly McNamara from North Ayrshire. Before this decider, there was some great table tennis from the other competitors. This saw Amelia claim victory over promising cadet girls Hannah McDonnell from Pencuick and Shannon Brown from Dumfries; she never had her own way in these games but was able to claim victory.
The same could be said for Holly also when we talk about parents watching. banishes her own father John from even being in the hall for her games. Something that when speaking to John he is quite happy with as he gets to see the beautiful sights of Perth on his bike during the day. Holly defeated Hannah and then Shannon in a tight match to then take on Amelia to see who would move through to the semi final in places one and two.
It did seem early on that Amelia would move through to the semi finals without little trouble taking a two set lead in the match. Holly would not be rolling over this easily though as she showed great spirit to win the next two sets to set up a final set decider.
It was Holly who was able to keep her composure and took victory. Taking a lead early in the set although Amelai tried to fight back however it was Holly who would move through to the Semi Finals as group winner.
Semi Finals
Faye took on Amelia in the battle of Edinburgh's top Junior Girls. Faye showed a similar vein of form that we saw over the weekend with punishing no mistake table tennis and took victory in three straight sets however like so many matches. The first set was key, which was won 12-10. If this swung the other way we could have seen a different match develop.
In the 2nd semi final North Ayrshire clubmates Holly and Jessica would face each other. This is always a difficult match up as the two friends know each other so well. It would be decided who would be more ruthless and claim victory and this was Holly who moved through to the final in three straight sets.
Final
Faye Leggett v Holly McNamara
It may start to become boring saying the same things about Faye's game however she is just ruthless in her approach. Full of determination and concentration she at times just overwhelmed her opponents and this was the case in the final. Holly tries her best to open up attacks and try to overcome her opponent but Faye just doesn't allow you with very good tight services followed up with her counter hit game you need to be on top form to live with this.
Faye took victory in three straight sets however Holly without a shadow of doubt is a quick learner and has improved her game under the watchful eye of her coaches in North Ayrshire and will continue to develop and close the gap with the higher ranked players within Scotland. To finish on Faye who took a break away from Scottish Tournaments in Pre Covid times was fantastic all weekend. Now at Edinburgh University who have a fantastic table tennis club full of fun and action will help Faye continue in her development.
The Junior Girls typify Sport Scotland campaign for October with #shecanshewill #activegirls. If you copy this hashtag into your social media what fantastic stories you will see of the women in sport in Scotland.
Junior Boys
The junior boys were split into 5 groups of 4 players with the two top players moving through to the knockout rounds.
Group 1 – top seed North Ayrshires Martin Johnson moved through with little trouble with Aaron Richardson from Drumchapel taking 2nd place
Group 2 – Charlie Morton won the group with three win after overcoming a challenge early from Nathan Hogg from North Ayrshire. Jacob Munro came 2nd in the group after defeating both Nathan and Edinburgh's Jamie Toner. Nathan overcame Jame 3-0 however more to come on these two later in the day in the Cadet Boys.
Group 3 -Kieran Walker top the group over Dundee's David Hay. As predicted with recent results between the pair a thriller was played over 5 sets where Kieran was able to claim the victory and top of the group. This was certainly the start of Kieran being involved in what I described as epic matches throughout the day and a headache for top table as the young Mr Walker from South Ayrshire would be involved in so much of the play ahead. David secured 2nd place in the group winning his other two matches.
Group 4 – Jamie Johnson from North Ayrshire topped the group over the higher seeded Borui Chen from Murrayfield. Exciting youngster from Aberdeen Harry Blackhall was not able to overcome the group Borui in their match and South Ayrshires Kris Taylor gave a good account of himself in his matches however Jamie and Borui moved to the next round.
Group 5 – Dundee's Andrew Nimmo top his group with a fantastic victory over the higher seeded Rayyan Khalid from Drumchapel. These two would move through the group in that order both able to overcome the talent from Murrayfield Charlie McGowan and South Ayrshires Euan Walker.
Preliminary Rounds
David Hay faced off against his dundee clubmate Jacob Munro. In an intense battle in a similar vein of their football club derby. David took victory in 4 sets with the match locked at one set all, set number three was vital as David took it 12-10. And then winning the match by taking set 4.
In the other preliminary rounds, group 1 & 4 runner ups Aaron Richardons and Borui Chen played out their match with Borui taking victory in three straight sets to move through to the quarter final
Quarter Finals
Quarter Final 1 – Top seed Martin Johnson faced off against David Hay in the first quarter final. Martin being the heavy favourite was put under pressure by Davids close to the table attacking game. He was able to subdue the Johnson power game and he took the first set 12-10. You could view this match with a similar theme to Martin senior semi final the day before against Gavin Rumgay. Heavy favourite being put under pressure by the underdog. David nearly took set 2 losing it 13-11. This seemed to calm down Martin and he took the next two sets to clinch victory. Where he was able to relax more into the match and starting to find his groove however this was commendable performance from David to really push Martin early in the match.
Quarter Final 2 – were the unexpected group winners if the seeding were to be believed had Jamie Johnson and Andrew Nimmo. Jamie dispatched Andrew in very efficient fashion, moving to the semi finals in three straight sets.
Quarter final 3 – would be the match of the round and it was no surprise it involved Kieran Walker. HIs opponent was Rayyan Khalid and what an encounter that transpired. Both players never let up in trying to gain the upper hand early in the rallies. The first two sets went to Rayyan. The spirit of Kieran would not be subsided even after losing set number 2 13-11 and unlike so many matches over the week his head never went down and won set number three 12-10 and then pulled the match back winning the fourth set 11-8.
In the final set we reached 10 – 10 . All eyes in the hall were on the match and who could hold their nerve and clinch victory. It was the boy from Drumchapel who was able to win the match. Rayyan must be commended for holding his nerve after Kieran coming back at him and after a strong showing in the Mens Seniors the previous day could he go another step in the competition and reach the final.
Quarter Final 4 Number 2 Charlie Morton faced off against Borui Chen, There was little trouble for Charlie in this match and he moved through to the semi finals relatively unscathed winning in three straight sets.
Semi Finals
In the first semi final, it was the battle of the Johnson brothers Martin v Jamie with their parents sitting on the sidelines; this must have been very difficult for them to watch however both bursting with pride. In the equivalent of putting a young brother in a headlock in table tennis terms. Martin took victory in three straight sets. It must be a very strange situation playing against your brother. It must be commended though that both reach a semi final of the national championships and the opportunity to play each other however it would not be the end of the glory for this North Ayrshire pair but more on this later.
In the 2nd semi final Glasgow duo Charlie Morton & Rayyan Khalid played out their match. Maybe still recovering from his quarter final Rayyan was not able to break down Charlie's game. Winning in three straight sets in ruthless form; Charlie would move through to the final.
Junior Boys Final
Martin Johnson v Charlie Morton
In the first set both players traded with each and there was not much to separate them. The set took a change halfway through where highly experienced international umpire Jonathan Whitaker identified an issue with Martin not throwing the ball straight and a foul service point was given against him. This seemed to distract Martin and Charlie took full advantage and won a series of points with some fantastic play from both the forehand and backhand side. and took the set 11-7.
Martin clearly regrouped at the change of ends and in set 2 came out all guns firing. Making zero errors and hitting clinical winners took the second set 11-2. There was no stopping the number 1 seed after this his display was faultless and you wouldnt of even said Charlie's form took a dip. Martin simply was just in devastating form and the hard work he is putting in being based down at the Archway club in Peterborough is paying off. He took sets 3 and 4 and the title of Junior Boys National Champion.
Cadet Girls
Playing in two groups of three the cadet girls competition were split by number one seed Shannon Brown from Dumfries and Hannah McDonnell from Pencuik unfortunately due to injury Hannah had to withdraw during the group stages.
This meant the two players in group two would proceed to the semi finals with Megan Mulhern from Drumchapel overcoming Kiishi Adekola from Aberdeen as group winner.
In the first group top seed Shannon Brown went through as group winner with Aberdeens Maja Wojciki taking the 2nd spot as both players won over Julia Domagala from Edinburgh and Shannon winner over Maja.
Semi Finals
In the first match Shannon won in 3 sets over Kiishi and also in 3 sets Maja won over Megan to set up a repeat of the group one match in the final. Could Maja overcome the earlier defeat?
Final
Shannon Brown v Maja Wojciki
In a highly entertaining final it was visible how much the talented duo wanted to win and they played out a very close encounter. Shannon took a tight first set 12-10 and also the second set 11-9. Maja took set number three 11-7, not allowing the disappointment of losing the first two sets to deter her spirit. In set number four, Shannon showed great composure not allowing her younger opponent back into the match and retained her cadet girls title winning the set 11-7.
Cadet Boys
The cadet boys were split into four groups of four players with the group winners and runners up moving through to the quarter finals and once again we were not disappointed with the drama and standard which unfolded.
Group 1
Borui Chen the number one seed for the competition was placed in a group with the dangerous Kieran Walker joining them were Dumfries Rueben De Silva and Robbie Martin from Aberdeen eagerly watched by their fathers Dylan and Ross who im sure would also have played out a great match look out for the veterans competitions this may happen. It was Borui who came through as group winner with Kieran taking 2nd spot with Ruben taking 3rd spot.
Group 2
This group provided possibly the shock of the day throughout all the competitions on Sunday. You may remember I mentioned earlier in my report that there was to come regarding Nathan Hogg and Jamie Toner.
In the earlier Junior Boys group Nathan defeated Jamie 3 – 0. This time Jamie defeated Nathan 3-0. During the social media coverage throughout the day Jamie was described as a potential banana skin.
This is due to Jamies awkward style where he plays with Anti-Loop rubber on his backhand side and follows it up with an attacking forehand and if you don't have strategy correct he will be awkward to play against.
It is rare in Junior Table Tennis for a non conventional player to be present however it is so important in the development of young players that they learn to play against this type of player and Jamie is an asset to have amongst this group of players. This was a great win for Jamie over the 2nd seed and he would move through as group winner with Nathan taking the runner up position. It is worth noting to watch out for Bohoa Chen the younger brother of number 1 seed Borui and took 3rd place in the group over Mathew Pszonoka.
Group 3
Seeded Daniel Tibbetts from Aberdeen moved through to the quarter final with Haydn Jackson from edinburgh taking the runner up position. Joe Mulhern from Drumchapel finished in the 3rd place position over Victor Chen from Aberdeen
Group 4
Harry Blackhall from Aberdeen won over the higher seeded Charlie McGowan from Murrayfield as group winner Charlie came through the group as runner up. Jacub Krzyostianiak took the 3rd place position over Ruuraidh MacLean.
Quarter Finals
In a surprise to the draw Borui Chen took on the original 2nd seed Nathan Hogg. Borui played very well and was able to move through to the semi finals with victory in four sets. I would highlight what a great weekend for Nathan although he would be disappointed with his loss in the groups. He was involved in some fantastic matches over the weekend and each time he played a pleasure to watch with his fighting attitude.
Quarter final number 2 we had Harry Blackhall v Haydn Jackson. Harry took victory in four sets where he played high quality attacking table tennis to book his place in the semi final.
In the third quarter final Charlie Mcgowan moved through to the semi finals however he never had his own way as the match went to the final set. Charlie took the opening set and Daniel replied this would repeat in set three and four. Charlie finally took victory 11-6 in the final set.
Kieran Walker and Jamie Toner were the final quarter final and could Jamie repeat his heroics from the group. The match was tight in the first two sets with Kieran keeping his composure and tactics against the anti loop to take them both and moved through to the semi final taking set number three but he would have known he was in a match having to always be aware of what Jamies awkward style was throwing at him.
Semi Finals
Borui Chen took on Harry Blackhall in Semi Final number 1 and what a great match it was with both players never relenting from playing attacking table tennis. Borui took victory in 4 tight sets taking a two set lead with Harry clawing a set back in the 3rd and moved through to the final.
In the second semi final Kieran Walker took victory over Charlie McGowan in 4 sets. It was like a carbon copy in some ways like their compatriots in the other semi final. Neither player took a step back and always wanted to play the positive shot. Kieran was just able to always stay ahead.
The cadet boys semi final was witnessed by 15 time Senior champion Gavin Rumgay and both of us recalled our battles when we were at this age group and how negative we would play compared to the current crop of players.
Gavin was thoroughly impressed with the standard of these semi finals. All players involved showed great technique and willingness to always be positive and not sit back and hope their opponent would make a mistake which he believes is a great attitude to have for future success.
Cadet Boys Final
Borui Chen v Kieran Walker
When these two played out their group match earlier in the competition who would have thought they would play each other again in the final. Borui took victory in the group 3-0 could Kieran reverse this to take the title?
Borui came out flying in set number 1 and took it with ease this continued in set number 2 where Kieran was just unable to get any footing in the match and in all fairness to Borui he simply would not allow him too.
If you have been following my report and if you had the pleasure to watch Kieran. He just does not have it in him to stay down and allow himself to be negative when losing a match.
Those watching just knew he would try to fight and this is what he did. In a gruelling set number 3 he took the set 14-12 could he keep fighting and take the next one?
Borui would not allow this to happen as he never let Kieran into the match further taking the set 11-7 and the title of Cadet Boys National Champion.
Minor Girls
In a group of three played first thing in the morning our first champion of the day was declared before 10am. Maja Wojciki from Aberdeen was the champion. Runner up also from Aberdeen was Kiishi Adekola who both defeated Eilidh Tait from Kilmarnock but maybe a name for the future worth watching.
A great day for Maja with being runner up in the cadet girls and winning the Minor Girls
Minor Boys
Played in three groups of three with the winners and runner up moving through to the knockout rounds. Number 1 & 2 seed Daniel Tippetts & Ben Hart moved through to the semi finals as the group winners.
In the preliminary rounds to join them Bohao Chen went through to play Daniel as won in four sets over Jacub Krzyostianiak and in the other match Joe Mulhern would go through against Robbie Martin to play Ben Hart.
In the first semi final Danile had little trouble against Bohao and secured his place in the final in three straight sets
In semi final number 2 Ben Hart from Stirlingshire went through to the final as he won in three sets over Joe Mulhern from Drumchapel.
Minor Boys Final
Daniel Tibbetts v Ben Hart
This was another match which I enjoyed very much. Daniel took victory in three tight sets but very much like my comments about the cadet boys both young gents played the game which could perceive the correct way. Neither player wanted to give an inch and when the opportunity was there would open up with strong attacks. I would say the big difference was Daniel's ability to retrieve and always make Ben play won more shot and a dangerous left handed forehand which at times would whip across the table.
Junior Girl Doubles.
Shannon Brown & Amelia Norbury faced off against Holly McNamara & Jessica Hogg in the final with both players coming through a Knockout match prior where they both won in straight sets,
In the final victory would go to Shannon/Amelia who took victory in three straight sets. This was a great win as Amelia & Shannon both being from different clubs showed a great understanding of each other's game as their opponents are very familiar with each other. This goes to show further the great spirit and community we have by players able to team up and perform well.
Junior Boys Doubles
With no surprise this competition was another highlight of the day. The highlights from the knockout rounds were the Kris Taylor/ Charlie Morton match against Kieran Walker/ Nathan Hogg and surprise surprise Kieran and Nathan were involved in another one of these matches. The Taylor/Morton combination went through in five close sets
Aaron Richardson/ Rayyan Khalid had a fantastic match with Borui Chen/ Charlie Mcgowan. The pair from Edinburgh clawing back a 2 set deficit however lost a very close 5th set 11-9
The Johnson brothers Martin & Jamie moved through to semi-finals alongside Dundee Duo David Hay / Andrew Nimmo.
In the semi final the Hay/Nimmo duo had a battle against the Taylor/Morton combination going through to the final in 5 sets and they would face the brothers Johnsons who had little issue in dispatching the Richardson/Khalid combination.
Junior Boys Doubles Final
David Hay & Andrew Nimmo v Martin Johnson & Jamie Johnson
In the last match of a wonderful weekend we saw the final of the Junior boys doubles. The North Ayrshire duo of Martin/Jamie took the 1st comfortably 11-4. The young dundee duo fired back and took set number two 11-5.
Set number 3 was a close affair and the brothers were able to take the set 11-9. From a personal viewpoint it would have been fantastic if the boys from Dundee could fight back and take set number four and bring the weekend to a close with a 5 set battle. It was not meant to be. The brothers closed out the match and won the title in another close set 11-9.
Tournament referee and Scottish Table Tennis historian Stewart Mcgowan believing that this was the first time brothers had won a National Junior Doubles title together although had been achieved by table tennis scotland legend; Euan Walker and his brother Blair in the Seniors.
The Junior Championships was without doubt one of the best we had seen in recent years. What is clear is the strength and depth we have within our game. If you run these matches the next weekend I'm positive you may see a different set of results. Within the boys game the strength and depth from the cadets up to juniors is producing a squad of players where we could see positive results in other events around the UK and further away.
Within the girls game we have some talents developing from the cadets and through to the girls and the clubs who tirelessly try to develop the game will hopefully continue to feed further girls into the system to bolster this.
This weekend would not happen without the time given by referee Stewart McGowan, his administration top table team of Ken Cadogan, Alison Woods and Lorraine Johnstone. The merry band of umpires Barry Johnstone, Charlie Flint, Jonathan Whitaker and Charlie Brown sitting beside these people over the weekend I got a first hand glimpse to what it takes to run a tournament.
Further thanks would go to our Table Tennis Scotland equipment sponsors Tees Sport and our venue for the weekend Bells Sports Centre who once again made sure all within our hall were safe where we nearly got to the end of the play without a door having to be opened due to carbon dioxide levels being slightly high which was new twist to this year championships.
My last thanks of the weekend goes to the players who brought so much entertainment to the weekend and without doubt from both the seniors and the juniors we can be safe to say our game is certainly in a healthy place with the future looking bright.
Recommended Posts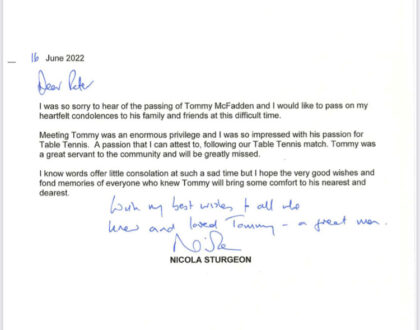 June 27, 2022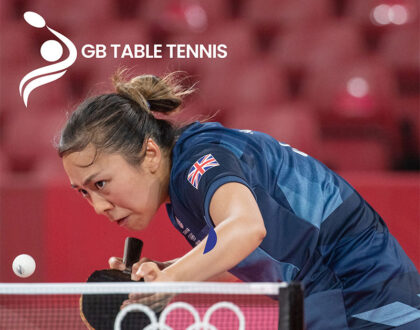 June 10, 2022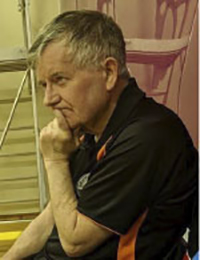 June 06, 2022