---
Leaders battle Bajwa as SNL intensifies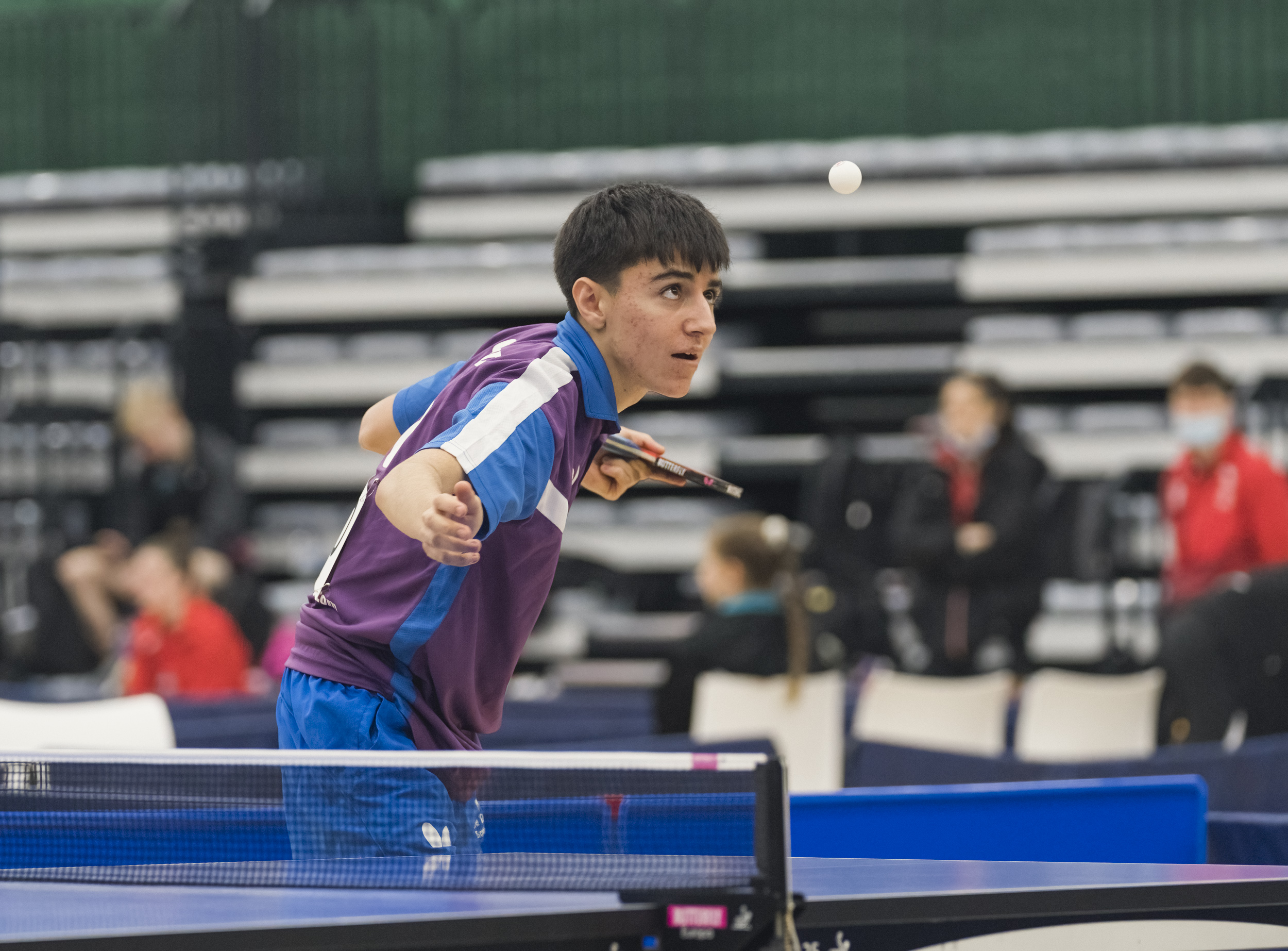 by Charlie Ellis
(photo courtesy of Paul Walker)
The second set of fixtures in the 2021-22 Scottish National League took place on Saturday in Perth. It was a long and absorbing day of table tennis, largely unimpeded by Storm Arwen. All teams played three matches on the day, which was a real test of body and mind. Weary players, coaches, spectators and officials trudged away from Bell's Sports Centre into the icy cold with much energy having been expended.
What was noticeable was the quality of play and players on display, including in the lower divisions. These included Scottish internationalist Yaser Razouk in Division 2, strong players such as Faye Leggett, Colin Green and Alan Whitton in Division 3, and Roy Claxton, Ian Denton and Dylan De Silva in Division 4. This helped produce a number of superb matches and illustrates the further evolution and growth of the league.
A challenging day
As the day began, Chris Main, captain of North Ayrshire A was in a circumspect mood, aware that it would be a challenging day for both his side and Murrayfield A. Main's prediction was immediately confirmed as he lost out 0-3 to an impressive Christopher Wang of Murrayfield B in his opening game. North Ayrshire A soon took command of the match, before Wang and Colin Daleish clashed in game 4. Their match was probably the highlight of the morning set of matches, with plenty of high calibre play on show. Dalgleish struggled to get a grip on the match, with Wang's well disguised serves causing plenty of problems, as were his fast attacks and his ability to live with Dalgleish in the big rallies. At times Wang benefited from a few moments of fortune, leaving Dalgleish exasperated ("how lucky is he! – is it Christmas?!"). In the third game, Dalgleish lost a bit of concentration at 10-3 up, including somehow missing a 'frying pan' smash. Eventually pegged back to 10-10, a classy inside out forehand return winner, put him 2-1 up. Wang recovered well as his skillful play helped him take it to a fifth. It went all the way to 9-9, before an excellent downline forehand, which caught Wang napping, closed it out for Dalgleish. This was just one of several excellent matches throughout the day.
Dumfries test leaders
The first division produced fine matches with the two leading contenders (North Ayrshire A and Murrayfield A), severely tested by a strong Dumfries A side. Danny Bajwa was Dumfries' key figure, producing 6 wins on the day, including a particularly impressive one over Scottish number two Colin Dalgleish. Though Colin won many of the big rallies (of which there were several), Danny constantly picked up points with good play and subtle variations to complete a superb day for him.
Joining Bajwa in the Dumfries side was Calum Main, making a return to top flight table tennis after a fairly long break. Main displayed plenty of glimpses of his previous form, not least in a match against another 'old stager', Sean Docherty. Sean himself only got back into table tennis during the lockdown, when he managed to find some keen training partners in Manchester, where he is now based. Sean of course, played alongside Calum Main for Knightswood when they won the SNL back in 2015-16. In Martin Johnson's absence, Sean came in as North Ayrshire A's third player, to give them a very strong A team.
Also making a return to the Scottish National League fold was Calum Morrison, who came in as Murrayfield A's no. 1. It was great to see all three back in National League action, which meant most of the top Scottish senior men were at Bell's. In the past the top division has seen too many one-sided matches, with the top sides too rarely tested. The greater depth of strong players will hopefully make it an increasingly competitive division with greater unpredictability.
Walker impresses again
Adding further strength to the first Division was the rapidly improving Kieran Walker, who is playing for Dumfries A this season. He impressed everyone with his fast, energetic and highly consistent play. He was perhaps a little bit unfortunate to be edged out by Murrayfield's John Hannah in a really well contested 5 setter. This helped Murrayfield A complete a very hard-fought 4-2 win. For Hannah the tussle versus Walker was 'an unbelievably frustrating game' but he was glad to have got over the line in a game his team 'really needed to win'. This followed a 'clinical' win versus a determined Dundee A. In their final match of the day Murrayfield A came through 6-0 against South Ayrshire. Hannah felt that Calum Morrison had, after a slow start versus Calum Riddoch, performed well, only losing to an in-form Danny Bajwa as had he. Hannha also praised Krzysztof Borkowicz for his consistency and 'doing what he needed to' against lower ranked opponents – 'I could learn a thing or two from him!'. In general, it was an 'enjoyable day' with good team spirit.
South Ayrshire A had a slightly disappointing day, losing out in some tight matches. However, Alicja Czarnomska did well to win through against Calum Main, 11-5 in the 5th. The Scottish Vets A side lie just behind South Ayrshire at the foot of the table, with only a draw (versus Murrayfield B) to show for their efforts. A fine 3-2 win for young David Hay versus Gerry Campbell led to a 4-2 win for Dundee A, now in 6th spot. Despite Christopher Wang's efforts and a solid day for Gordon Muir (3 wins), Murrayfield B struggled, only picking up 2 draws. In their match versus North Ayrshire B, Jamie Johnson was impressive as he beat Wang 3-0. This completed a very fine day for Johnson: six wins out of six. Ryan Henry also picked up some very handy wins for his side, including in an intense match versus Gordon Waddell – and a 5 set victory over Rebecca Plaistow. With two wins and a draw, North Ayrshire B are in a strong 3rd place in the division.
The North Ayrshire A side sit at the top of Division 1, though had to battle right till the end of the day in order to maintain that position. From 2-2 against Dumfries A, it was left to Chris Main to finish things off – in the very final match of the day – with a 3-0 win over Kieran Walker. Their match was played in a virtually empty hall with even the SNL officials having left! The reigning champions sit ahead of Murrayfield on 'goal difference', with the top two clashing in the final match of the season. It went down to the wire last season…what's in store this time?
Strength in depth
In Division 2 Charlie Morton continued his undefeated run this season to keep Glasgow South A narrowly ahead of Aberdeen A. Drumchapel A are now snapping at their heels, with the returning Yaser Razouk sweeping all aside with six straightforward wins (losing just one set in the entire day).
Scottish Vets B lead in Division 3 with their strong side (Peter Aird, Colin Green and Alan Whitton) winning their three matches. This keeps them 2 points ahead of Edinburgh University A (for whom Mae Ng was the key player with six from six) and Aberdeen B. South Ayrshire B top Division 4, narrowly ahead of Drumchapel B. South Ayshire's experienced side (led by Roy Claxton) had a dominating day, winning all three of their matches 6-0. Ian Denton's 3-0 win versus Dumfries' player/coach Dylan De Silva was perhaps their highlight of the day. Edinburgh University B sit at the summit of Division 5 with Haonan Ji's five wins pulling them 3 points ahead of Haddington A and Penicuik. Ben Hart's six from six helped Stirlingshire B to the top of Division 6, ahead of Scottish Vets C, for whom Brian Irvine had a cracking day.
A big well done to all those who competed so fiercely but fairly on the day. Thanks also to the coaches, family members and supporters who travelled through to Perth and helped ensure an excellent day of table tennis. Thanks to Richard Yule for overseeing things and Tommy Toner & Graham Muir who inputted many of the results. Lindsay Muir of course deserves the most credit for his organisational efforts-manfully battling on without a single coffee all day!
The final set of SNL fixtures take place at Bell's on SUNDAY 6th of February 2022. Have a good Christmas and see you next year.
Full SNL league tables and results can be seen here:
https://www.tabletennis365.com/ScottishNationalLeague/Tables/2021-22/All_Divisions
Recommended Posts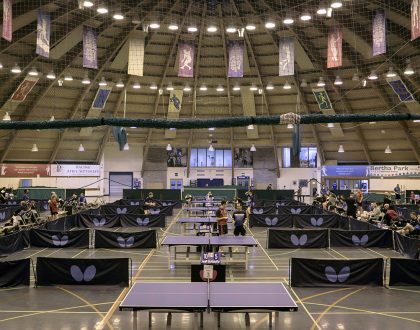 January 27, 2022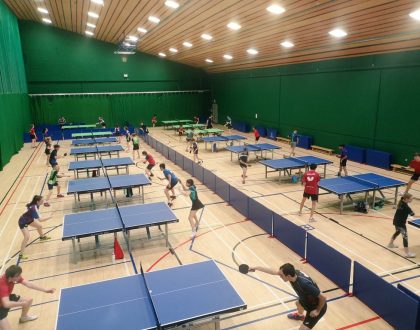 January 21, 2022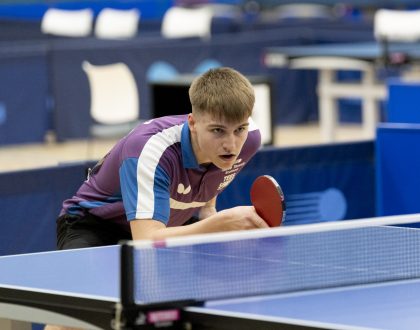 January 19, 2022