---
Jarvis Success for Dalgleish, Bajwa & Czarnomska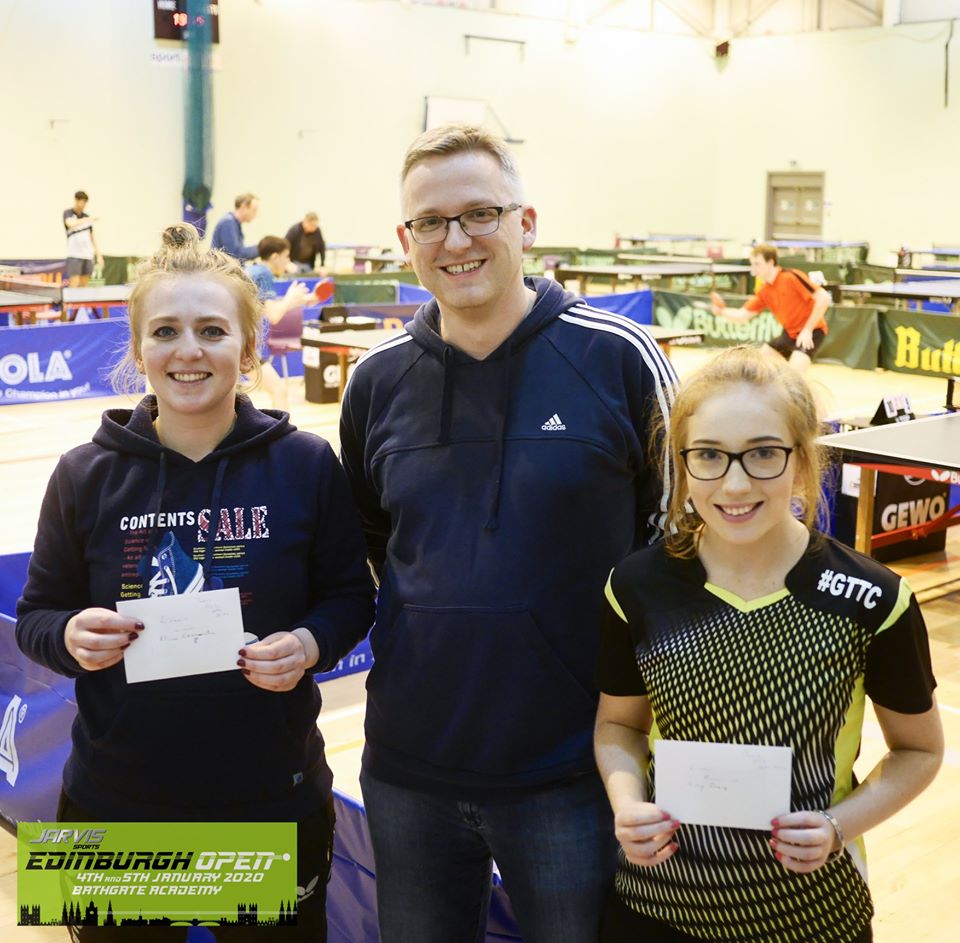 Scottish table tennis re-emerged after the festive season with the Jarvis Sports Edinburgh Open at Bathgate Academy.
Saturday (4th Jan) saw the senior events. Scottish No. 2 Colin Dalgleish led a strong group of home-grown players (including the 'Dusseldorf duo', Danny Bajwa & Martin Johnson) and were joined by a talented contingent from Ulster, who had played in an international friendly match on the Friday evening. Not only did the Ulster players add to the quality of the draws but also, with skilful choppers such as Lucy Craig and Thomas Eardley, added to the spectacle. In the first part of the day players competed in 8 Bands (determined by their Ratings Central rating) while in the second half of the day players competed in different categories: Men's, Women's, Veterans' and Under-23's. It proved to be a long day of table tennis with the succession of high quality matches.
Given the entry it was no surprise that Band 1 produced several high calibre contests and a few surprise results. Zeesth Naseem produced a fine, energised performance to defeat Calum Morrison; doing well to take the 5th set after Morrison had battled back well from 2-0 down. Naseem's service returns were particularly strong, keeping the pressure on Morrison whose forehand produced more errors than at his consistent best. As Naseem related, 'the first set was pretty much serve dominated- there weren't many rallies in the match but happy with the way I played'. Naseem's Murrayfield teammate Gordon Muir also produced an upset, defeating Keir Morton, though things got a little bit nervy towards the end as he struggled to convert a 10-4 lead in the fourth set; eventually taking it 11-8 courtesy of an overambitious backhand from Morton. Elsewhere in Band 1, John Hannah beat Zak Earley 3-0, though admitted that it much tighter than that: 'it was 7-7 in all three sets but I managed to finish well in each'. In turn, Charlie Morton played nicely to beat Hannah (-5,7,9,-4,5). Martin Johnson also looked very sharp and was particularly impressive in his 3-0 win versus Calum Morrison (6,6,8). Johnson then took on Dylan Curry in the Band 1 semi; Curry impressing with a 3-1 win (5,8,-3,10).
Undoubtedly the result of the day was Danny Bajwa's victory over number one seed Colin Dalgleish in the other Band 1 semi-final. The quality and intensity of the match was appreciated by those watching, with Bajwa able to repel Dalgleish with some superb counter-attacks, especially with his backhand. As things got tight at the business end of the 5th a missed forehand sitter at 8-8 proved costly for Dalgleish; Bajwa taking the decider 11-9 to complete a fine win. Bajwa had earlier beaten Stewart Crawford in another high quality contest with some stirring rallies. In a final which never really caught fire, Bajwa claimed it 3-1 with his flicked returns securing key points for him (-9,5,8,).
Band 2 proved to be particularly competitive with a series of close matches-Group 2 typified this. Former internationalist Pete Lugton- making another 'one off' comeback- recovered well to beat Tam Lawlor in the 5th before being literally edged out by Borui Chen. It was an excellent match with Lugton showing some real class but was unable to convert a 7-3 lead in the deciding set as Chen's tomahawk serves helped him win some key points ('I really don't like Tomahawks' Lugton was heard to exclaim). Chen also had a tight match with David Simpson who, with the match in the balance at 7 all in the fourth set, sportingly gave his your opponent a let. Phil Jamieson of Ormeau TTC was the winner of Band 2 with very convincing wins in his 3 group matches and over Tam Lawlor in the final (7,7,9). It was good to see the talented James Forrest back on the tournament circuit- though his exhibition style play wasn't likely to result in any victories.
In Band 3 Cameron Hussain and Marek Domagala had an excellent five set tussle. Domagala seemed on course for victory at 10-6 up in the 5th before a 'serious brain fade' from the Pole helped Hussain claim it (8,9,-10,-11,10). Band 3 also saw a dramatic match between Yubo Rasmussen and Greig McDonell. A spectacular dive saw Rasmussen let go of his bat ('it nearly took out the guy on the next table') but the Edinburgh University student recovered to squeak past his opponent 12-10 in the 5th. Mark Lundberg ended up as the winner of Band 3 despite 'not picking up a bat since well before Christmas' and despite losing to young David Hay (who he later coached). Key to his win was a good 3-0 victory over Jamie Johnson. Helped by knowledge gained from playing with him in Dundee, he then overcame Andrew Nimmo in the Band 3 final (6,-7,9,6). It was, Lundberg believed, 'his first significant title' since he was 17.
Gao Cheng Yuan beat Lucy Craig in a close Band 4 final (4,-11,7,9) while Rayyan Khalid had a very good day, including a win over Ikenna Asogwa in the Band 5 final. Brian Irvine battled through his Band 6 group (including a lob which flicked the edge on match point to beat young Kieran Walker 12-10 in the 5th) before beating another youngster – Nathan Hogg- in the final (1,8,12). Panagiotis Kanargias overcame the hard-hitting Daniel Najdrowski to claim Band 7, while Brian Ng came back from 1-2 down to defeat Euan Walker in the Band 8 (10,-9,-9,5,7) Walker receiving his runner-up prize from his namesake, the 12 times national champion…can he follow in his footsteps..?
Women's Singles
In the Women's event Erin Thompson & Lucy Elliot battled it out over 5 good sets in the group stages. A nice round the net winner from Elliot was the highlight as she levelled the match at 2-2. Thompson made a fast start in the 5th (was 6-0 up at one stage) and eventually took it 11-7 (-8,5,9,-8,7).
The Women's final saw modern defender Lucy Craig (who had swept past Grace Clement in her semi: 2,10,6) take on Alicja Czarnomska. Czarnomska had been impressive in her 3-0 semi-final win versus Erin Thompson (5,4,8). The contrasting styles made for an excellent match with the young Craig taking the 1st set with impressive play. Czarnomska gradually got into her game though was pegged back in the 4th set. After establishing an early lead in the 5th, Czarnomska was made to work hard for her victory as things got nervy at the end for her (-5,6,4,-7,8).
Men's Singles
Colin Dalgleish made it to the final with impressive wins over Zak Earley and Martin Johnson (7,4,7), while Danny Bajwa came through a tight one against Stewart Crawford before defeating the day's surprise packet Zeesth Naseem in 4 (8,-5,4,5). Having lost to Bajwa in the morning, Dalgleish was in determined mood with his attacks better placed than in the earlier match. Bajwa's backhand was again to the fore but he was often forced to play from back from the table. A net helped Dalgleish claim a tight 2nd set 13-11 before he powered through the 3rd set to claim the title, finishing with a trademark sweeping forehand (10,11,8).
Veterans' Singles
Colin Green made it through to the final via a battling 5-set win over Pete Lugton, where he took on Penicuik clubmate Greig McDonell (who made it past David Simpson 3-1 in his semi). The anticipated tight content didn't materialize as Green's greater match sharpness helped him cruise to victory (4,5,8).
Under-23 Singles
Zaid Khalid was impressive in taking this title. He looked particularly strong in his 3-0 win over Borui Chen (7,5,11) before overcoming Joel Smith in the semi. In the final, Khalid started strongly (taking the first 8 points of the match) before David Hay came back to claim the 2nd. Khalid closed out the match in the 4th (2,-10,8,6).
In his reflections on the day former Scottish Internationalist Euan Walker complimented the players for their efforts and struck a note of optimism about Scottish table tennis: 'it was good to see that there's a bunch of good young players all of a similar age all pushing each other..that's good to see and augurs well for the future for Scotland'. 'The Ulster players I saw were also looking pretty competitive..it was great to see an international representation here in Bathgate'. 'It was an excellent tournament…like all regional tournaments there are stepping stones onto bigger and better things..congratulations to those who did well today and for those who didn't quite do so well use this as an impetus to better things at the next tournament'.
Player reflections:
Bajwa…
I'm really happy that the hard work in Dusseldorf is paying off…I had good wins against Stewart Crawford and Colin [Dalgleish]'. 'beating Colin is definitely my best win…I've always been fairly close…I was 5-1 up in the 5th one time..so it was great to get over the line'. 'my new serves –such as the shovel to the forehand- helped me: he didn't flick as much as usual and even if he did I was countering well-better than in the past'. 'In the Men's final…Colin flicked more and I struggled to get in against his reverse serves'. 'The training in Germany has been tough but worth it-I'll be doing that until April/ May..not sure yet about next year.
Dalgleish…
It was a good day…all day I felt that I was playing pretty well but felt I slightly got my tactics wrong in the Band 1 against Danny though he played very well. I felt fairly comfortable but at 8-8 in the 5th I missed two forehands which were there for me to make. I also missed 3 serves in the 1st set which didn't help but I can definitely see an improvement in his game; he was reading my game really well and taking the ball early and hitting clean winners off half-long balls. Clearly the hard work is paying off for him and also for Martin [Johnson]. Overall I felt sharp and beat a lot of good players 3-0 –trying to not to give away any easy sets. In the Men's it was nice to get some revenge over Danny though it wasn't a pretty final. In that match I was trying to vary the pace of the ball a bit more…not go too hard, too quickly. I was spinning it more and attacking more into the middle. I also tried to touch more to his forehand as his backhand flick was dangerous. I also flicked better, especially with my forehand. It was key that I won those first two tight sets as that gave a bit more breathing space in the 3rd. My next big targets are the British League next weekend, the SNL and the Nationals. That's going to be tough with Gavin of course but also the younger guys all improving-Dylan, Martin, Danny and others.
Czarnomska…
I'm feeling a bit surprised to have won [the women's] as I wasn't totally satisfied with my performance'. 'In the 1st set of the final I didn't know what was happening as she had pimples but was also playing offensively…but then I got used to it and at 2-1 up I felt in control but lost concentration and got a bit overconfident in the 4th set, so was happy to win the 5th 11-8…it was a pretty long game-not easy; it was definitely my toughest match in the Women's. Lucy's young but played well'. In the Band 1 I had Stewart [Crawford] and Danny [Bajwa] in my group..both strong players with strong service and attack..I was forced to block and didn't feel comfortable…maybe next time I can do better against these guys. I had a good game against Danny and was really pleased to beat Andy [Macpherson]- that was probably my best performance of the day. I'm looking forward to playing in the Edinburgh league as I've lost a bit of confidence in match situations.
Thanks to all involved, especially:
The Ulster players and coaches for adding so much to the event.
Lindsay Muir for a fantastic effort on top table. Not only did he input all the results but also kept things running on a very busy day.
Tournament Referee Dave Fairholm for keeping things running smoothly and organizing the presentations.
Euan Walker for doing the presentations and his summing up of the day.
Gordon Muir for all his work in setting up the tournament. It was Gordon's last tournament in an organizing capacity before he leaves for China.
Julie Jackson for organising the Spot the Ball competition.
Graham Muir for assisting on top table.
Lorna Muir for refreshments.
Robbie McIntosh for the biscuits which kept the top table guys going.
Report by Charlie Ellis.
Recommended Posts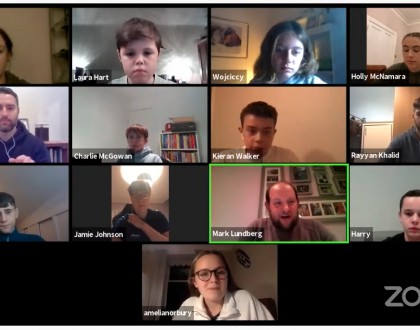 November 25, 2020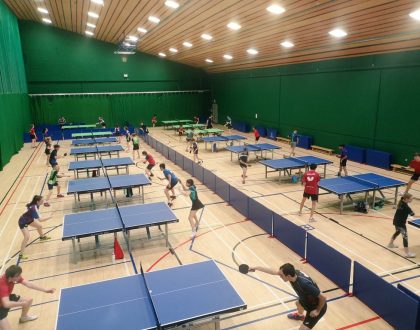 November 20, 2020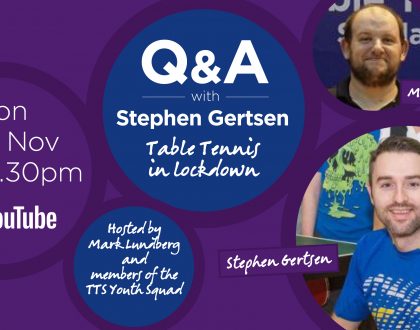 November 20, 2020