---
Draw Leaves SNL in the Balance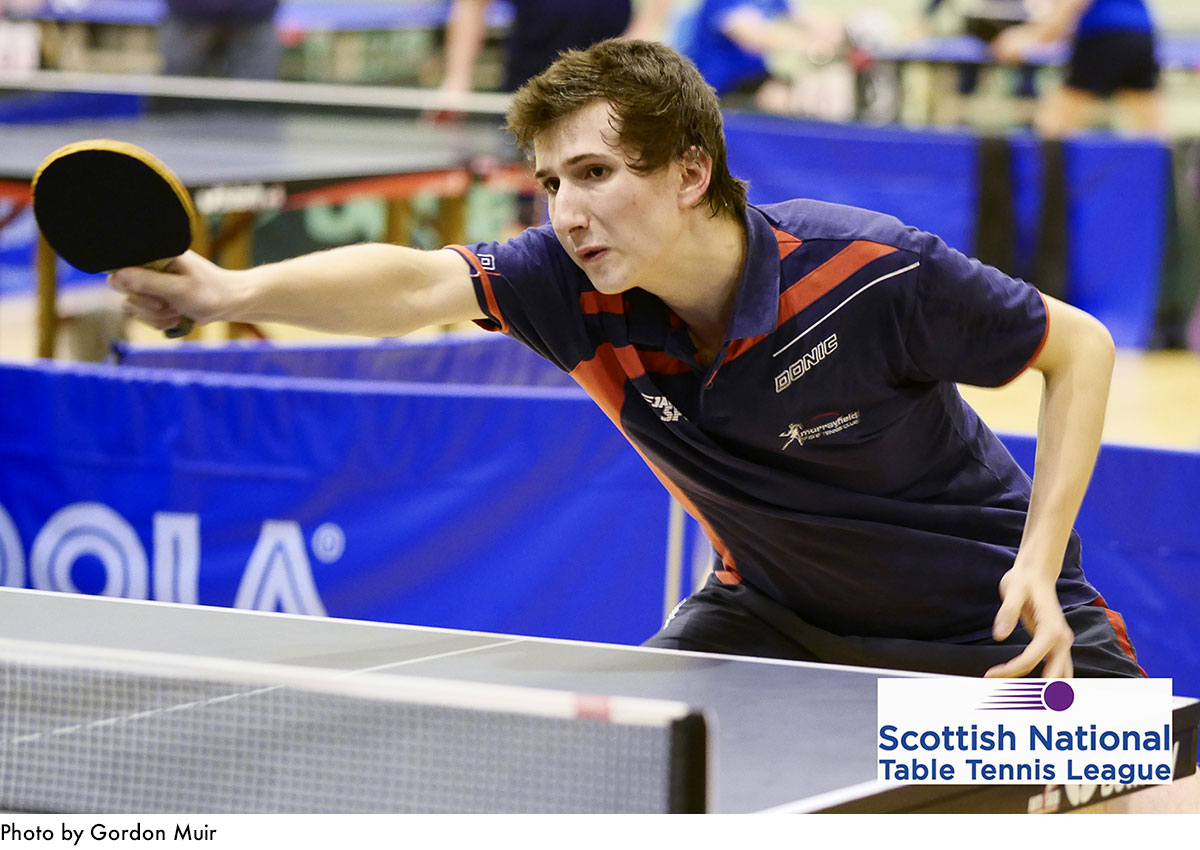 By Charlie Ellis

The destiny of the Division 1 title hangs in the balance after the second set of Scottish National League matches in Bathgate on Saturday. The table sees North Ayrshire A and Murrayfield A tied on 9 points apiece with Drumchapel A just behind on 8.
In the key match of the day, Murrayfield A battled back from 1-3 down to secure a vital draw with North Ayrshire A. Both teams were urged on by their own small band of supporters which helped create a good atmosphere and seemed to inspire the players. In the concluding clash, Calum Morrison battled it out over five tense sets against Israel Awolaj- a member of Grantham College Table Tennis Academy – who had come in to replace Colin Dalgleish in the North Ayrshire line up. The match thoroughly entertained those watching with Morrison better able to maintain his consistency as Awolaja's big forehand misfired in the latter stages. Morrison took a 7-1 lead in the final set-and despite a brief comeback by Awolaja- closed it out 11-6 (12-10, 6-11, 9-11, 11-8, 11-6).
North Ayrshire seemed on track after Israel Awolaja dominated his match vs Jan Meyer (who was frustrated by his inability to get into the match: 'maybe I should play with my right hand!!') and Richie Main swept past Calum Morrison 3-0. The fact that Richie Main usually trains with his left-handed brother means that returning a left hander's serves are less of an issue for him. As Morrison ruefully conceded, Main had 'received too well' and hadn't allowed him into the match. Richie Main was also in good form as he beat Johannes Laute, with his backhand a key factor. Jan Meyer kept Murrayfield's hopes alive with a comeback win over Chris Main as he belatedly found his attacking weapons (9-11, 11-6, 8-11, 11-8, 11-8)- a net dribbler at 9-8 in the 5th aiding the Edinburgh University Student. Main was left a little frustrated by the result and by his own personal performance (unable to convert two 2-1 leads) which he felt had been let down by his service and receive game. However, Main thought it was a 'very good match' and that the two Germans and Israel Awolaja had added some freshness to the event- it had been nice to play 'different players'. In addition, Awolaja's (modern) defensive style had helped make the match an even better spectacle with longer and more varied rallies.
In their earlier matches Murrayfield A had beaten Dumfries A 5-1 (though the match contained three 5-setters) and then cruised to a 6-0 win over Scottish Vets A. Keir Morton was in excellent form for Dumfries, producing a fine display to beat Johannes Laute 3-2 (11-9, 9-11, 12-14, 11-2, 8-11). Morton also led 2-0 vs Calum Morrison and in his view 'should have beaten him' before (in the words of Dylan Curry) going for too many 'wild counterloops'. Morrison was happy that he managed to 'work out' a better strategy as the game development, having 'played blindly' in the opening stages. North Ayrshire had an easier time: beating Scottish Vets and Fair City, both 6-0. Drumchapel A lie just behind the two leaders and will play both Murrayfield A and North Ayrshire A in the final set of fixtures. Yaser Razouk continued his fine season (10 wins from 10 so far).If they have a strong team for those matches, they could well emerge as League winners. In their final match of the day they drew with Scottish Vets A for whom Tam Lawlor produced two good wins. It became a competitive match with a little ill feeling concerning Brian Wright's service toss (Yaser Razouk believing that it was insufficiently high on occasions). In the final match Lawlor secured the draw for his team with a 3-2 win over Zaid Khalid in a match that was enjoyable to watch (12-10, 8-11, 11-9, 7-11, 8-11).
North Ayrshire's B team continue to impress and lie in 4th place-just 2 points off the lead. North Ayrshire's A & B teams will clash at Saltcoats. Elsewhere in Division 1, Martin Johnson produced one of the results of the day by defeating Keir Morton in an intense and noisy match. In the same match, Danny Bajwa defeated Martin Johnson 3-2 in a fine match which involved some spectacular rallies. Morton also had a loud match vs Ethan Chapman of North Ayrshire B, which Morton dominated (4-11, 8-11, 5-11). Chapman wasn't entirely satisfied by his performances but was pleased to have overcome Robert Toth in a 5-setter.
Division 2 also looks set for an exciting conclusion with Dundee and District, South Ayrshire A and Murrayfield B locked together at the top of the division. In the morning matches, 2 good wins for Harvey McDonald helped South Ayrshire A beat Murrayfield B 4-2 in a tight contest. Things were equally tight later on when Callum Riddoch was the key figure for D & D with two hard-fought wins (over Rebecca Plaistow & David Tait) as his side edged out South Ayrshire A 4-2.
Things are also tight at the summit of Division 3 where two Edinburgh clubs (Edinburgh International & Murrayfield C) lead the way. They clashed on Saturday with the match going right down to the wire. In the deciding match Debjit Choudhury fought off a comeback by Jake Somerville to claim a very tight and tense five setter (10-12, 8-11, 11-9, 11-6, 7-11). Somerville had earlier battled past the tricky Peter Aird- deuce in the 5th. South Ayrshire B lie just a point behind the Edinburgh pair following 3 comfortable wins- their captain, Roy Claxton winning six out of six.
In Division 4, Murrayfield D lead the way with North Ayrshire C and Garnet TTC biting at the heels, just a point behind. North Ayrshire C and Garnet TTC met on Saturday with Kevin Lawlor picking up 2 wins to help his side secure a draw in a lengthy match featuring four five setters.
Thanks to Lindsay Muir for leading things on top table-ably supported by Angie Fowler & Graham Muir.
The concluding set of fixtures take place on Saturday 10th March at St. Matthew's Academy, Saltcoats.
Recommended Posts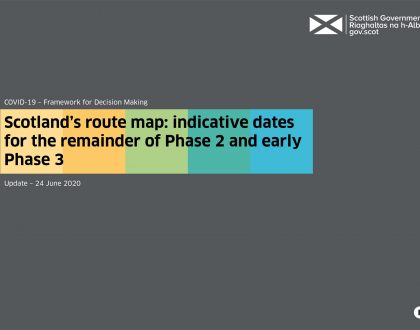 June 26, 2020