---
Dalgleish and Plaistow take the honours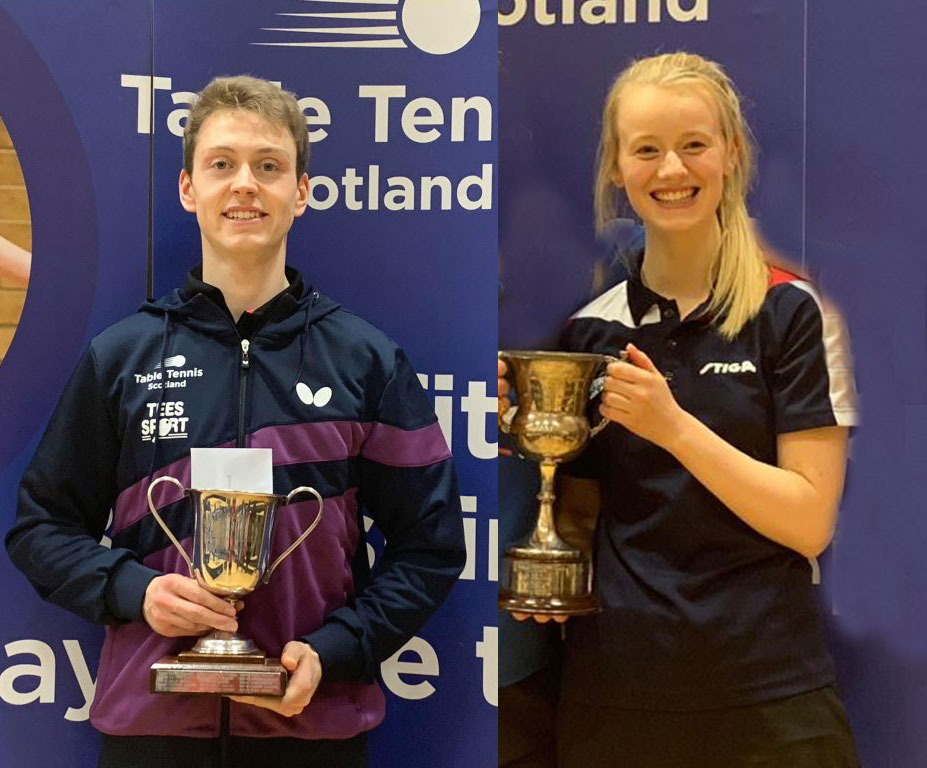 Colin Dalgleish dramatically won his first Senior Men's Singles National title while Rebecca Plaistow took her 4th Ladies National Championship in routine fashion, on an action-packed day in Perth. Plaistow won all three events she played in, for the third straight year, to complete an impressive treble-treble. The day also saw the unseeded Martin Johnson truly announce his arrival into the elite level of the Scottish men's game.
Report by Stewart Armitage
Ladies' Singles
With the unfortunate withdrawal of number 3 Lara Stirling due to a shoulder injury, the ladies' singles had to be re-drawn into two groups, with the top two in each qualifying for the semi-finals.
Rebecca Plaistow topped a strong Group 1, with junior international Paula Callaghan (Drumchapel) doing well to upset the rankings in finishing second and repeating her semi-final appearance from last year. Aberdeen's Isla Stott scored a very good win over Alisa Khalid but neither player was able to progress from the group.
Lucy Elliott came out on top of Group 2 less comfortably, surviving a tough battle with the ever- improving Amelia Norbury. A 3-1 win over Norbury saw another Aberdeen player, Tessa Yau, qualify for the semi-finals in second space.
Both semi-finals saw a senior international face a junior international. Plaistow got the better of Yau in straight sets, while Elliott took out her club-mate Callaghan 3-1. The juniors found it tough to make an impression in either semi-final, but it hopefully provided them with a useful learning curve for future tournaments.
The best-of-7 set final pitted Scotland's top two female players against each other, and would be a battle between Rebecca Plaistow's speed and consistency and the talented Lucy Elliott's expansive shot-making. Plaistow's consistency won the day comfortably, as Elliott made too many unforced errors to present a real threat. After a reasonably close first set (11-8) was won by Plaistow, the next two passed by rather quickly, and in the fourth Plaistow could afford to squander a number of match points before clinching the 4-0 win 11-9, and a 4th national singles title.
With this being Rebecca's 4th (and 3rd consecutive) singles title it's worth having look at the record books – this victory puts her one ahead of a whole host of distinguished and well-known champions, including Elaine Forbes and Gillian Edwards. It's too early at this stage to be eying Carole Dalrymple's incredible 9-straight championships, all won throughout the 1980s, but a 5thchampionship would put her on an equal footing with the great Helen Hamilton, which would be as illustrious company as it gets. If Plaistow hasn't already achieved 'legend' status in Scottish table tennis, she's certainly well on her way, and as her National League results show she is capable of holding her own against the country's top men. A class act on and off the table and a super role model for any aspiring juniors, her next (more difficult) challenge will be to make her mark on the wider British and international scene.
Final Result: Plaistow 4-0 Elliott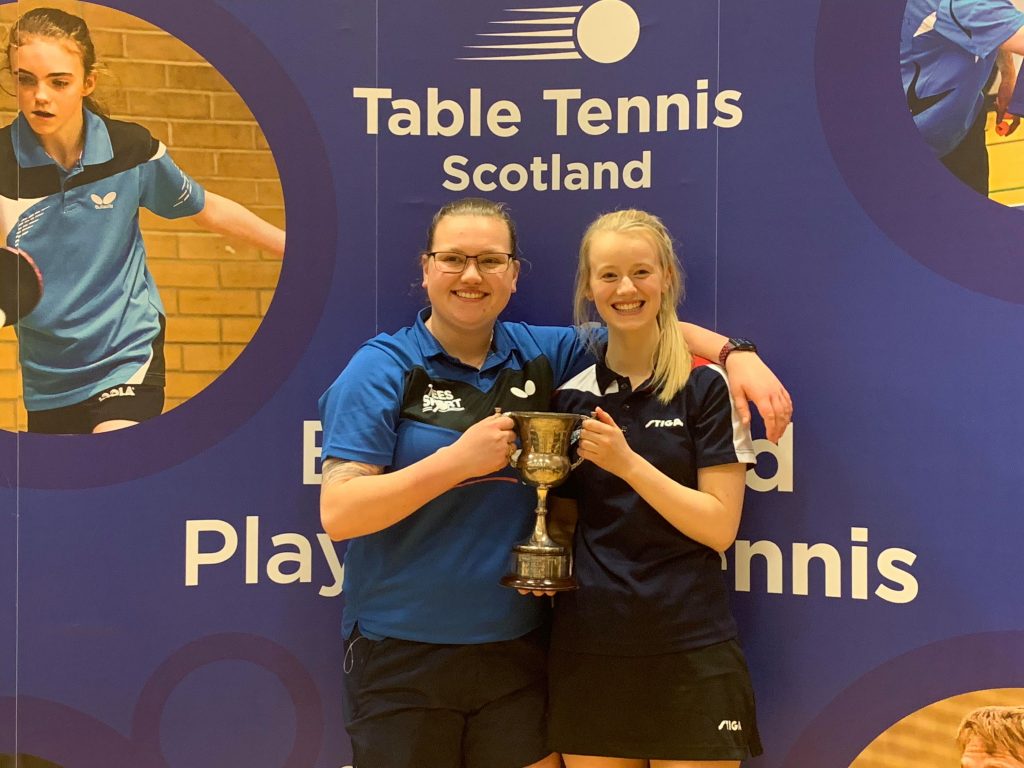 Men's Singles
Prior to the event, the question was whether 14-time defending champion and top seed Gavin Rumgay could hold off a brigade of challengers to make it to the magic 15. Number 2 seed Colin Dalgleish, who Rumgay narrowly defeated in last year's final, looked to be the most likely contender but it would also be fascinating to see if juniors Danny Bajwa and Martin Johnson, currently training full-time in Dusseldorf, Germany, would have made enough quick improvements to threaten Rumgay's crown.
Group Stages
The undoubted match of the group-stages was the Group 2 encounter between Colin Dalgleish and North Ayrshire's Martin Johnson. It was a rather jarring sight witnessing the respective British senior and junior champions having to face-off as early on as a group-stage match – it proved to be a classic as, after the unseeded Johnson bludgeoned his way into a two-set lead, Dalgleish kept his head to force a 5th where he sneaked home 11-9. It was a comeback win which would prove crucial to the event's later stages.
Other notable group results included Gordon Muir progressing by saving match-point to overcome Stirlingshire's David Simpson, while the tenacious Ryan Henry of North Ayrshire survived two five-setters to finish 2nd in Group 5 – most importantly against Ryan Docherty. There was more five-set heartbreak for Mark Lundberg who missed his chance to progress having led by two sets and 9-5 in the fifth against surprise West of Scotland Open champion Charlie Morton, who joined Danny Bajwa in qualifying from Group 9 (The 'Group of Death').
Some other group-stage observations:
It was great to see Scotland's two World Championship bronze-medallists and Twitter pals Gavin Rumgay and Martin Perry going head-to-head in Group 1 – both players constantly do Scotland proud on the international stage with their high-profile achievements. Rumgay predictably won 3-0 – I doubt they've agreed yet on who won the first bronze medal though.
I did a bit of a double-take when I saw the name Euan Walker in the draw, thinking the great man might have been furiously attempting to take back his title-record from the Rumgay. Turns out this Euan Walker is a young junior from South Ayrshire and not the 12-time champ – good luck filling those shoes young Euan, if you achieve a tenth in the game of what your name-sake did you'll be doing well.
It's always good to see crowd-favourite and Scottish number 3 Niall Cameron in action at the Nationals – having recently reached the magic age of 40 you could forgive 'The Roon' if he turned his attention to the Vets, but you can quite easily see him taking part in the men's event for the next twenty years in search of the elusive first title. He came through his group against three determined juniors, with Dundee's Andrew Nimmo playing well to push him into a fourth set.
There was also an ever-welcome appearance from multiple former-finalist Stewart Crawford, who is excelling on the Vets scene and is still more than able to compete at the top level. Richard Yule believes that Stewart has played in 30 or more of these championships. His two young group-stage opponents, Jamie Johnson and Charlie McGowan, won't have been born when Crawf was first making national senior finals. Stewart won the group, having come through a competitive match with Jamie Johnson, who finished 2nd to qualify for the knock-outs.
Last 16
Into the knockouts and Colin Dalgleish was a man on a mission – he dispatched the sometimes-dangerous Steven Gray for the loss of just eight points. There was some concern for Rumgay fans meanwhile as he played his last-16 match against a spirited Gordon Muir wearing a back-brace and a pair of trousers. He won in straight sets despite a fine effort from Muir but Rumgay didn't look quite at his usual explosive best or fully fit – would he last the day?
Stewart Crawford and Niall Cameron both received difficult last-16 draws – Crawford battled hard against Scottish number 6 Chris Main but faded late on to go down 11-3 in the 5th. Meanwhile, Cameron faced off against Dusseldorf hotshot Martin Johnson. The volume was turned up to 'loud' for this one, but Cameron was ultimately outgunned and outshouted by his younger opponent. He cut an unusually subdued figure towards the end, as Johnson ran away with a 3-1 win. It may never happen, but having watched Stewart and Niall competing for years, if either of them do ever take a national singles title it'll get a similar reaction from me to Andy Murray winning Wimbledon.
Many were anticipating an interesting potential Rumgay v Danny Bajwa quarter-final, with Bajwa looking much-improved from his time in Germany and following his impressive showing at the recent Edinburgh Open. However, the showdown wouldn't materialise as Bajwa lost in five sets in the last 16 to Yaser Razouk, who put together a very solid match in understated fashion. Danny's challenge rather fell apart towards the end, but the likeable young left-hander has plenty of time to shine in future.
Elsewhere in the last 16, Scottish number 4 Calum Morrison came through in four against the shotmaking of Zaid Khalid, the in-form John Hannah defeated Jamie Johnson, and Dylan Curry comfortably won an all-junior match against Charlie Morton.
Quarter-finals
The trousers were gone but the back-brace remained for Rumgay's quarter-final against Yaser Razouk. The consistent Razouk battled hard to level things up at 1 set-all but Rumgay's famous battling qualities saw him through.
John Hannah had a chance of completing a 'Johnson Double' – having defeated Jamie in the previous round he took on big brother Martin in the quarters. Hannah was unable to complete the double, as Johnson won a tight and edgy four-setter, letting off a large yell after the match-point. A first semi-final appearance for Johnson at senior level – a testament to the hard work being put in on the continent.
Calum Morrison won an all-lefty battle against Dylan Curry, 3-1. Although Curry possessed the more devastating weapons and fired plenty of spectacular winners as always, Morrison's greater consistency and experience made the difference. The final quarter-final saw North Ayrshire National League team-mates Colin Dalgleish and Chris Main go head-to-head – Dalgleish won it 3-1 with Main finding himself defending back from the table on numerous occasions, and ultimately overpowered.
Results: Rumgay 3-1 Razouk; Hannah 1-3 M Johnson; Morrison 3-1 Curry; Main 1-3 Dalgleish
Semi-finals
Colin Dalgleish qualified for his second-straight Scottish final, but only after holding off a spirited effort from fellow Murrayfield player Calum Morrison. Morrison, reaping the benefits of some good training partners at Nottingham Uni, was a set and 10-8 up and looked good for an upset – but Dalgleish, like against Martin Johnson, found another gear when he needed to and salvaged the set before winning the next two with relative ease.
The second semi-final was a feisty affair between the legendary Rumgay and the young pretender Martin Johnson. At times it threatened to become a shouting match as each point was greeted with a piercing cry from the winner. Some uncharacteristically tentative play from 9-6 up saw Rumgay let the first set slip and it looked like we might in for the most monumental upset in recent Scottish history. However, even when not at his best, Rumgay's dogged determination saw him through in the next three sets, as he put Johnson into several uncomfortable positions which drew some impatient errors from the youngster. Johnson hit some phenomenal winners but couldn't stay with the 14-time champion right to the end – Rumgay won the next three sets (11-8, 11-9, 11-6) to reach yet another final.
It was an excellent tournament for Martin Johnson, who can be very proud of his efforts in beating Niall Cameron and John Hannah and pushing both Dalgleish and Rumgay hard. He's certainly a senior champion in the making.
Results: Rumgay 3-1 M Johnson; Morrison 1-3 Dalgleish
Final
So it was a repeat of the 2019 final, and with Rumgay looking to be at less than 100%, this was a golden opportunity for Dalgleish to take his first senior national title. The GR t-shirts were out in force in the crowd for local Perth hero Rumgay, while the popular Dalgleish also had plenty of support on the sidelines.
Despite the final being best-of-7 sets, it felt like the first set was a must-win for Dalgleish, and he got the start he needed, taking it 11-9. The second set was tight all the way and late on Rumgay used his time-out in the face of a potential two-set deficit – it didn't pay off as Dalgleish took it, again 11-9, and it looked like a historic moment was brewing.
Gavin Rumgay hasn't won 14 national titles without loving a fight though, and he dug in to win the next two sets 11-2 and 11-7 and level things up, with Dalgleish's lovely flowing loops faltering slightly. Dalgleish raised his game again to take the crucial fifth set 11-6 and a 3-2 lead, and the wind had disappeared from the Rumgay sails. Dalgleish could have easily blinked in the face of such an opportunity, but instead grasped it with both hands. With his glorious backhand zoned in and making Rumgay look a step off the pace, he surged to a 10-3 lead in the sixth, and a slightly tame backhand off the end from Rumgay at 10-4 sealed a first national title for Dalgleish. He let off a huge roar of delight, and appeared overcome by emotion as he sat in his chair afterwards, taking in what he'd just done.
For Rumgay, it was a first National Championship defeat since 2011, when Sean Doherty produced a memorable and quite sensational barrage of forehands to beat him in the quarter-finals. It was also his first final defeat since 2006 – Euan Walker's final ever match. It's been an astonishing period of dominance, and although he wasn't able to be at his best on Saturday it still took a fantastic display of aggressive table tennis from Colin Dalgleish to stop it. If the body holds up, Rumgay will continue to do Scotland proud on the world stage, and he'll surely be back next year to try for number 15 – how easy it will be with the new generation really starting to step up remains to be seen.
In Dalgleish, you couldn't ask for a more deserving and likeable new Scottish men's champion – as a young junior he always struck you with his appetite for hard work and his maturity and manners, which were always well beyond his years. He's a credit to Scottish table tennis, the perfect role-model for many, and it was telling that the applause he received on winning the final match-point went on for a good minute. He's now both the current Scottish and British champion, having won the senior Six Nations – European Champion should be next, right Colin?
Result: Rumgay 2-4 Dalgleish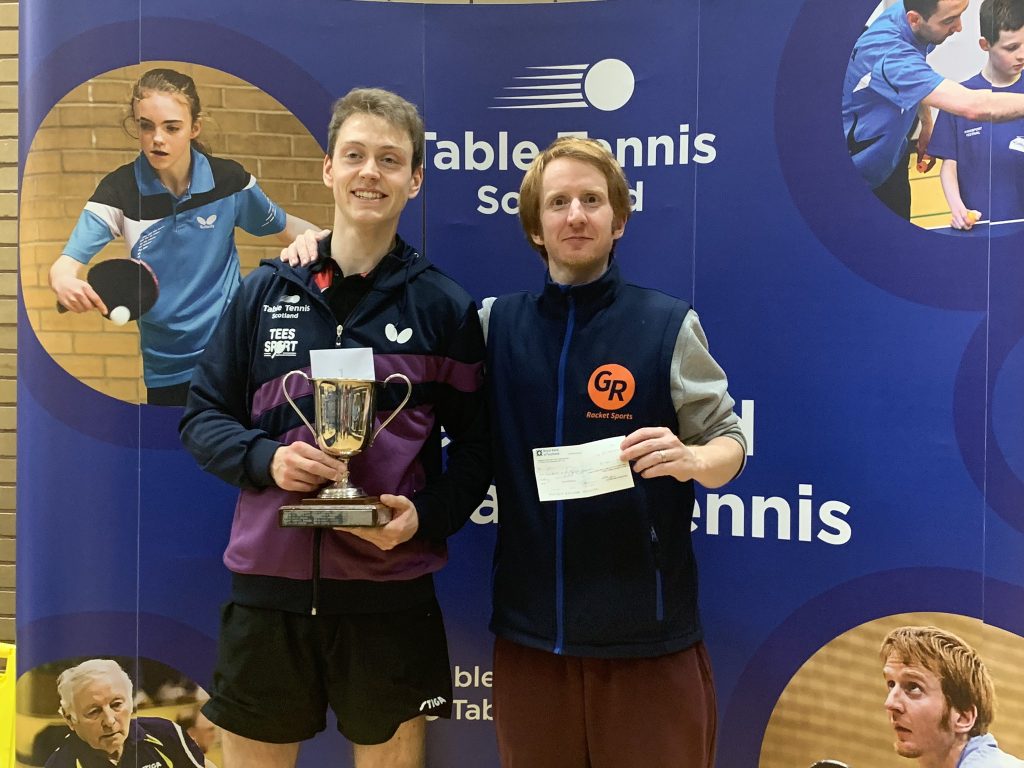 Doubles Events
With the schedule falling behind the doubles events went on until after 8pm but they produced their share of drama and entertainment to go along with the singles.
In the Ladies' Doubles, which was played as a group, it looked like a big upset was on when the top seeds and overwhelming favourites Rebecca Plaistow and Lucy Elliott were dramatically defeated by an inspired Amelia Norbury/Paula Callaghan. Norbury/Callaghan couldn't finish the job though and lost out to Tessa Yau/Isla Stott – when Plaistow/Elliott swept in to defeat Yau/Stott the number 1 seeds took the title on a sets countback. Sorry to go on about Rebecca's achievements all over again but that's her 4th straight ladies' doubles title, with three different partners! It's Lucy's 2nd doubles title, as she won alongside Rebecca in 2018.
The Men's Doubles event was all kinds of weirdness. Started with three qualifying groups, Group 1 produced the Group of Death to end all Groups of Death, with Danny Bajwa/Martin Johnson, Niall Cameron/Calum Morrison and John Hannah/Stewart Crawford all having to scrap it out for one semi-final spot. Bajwa and Johnson battled through, beating Cameron and Morrison 3-2 in the decisive match.
Meanwhile, the much weaker Group 3 was allocated 2 semi-final spots, and this resulted in a sight that probably nobody really wanted to see – Stewart Armitage and Mark Lundberg playing in a national semi-final, a pairing so uncoordinated that they literally have to shout 'fistbump' at each other before executing an actual post-point fistbump. They edged out Gordon Muir/Borui Chen to finish 2nd in the group to Chris Main/Yaser Razouk, with both pairs making the semi-finals. Colin Dalgleish and Dylan Curry eased through in Group 2.
In the semi-finals, fluke surprise semi-finalists Armitage/Lundberg actually put in a respectable performance but were ultimately outgunned by the Dusseldorf Destroyers, Bajwa and M Johnson. Dalgleish and Curry put in a terrific display to see off Main and Razouk in second semi-final, with Dalgleish maintaining his high level from the singles final.
The Dusseldorf Destroyers had the last laugh in the final though, as they continued their tremendous run to defeat Dalgleish and Curry – Colin's only defeat of the day. As Bajwa and Johnson play doubles together in their leagues in Germany, it wasn't surprising that they were on the same wavelength, but it is impressive to win a national doubles title with both players so young – you wouldn't be surprised to see the pair dominate the Scottish doubles scene for years to come. Bajwa was clearly delighted with his day's work, but was immediately brought back down to earth when he checked the Liverpool score.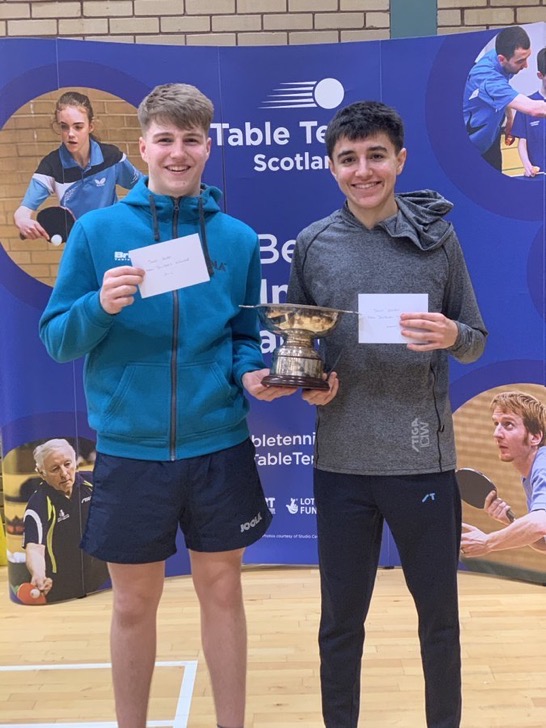 Finally, the Mixed Doubles was played to a very high level with the majority of the top players taking part. Holly McNamara and Chris Main had a terrific run through to the final in beating Amelia Norbury/Martin Johnson, and then Lucy Elliott/Niall Cameron. Rebecca Plaistow/Colin Dalgleish were the ultimate power-duo here though – they saw off Alisa Khalid and John Hannah and then McNamara/Main in the final.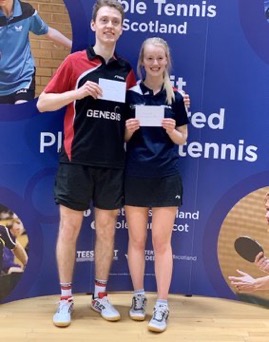 At the risk of banging on about records all over again.. that's a fourth straight Scottish mixed doubles title for the Plaistow/Dalgleish pairing, a double title-day for Dalgleish, and a third straight hat-trick of titles for Rebecca Plaistow! Fantastic consistency from both.
Overall, it was a long but very interesting day of table tennis, with Rebecca Plaistow hammering home her dominance on the Scottish women's game, and the momentous occasion of Colin Dalgleish gaining a well-deserved first men's title. For Gavin Rumgay it was a first Nationals defeat in 9 years, but he will take it in his stride and re-group for next year. It'll be much tougher in the future though, and with the emergence of a new generation of talent on both the women's and men's side, the near-future looks bright for Scottish table tennis.
Report by Stewart Armitage
Seniors Photo Gallery
Recommended Posts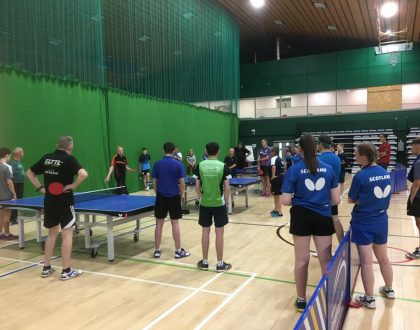 July 14, 2021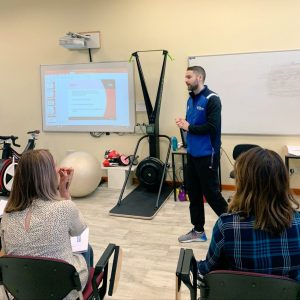 July 05, 2021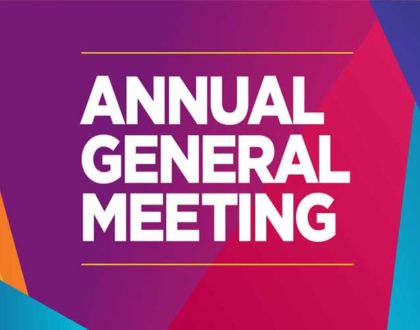 June 29, 2021