---
Bert Kerr – Funeral details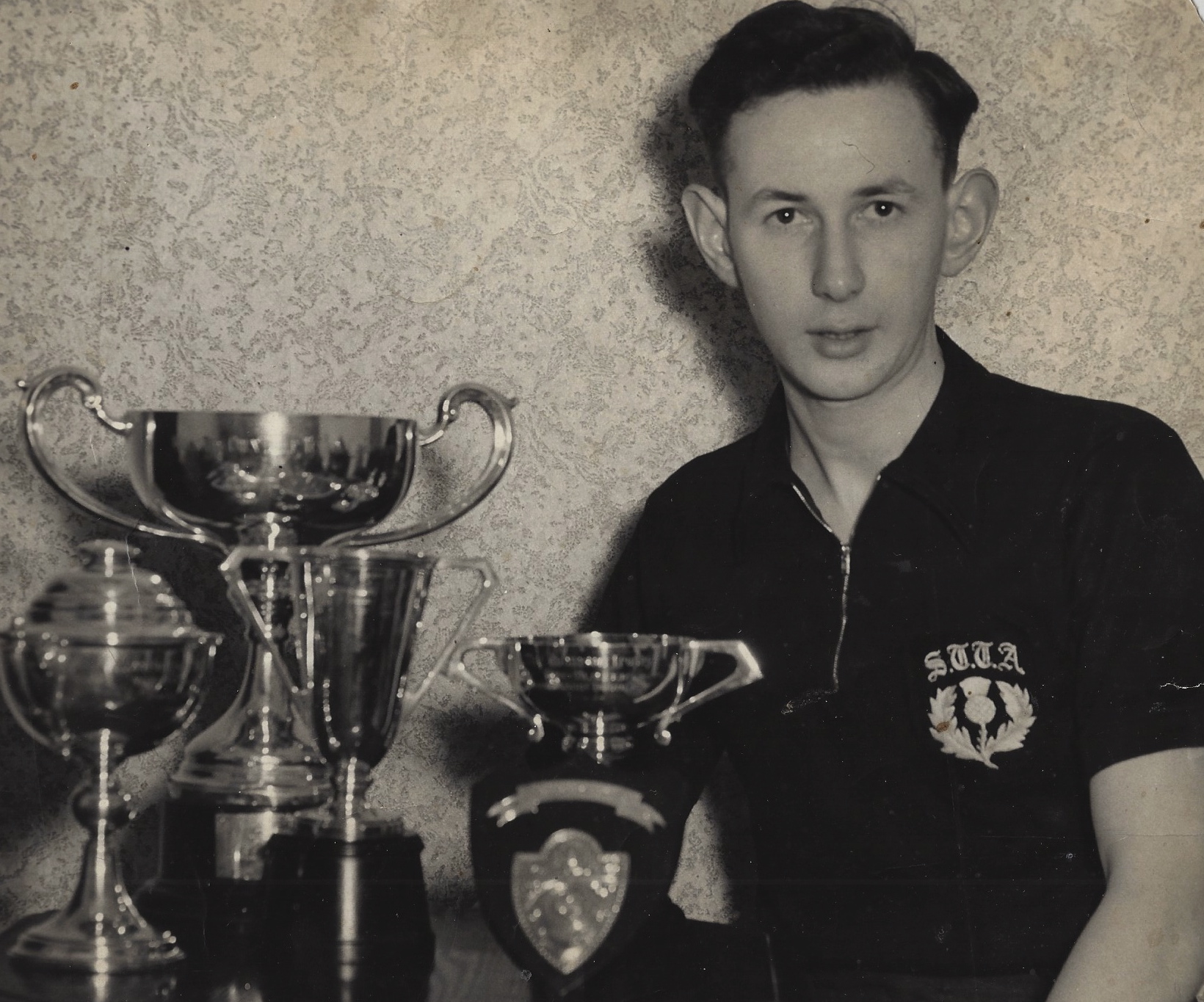 Bert Kerr 1933-2020.
Please find funeral details at the bottom of this post.
Players across the country will be saddened by the news that one of the greats of the Scottish game, Bert Kerr, has died aged 87. A multiple Scottish internationalist Kerr was 5 times national singles champion and a protégé, sparring partner and life long friend of Helen Elliott. After Helen, he was the Edinburgh & Lothians Table Tennis League's most outstanding player. He was a central figure within Gambit Table Tennis Club, one of Scotland's most successful clubs, until it's demise in 1989. He subsequently played on in the ELTTL until knee troubles brought his playing days to an end.
Born 4th April 1933, Bert grew up in Edinburgh (Parkhead Drive, Sighthill) and went to Boroughmuir High School before (at 15) going to the Edinburgh School of Building, starting work at 16 with the building firm Colin McAndrew & Partners.
He was inspired to take up the game when his father & uncle (who played for the Scotsman TT team) took him along to an exhibition match in 1947 involving Gambit players. An older schoolmate Gerry Cooper, who played for Gambit, encouraged him to join his club and took him along to a practice session.
He began playing for Gambit when just 14 in the 194a8-49 season (debut vs Leith 12th BB on 11th November 1948), gaining 20 wins out of 27 in his 1st season. He was swiftly promoted to Gambit's 1st team the next season where he played alongside Helen Elliott and Johnny Miller. Combined with the contingent of strong Polish & English players recruited during the war, they helped Gambit become the dominant force within Scottish table tennis, winning the Scottish Team Cup a record 24 times.
They won the Edinburgh & District League 31 times (once shared with Inverleith) between 1944 and 1981. In their run of 9 straight league victories between 1965 and 1974, Bert was beaten just once! Gambit's greatest achievement was providing all 5 of Scotland's team for the 1957 World Championships (Stockholm) – Tommy McMichael, Bert Kerr, Ian Barclay, Helen Elliott & Helen Houliston. They remained the strongest club in Scotland until supplanted by Central YMCA (with players such as Euan Walker & John Broe) in the 1980s.
Among the players Kerr helped develop at Gambit were Billy Gibbs and Eric Sutherland. Gibbs described Kerr 'a great influence' on his table tennis as well as 'an absolute lovely guy…very kind and generous'. Eric Sutherland relates that in table tennis terms 'I owe everything to Bert, a great guy-I would never have played to the level I did without him'. Sutherland was 'very lucky' that Bert was a teacher at his school (Portobello High) and introduced him to the game: 'Bert showed us what good was and how to become good'. Perhaps more than the technical side of the game what Bert instilled in those he coached was, as Sutherland put it, 'real self belief..the idea that you really could win any match'. His competitive spirit was ever present and 'anyone who played against Bert knew they were in a match!'.
Bert had a long association with Helen Elliott: together they formed a formidable mixed doubles partnership-winning the Scottish Open title 5 successive times. While on National Service (at RAF Wildenrath) Bert played 2 seasons for RSV (Rheydter Spielverein), then one of West Germany's strongest clubs. He played no. 4 in a team with 'some very strong players' including the Schöler brothers (Eberhard Schöler's older brothers) in the German Oberliga West (the predecessor of the Bundesliga). He was allowed time off by the RAF to play- 'it was political from the air force's point of view'-promoting 'good relations'. Though the drift towards sponge bats was gaining pace, he had to play with a pimpled hardbat, as Germany was one of the countries whose association opposed the introduction of sponge (England and Wales were amongst the others). As Eric Sutherland put it, 'Bert played in an era in which equipment and techniques changed quite a bit' which Bert had to adjust to having started out playing a 'Johnny Leach style game'.
Under RSV's influence he developed the defensive elements of his game (in his youth he was noted for his FH-dominated attacking play: 'originally I was a forehand hitter'). At Gambit- he was taught to play an allround game but at RSV 'they could see I could defend well..my orders from the team captain were mainly to defend and just hit the odd ball'. 'I stuck to defending after most people-influenced by the Japanese- became offensive players and hitters': 'many people didnae have a clue how to play against chop & float..until the loop came into play…it was devastating for choppers'. According to Charles Brown, 'Bert was the best defender in Scotland over a period of 40 years. He was equally good and consistent on both wings. He was able to adapt when someone was beating him-he could come in and change to topspin and break up the attacker's rhythm'. As a character he was 'highly competitive but always fair'. According to Ian Stokes, 'he loved nothing better than having a great tussle on the table, but off the table he was very complimentary and was encouraging to me as a young TT player from the West'.
Among his many tournament victories, Kerr won the Men's singles at the Scottish Nationals on 5 occasions (also winning the Veterans' singles 5 times: 1975-80. His 1st International cap was gained (alongside fellow debutant Eddie Still) in February 1953 (versus Ireland). During an international career of twenty years he received 166 Scottish caps and played in 5 World Championships (1954, 1955, 1957, 1963, 1965). His wife Pat (who he met via TT) played to a fairly high level and also went to a couple of world championships as a reserve. As a veteran Kerr became Scotland's first competitor in the Jubilee Cup.
Tournament record.
Scottish Open:
Men's Singles x 2
Men's Doubles x 6
Mixed Doubles x 12
Scottish Closed:
Men's Singles x 5
Men's Doubles x 11 (2 with McMillan, 4 with Ian Barclay, with Graham, 2 with Bhalla, 2 with McMichael).
Mixed Doubles x 15 (10 with Helen Elliott, 2 with Olive Hawkins, 2 with Grace McKay, 1 with Pat Kerr).
Veteran's Singles x 6
Veterans Doubles x 2
Irish Open
Men's Singles x 1
Men's Doubles x 2 (1 with Ian Barclay, 1 with Johnny Caffrey).
Kerr became a school teacher and taught at Portobello High School (from 1963) and was later head of the technical department at Ainslie Park School, where he also introduced many pupils to table tennis. In his spare time he built musical instruments, violins, lutes and the like.
Kerr took over from Eddie Still as STTA Director of Coaching in September 1967, setting up a school league during his tenure. In the early Eighties Bert (along with Billy Gibbs, Lindsay Muir and Mike MacLaren) set up the Edinburgh Development squad (at Moray House) including young internationals led by Keith Rodgers, Norrie Lovie, Anwar Majid and David Campbell who Eric Sutherland who had taken to a high standard just prior to Moray House taking off. As Gibbs outlines, 'Bert was one of the lead coaches and his great stroke play was on view for the players to copy. It was a very strong and fruitful period in Edinburgh table tennis'.
Kerr was the 1st recipient of the ELTTL Kirkwood Trophy (for outstanding services to table tennis) in 1976 (Pat Kerr received it in 1979) and the STTA appointed him honorary life member in 2002.
Due to the rising costs of hiring the hall (St. Margaret's Church, Easter Road) he (as club Chairman) wound up Gambit just prior the 1989-90 ELTTL season. He subsequently played for Edinburgh University & Lasswade, remaining towards the top of the Division 1 averages, before knee troubles forced him to retire. Greig McDonell, president of Penicuik TTC, relates that 'latterly in Bert's TT Career, I had the pleasure of playing with him at Lasswade – all of us at the club learned from his never give up attitude'. In his final decades he channelled his competitive instincts into golf and spent much of his time at Baberton Golf Club. He won the Lothians Seniors' Championship in 2002. Only last year he was seen with a table tennis bat in hand, chopping away at the Pop in & Play venue at South Gyle Shopping Centre. He was playing golf till very recently and even during the early stages of lockdown was going for long walks around his local area (Corstorphine). After 3 weeks in hospital Bert died of cancer on the 7th of June. He is survived by his three children, Susan, David and Robert. Information about the funeral will be published in due course.
By Charlie Ellis.
Much of the obituary is based on an interview I conducted with Bert in June 2017 at Baberton Golf Club and from documents from Bert's personal collection. The photos also come from Bert Kerr's personal collection. Thanks to all those quoted for their contributions.
The funeral will be on the 22nd of June but due to COVID-19 restrictions only 25 can attend. The family are hoping to hold a memorial service next year in view of the numbers who would have liked to attend the funeral.
---
The funeral can be watched online using the details below:
Service order for Robert Kerr

Service Date

22-Jun-20 at 1:00

Service Chapel

Main – Mortonhall

Website

www.obitus.com

Username

Yero8812

Password

683424

Please send this username and password exactly as above to family and friends. You can login to our website at any time to view a test connection (and we strongly recommend you do this) but you'll only be able to view the Live Webcast approx. 5 mins before the service start time. Please be aware this is a public building and the timing of the Live webcast is semi-automated to allow for services running early or late – please use your discretion if you can see activities not applicable to the service you are here to watch. Once the service has finished, it will take us up to 3 working days to get the 28-day Watch Again onto the website.
Recommended Posts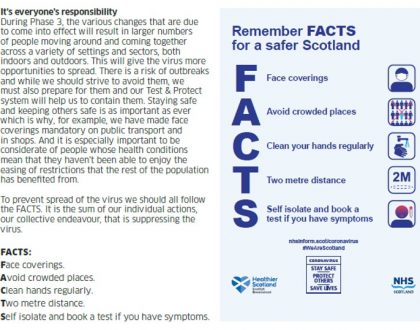 July 10, 2020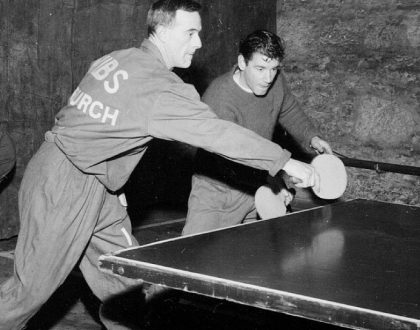 July 09, 2020