---
Rumgay through to Ally Pally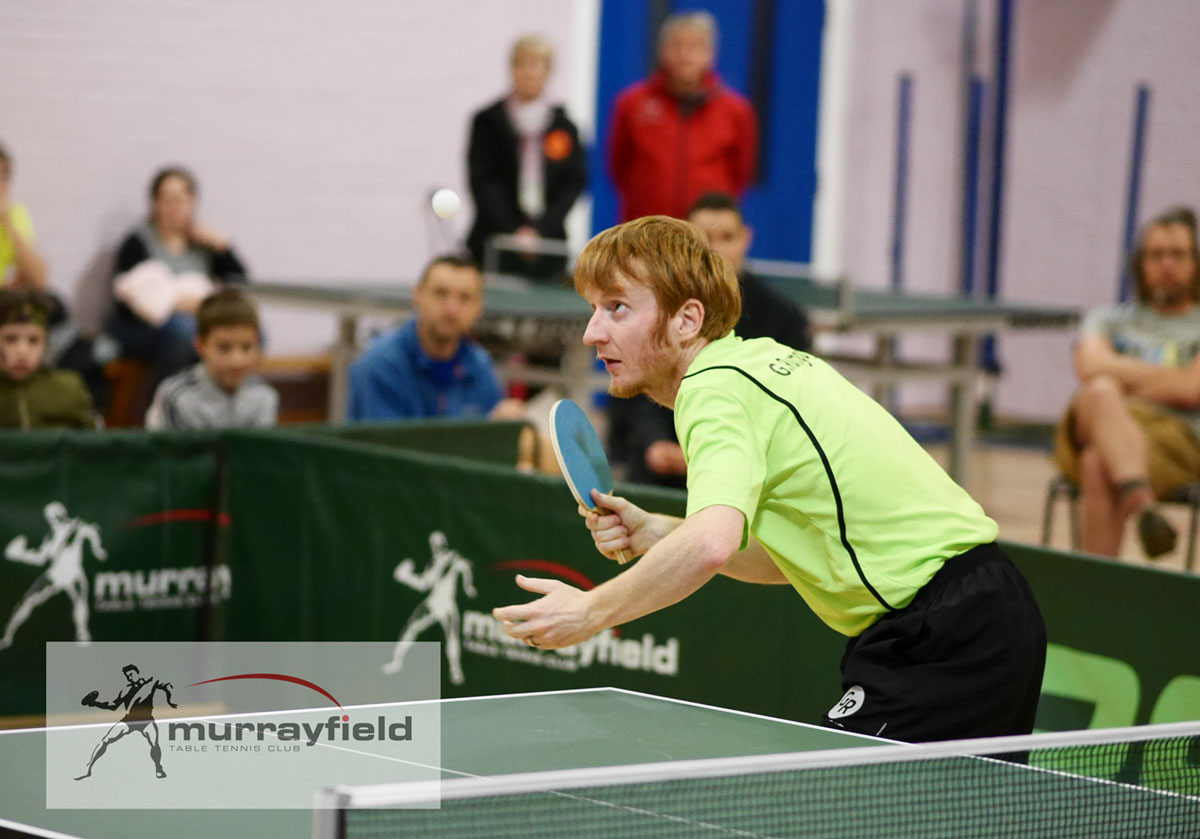 By Charlie Ellis.
Gavin Rumgay will again represent Scotland in January's World Championships of Ping Pong after a dominant display in Saturday's Scottish qualifier in Edinburgh (at The Royal High School). Looking sharp and focused from the very start of the day he won all of his matches in straight sets and picked up the Ronnie Turnbull Quaich (presented by Ronnie's sons Gavin & Mark).
His predicted meeting with Ian Johnston did not materialise after Johnston lost out to Calum Morrison in the day's biggest shock. Their quarter final match look to be heading the Dundee man's way as he led 15-6, 14-10 before Morrison scrambled back into the match and took it to a decider. A compelling final set reached 13-13 before an edge by Johnston seemed to turn it his way only for Calum to take it to 14-all and the sudden death point. A cruel net dribbler ended Johnston's chances. It was, as Rumgay put it, a 'brutal' loss for Johnston who impressed at last year's WCPP with his victory over Andrew Rushton. Johnston will now try and qualify via the Last Chance Saloon tournament- in the week before the main event (Calum Morrison may do the same).
Though Rumgay had an entertaining last eight match with David Tait (playing defensively and chopping quite skilfully), it was only really John Hannah who (in the 1st semi-final) caused Rumgay a modicum of concern as the Dundee University student scored with several big forehands but ultimately couldn't match his opponent's allround game (15-10, 15-7).
In the final, the day's surprise packet, Calum Morrison never really got going, allowing Rumgay to display some nice skills (drop shots, chops and a nice no look forehand winner) if not a big down the line backhand ('you're not Andrew Baggeley'). He went on to win in 3-straight sets (4, 8, 2).
Rumgay was happy with his performance as he'd hardly prepared – 'I had one quick knock with a client of mine last week-that was my only preparation'. While looking forward to the world championships in January he's aware that most of the guys there are 'on a different level' from those found in the Scottish qualifier: he'll need to train very intensively in order to match them and adapt to the 'very' different conditions found at Alexandra Palace but 'reaching the last 8 or last 16 is a realistic goal'.
He'll have to postpone his main ping pong training until after the ITTF World Tour Hungarian Open (18 to 21 Jan 2018) to further improve his world ranking. He thanked his 'generous' sponsor Brewdog for funding his trips to pro tours and allowing him to play more of them than at any time in the past. He will then have about a week to prepare- probably training with top level ping pong players like Chris Doran and Ashley Stokes.
Rumgay was encouraged to see John Hannah and Calum Morrison playing in the event, feeling that the younger players can learn a lot about table tennis tactics and placement by playing ping pong. He believes that it's 'a myth' that ping pong interferes with your table tennis technique- 'they are basically the same game requiring the same fundamental skills… you just need to think a little bit differently'. He believes that other top Scottish players should give ping-pong a go though does understand that most of them are focusing on the Commonwealth Games.
The group stages contained few surprises though Aaron Barclay's victory over Colin Clark (-12, 13, 14) was a bit of a turn up- Aaron producing some nice backhands at the key moments. Clark had himself produced a slight surprise when he beat Steven Gray. In the best match of the group stages, John Hannah produce some fine play to beat Calum Morrison 2-1 (-14, 5, 5) in an excellent match. The top 4 seeds (Rumgay, Johstone, Ellis & Hannah) winning their groups.
The knockout stages generally produced one-sided matches- the Morrison vs Johnson match was the only one to go to a deciding set. John Hannah and Gordon Muir played out two tight sets (10, 13) as did Stephen Gray and Charlie Ellis in their quarter-final (9, 11). Ellis's semi-final with Morrison was rather too easy for the younger Murrayfield player-he won 2-0 with some impressive serving and strong forehands (9,9).
In the junior event, Charlie McGowan was victorious (narrowly ahead of Arron Barclay) while Colin Clark took the consolation event with 4 wins out of 4 matches.
Thanks to everyone who came along- either to support or to play, especially those who traveled up from England. Thanks to Lorenas Vismantas for his lengthy stint of calm umpiring- including doing the final. Continuing thanks to Mark and Gavin Turnbull for supporting the tournament again.
Report by Charlie Ellis. Photos by Gordon Muir.
Recommended Posts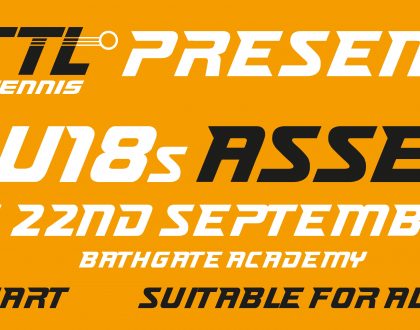 September 20, 2019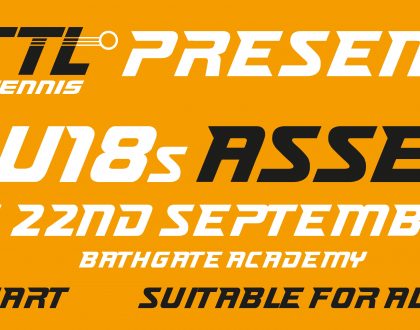 September 04, 2019