---
Plaistow and Rumgay retain national titles.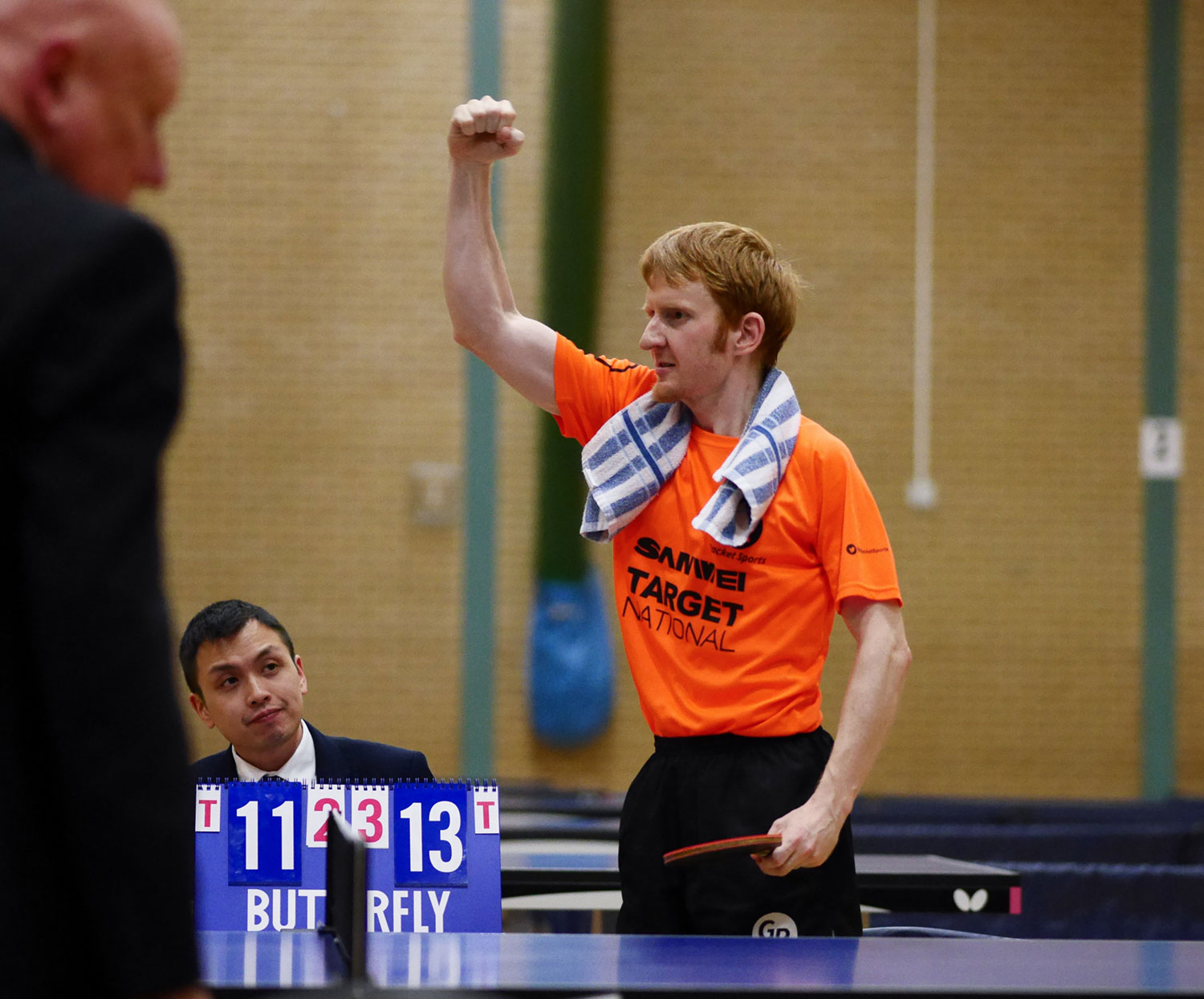 By Charlie Ellis.
Action photos courtesy of Gordon Muir.

Rebecca Plaistow and Gavin Rumgay both retained their national titles at Bell's Sports Centre on Saturday but in radically different ways. Whereas Plaistow swept to resounding victory in a one sided final, Colin Dalgleish challenged Rumgay all the way in an enthralling final. For Plaistow it was a third national title while Rumgay now has 14. The day also saw the emergence of young Borui Chen as a real threat in Scottish senior table tennis.
Women's Singles.
The main surprise of the group stage saw Paula Callaghan finishing ahead of Alisa Khalid and Tessa Yau in Group 2 to make it through to the semi-finals. There she met Rebecca Plaistow (who had topped Group 1 via a 3-1 win over Faye Leggett) and Callaghan battled well in the first set and was unlucky to lose it 10-12. Plaistow raised her game and took the final two sets with some comfort. The other semi-final saw Faye Leggett dominating with her fast backhand to defeat Lara Stirling (3, 5, 6). In the final, Plaistow was always on top, forcing Leggett back from the table and completing a surprisingly straightforward 4-0 victory. '4-0 is a really good score' Plaistow reflected as 'Faye is hard to play against and has really improved since last year and is really consistent especially on her backhand'. After taking a short break due to university and exams, she had some 'good training sessions at my club' (South Ayrshire), which really set her up for the national championships. Plaistow also felt that playing Women's British League (for Drumchapel) had sharpened her game. She thanked coaches Roy Claxton and David Tait- the latter providing useful tactical advice on the day (especially relating to service: 'the right serves to be able to get in on my third ball').
Men's Singles -Group stages.
The drama started with the group matches where young Borui Chen produced one of the results of the decade in defeating Sepehr Bidari with some superb play. Having finished runner-up in his group Chen went on to give Chris Main a few awkward moments and their last 16 match. Elsewhere Harvey McDonald won group 7 with a hard-fought victory over David Simpson and then a surprise five set win against Stewart Crawford. Other group matches of note include Martin Johnson's 13-11 in the 5th win versus Dylan Curry to claim top spot in group 8. Group 9 was particularly tight with Keir Morton made to work hard by Derek Lundie and then losing out to John Hannah in a noisy encounter.
Last 16 and quarter-finals.
Danny Bajwa produced one of the comebacks of the day; trailing 1-9 in the second set, he eventually took it 13-11 and went on to complete a four set win. Dylan Curry battled past Niall Cameron in a sea-sawing match: the experienced Cameron fighting back well to take the second set having been 7-2 down before Curry took the match 3-1 (7, -7, 4, 9). Curry took on another of the leading younger players- Calum Morrison- in the quarter finals. Morrison had made it through via a 3-1 victory over Keir Morton, withstanding a real barrage from Morton in the second and third sets. Morrison and Curry produced a high quality match with Curry's attacking play carrying a little bit more bite (9,8,-4, 7).
John Hannah impressed in his 3-0 win over Martin Johnson (4, 7, 9) but- despite some encouraging moments- was unable to prevent Gavin Rumgay knocking him out 3-0. Similarly, Ethan Chapman did well to take the second set against Colin Dalgleish before the Scottish number 2 closed it out in convincing style (7, -8, 4, 5).
Following a straight sets win over his Drumchapel clubmate Zaid Khalid, Yaser Razouk produced an excellent display to defeat Chris Main in one of the day's best matches. The contest reached a real peak in the fourth set as a Main- urged on by his North Ayrshire clubmates- produced a stirring comeback before Razouktook it 12-10. Though frustrated, Main generously praised Razouk who had 'hardly missed a shot' and had dealt well with Main's excellent backhands.
Semis and final
In the first semi, Dalgleish appeared to be cruising as he unleashed trademark fast loops on both wings. Curry did well to live with him and their epic second set produced some of the best action of the day with Curry's excellent flicked returns helping him to take it 18-16. Dalgleish then took the third and seemed headed for the final before a sudden momentum shift saw Curry breeze through the fourth set and take it to a decider. Dalgleish did well to regroup in the 5th set where his forehand was prominent ('better, come on!'). Relief was the dominant emotion as he closed out the 5th with a cracking backhand return.
Rumgay was untroubled in the other semi which he controlled from start to finish, winning 3-0. Razouk was happy to have reached the semi-finals having – in his eyes-underperformed the previous year but disappointed that he was unable to cause Rumgay more problems ('getting in with my forehand isn't enough to dominate points against Gavin').
The question on most spectator's minds before the final was whether Colin could bring his A game to such a big match or whether Rumgay would neuter him (Rumgay having made it to the final without dropping a set-beating Ethan Chapman, Stewart Crawford, John Hannah and Yaser Razouk all 3-0). The first two sets suggested it would be a cakewalk for Rumgay who looked focussed. Dalgleish was eventually able to impose himself on the match in the third set, taking it 11-9 to keep his hopes alive. Rumgay then seem to find another gear, taking a 6-2 lead in the fourth before Dalgleish too raised his game and caused Rumgay some real issues on service return ('I'm not reading that one') to close to 7-7. A judiciously called timeout helped Rumgay take it and be within a set of the title. Again Dalgleish fought back to take the 5th in some style.
The atmosphere in the hall whole was now crackling with anticipation as the momentum seemed to be with Dalgleish. Rumgay began the sixth set well with more spin in his attacking shots ('oh, that's heavy!') and forced Dalgleish into taking a timeout at 4-7 down. To the incongruous sound of revving engines outside, the match now went into overdrive with every point fiercely contested and the rallies long and dramatic. At 10-8 up, Dalgleish had a great chance of taking it to a decider. Dalgleish's moment passed and an excellent flick by Rumgay at 11-all setup match point. Soon after, a failed forehand return by Dalglish meant that Rumgay had won one of the best finals in recent years and with it his 14th national title.
Final reflections.
Colin Dalgleish:
I'm happy with the way I played – just disappointed that I failed to take my chance in the sixth set. I did well to come back from 4-7 down. Gavin played well and it was always going to be a real battle to compete with him.
I felt that I really got going after the first two sets, started to play my game and give him a bit of trouble. As the rallies got longer it started to suit me. I felt that if I had taken it to a seventh set it was anybody's game. I'm happy to have reached my first national final and there's always next year..
Gavin Rumgay:
It was getting pretty tight there. Colin was hitting a nice ball and served better than I can remember. I really got out the blocks quickly there…it really shocked me how quickly he won the 3rd. It was a really strange match… it was so comfortable at the start and then the wheels fell off the halfway through the third set and then it became tough. At 3-2, to 10-all I think that's where my experience and belief came through.
Recommended Posts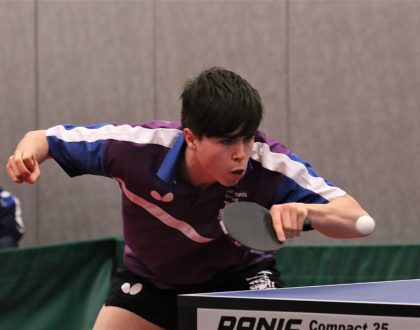 August 16, 2019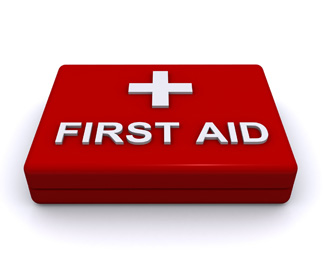 August 14, 2019