---
Nationals Senior Report and Results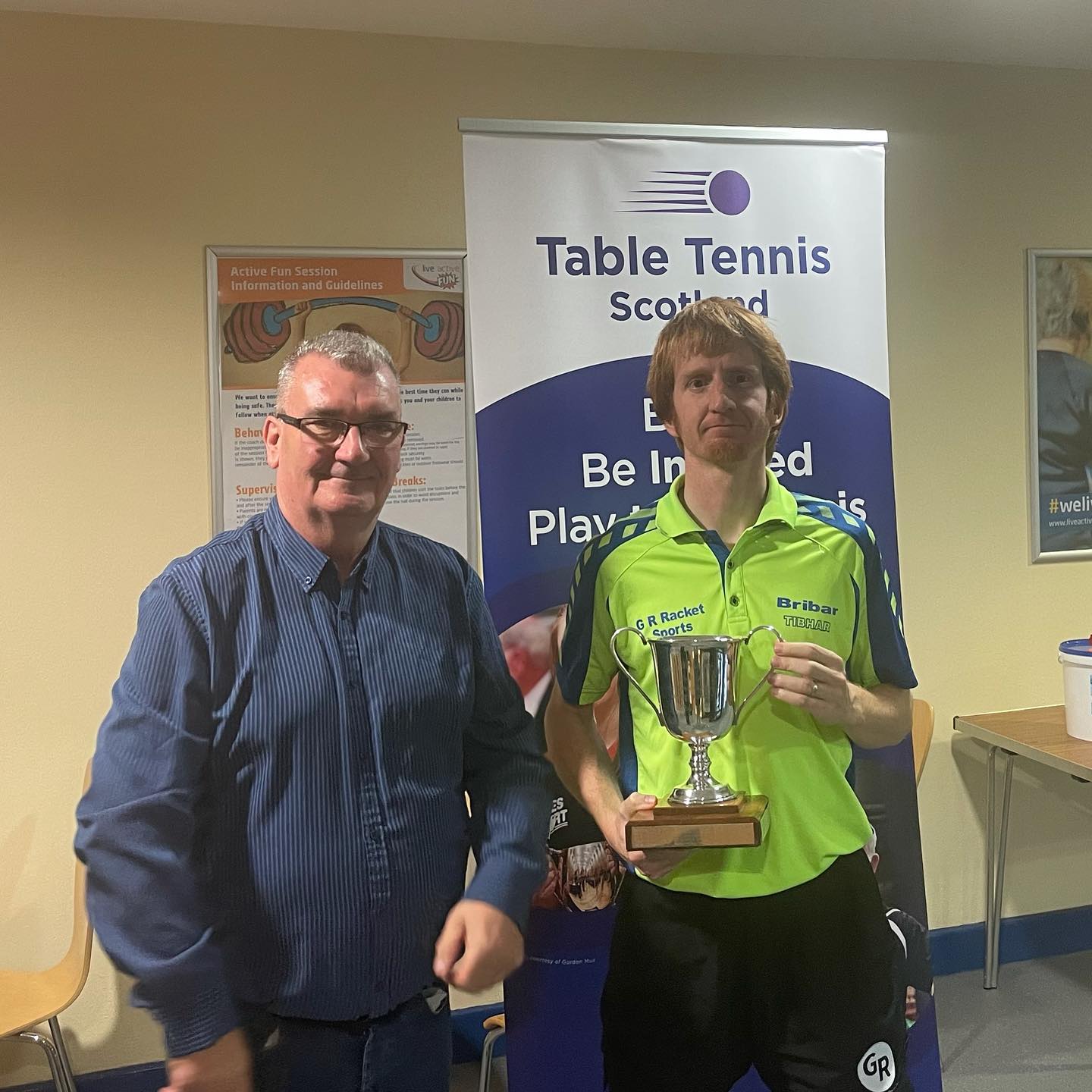 Scottish National Championships results
Scottish Senior Table Tennis Championships
Report by Mark Lundberg
On Saturday the 23rd of October the players, coaches and spectators gathered at Bells Sports Centre on the banks of the River Tay in Perth for the Covid enforced delayed Scottish National Championships for 2021;what a weekend it was. The venue was looking fantastic for the day ahead and a big thank you to our equipment sponsor Tees Sport as the players could not complain with what they were being presented with.
With the weather outside being a typically dreak for this time of the year but this did not stop the positive atmosphere within the venue for what lay ahead. The recent Perth Grand Prix and Scottish National League weekend showed that the appetite for our game had not subsided and with a very good entry for the National Championships this showed how much we have missed competitive action and it was great to be back.
The Table Tennis Scotland community were able see each other once more although behind a mask to take in the days action. This day also brought a new twist to the day and our venue. Due to having the amount of people situated within the hall. A fire exit had to be opened during the day's play as the Carbon Dioxide readings inspected by the
Bells Sport Centre staff meant extra ventilation was required. Those on the hall may have been oblivious to what was happening due to the professional to those who organise our tournament dealt with the incident, play did not stop and how thankful this was the case.
To the action and Saturday began with referee Stewart McGowan as advertised 9am sharp. call a general let to the players getting in their last minute warm up and thanked everyone for their attendance and explained the general housekeeping rules once this was over; Saturday was non stop action to the end
Ladies Singles Group Stage
I wanted to start the report with the Ladies Singles as Sport Scotland for the month of October are celebrating women in sport with social media displaying #womaninsport and #active girls and our national championships certainty displays these initiatives and the competition for the ladies did not disappoint.
The groups were split into three groups with the top two players moving on to the knockout stages with a preliminary round before the semi finals.
In group 1 we had 4 players and on paper a very tough group. This contained number 1 seed and 4 time champion South Ayrshires Rebecca Plaistow who was joined by Aberdeen's 2020 runner up Tessa Yau, young upcoming junior from North Ayrshire Holly McNamara and the talented Paula Callaghan from Drumchapel.
The group played out some close matches but in the end Rebecca came through the group unscathed winning her 3 matches and joining her was Paula Callaghan who had two good victories over Tessa and Holly. In the dead rubber as such Tessa defeated the young Holly for third place.
In group 2 was another 4 players number 2 seed Drumchapels Lucy Elliott who was joined by club mate Ailsa Khalid, Edinburgh's Amelia Norbury and the tricky awkward styled Joy Daniels from Glasgow.
This group was again a fantastic spectacle for the crowd where some tight matches took place. Similar to group 1, Lucy topped the group with three victories but Amelia overcame the higher seed Alisa to move through as runner up however this did not come without a scare in her match with Joy Daniels who pushed her young opponent all the way. In the battle of who would finish 3rd Ailsa claimed victory over Joy. When you review this group a few points at key points in different directions could have swung a different outcome.
In group 3 we had three players, Falkirks number 3 seed Lara Stirling, Edinburgh's Faye Leggett who was returning to competitive action after taking a break from national tournaments. In pre covid time know from experience Faye was still active.
participant in the strong edinburgh league where her match sharpness would still remain and joining them was junior Jessica Hogg from North Ayrshire.
Both Lara and Faye were both able to overcome their young opponent so set up the group winner clash where whoever lost would move into the formidable Rebecca Plaistows half of the draw. Faye was able to take victory in three sets where Lara found it difficult to break down her steady opponent who does not give any unforced errors. Laras game is about shot making and was not allowed to do this by her young opponent.
Preliminary Rounds
In the first match, Amelia Norbury faced off against her more experienced opponent Lara Stirling. This match was a reverse of Laras group game with Faye where Lara was able to control the match. Some fantastic serving Lara was able to gain some cheap points and went in to take the match in three straight sets 5,3,6 and moved on to play Rebecca Plaistow in the semi finals
In match number 2 to see who go on to play the 2nd seeded Lucy Elliott we saw Paula Callghan v Faye Leggett. This match proved to be very close where in the first set Faye was able to see it out at 11-9. Set number 2 Paula found some great form and hit some lovely winners against her opponent and took it easily 11-4. Set 3 was so very difficult to call both players fighting it out however Faye grabbed it 12-10 and moving it to set 4 the same theme continued of nip and tuck but Faye managed to stay ahead and close it out 11-6. Like many matches where there is a close 3rd end whoever wins has momentum in the 4th set to achieve victory.
Semi Finals
Rebecca Plaistow v Lara Stirling
In summary of this semi final Rebecca was ruthless stringing winners from both wings and able to control Laras tricky service she never looked in trouble throughout and moved through to final in search of 5th National Title in three straight sets 4,5,5
Lucy Elliott v Faye Leggett
There is no way my report in this match could do justice to the high quality spectacle that went before the hall. This was a great clash of styles Lucy's swashbuckling shot making big game v Faye tight no error relentless punishing counter hitting style and it without doubt works when you are looking for entertainment.
In the 1st set, Faye takes the end 11-5, Lucy not able to find her range and Faye punishing any error made. Set number 2 the opposite Lucy hitting some tremendous winners containing Faye's counter hitting and ensuring she took the set 11-5. What happens over set 3 and 4 is a carbon copy of set 1 and 2. Faye taking the 3rd set to 5 points and Lucy the 4th set to 6 points
This brings us to arguably the best set of all the Saturdays competition between both the mens and ladies. The standard was exceptional from both player neither giving an inch where long attacking rallies took place where gasps and then applause could be heard from the watching crowd. The drama did not subside throughout where frustration was shown from both players that they just could not seem to get an advantage over their opponent. The match went to deuce and in the end Lucy sealed victory 14-12 however if Faye won by the same margins you wouldn't argue the result as both players deserved it and the round of applause from the watching crowd. It was Lucy who moved through to the final against her good friend and doubles partner for the day Rebecca Plaistow
Ladies Final
Rebecca Plaistow v Lucy Elliott
The ladies final began and it was determined very early on that both opponents were going to play attacking table tennis and Lucy was taking the initiative and found her groove winning the first set 11-8. Rebecca was not able to find her usual array of attacking winners and could not stop Lucy from finding hers. Set number 2 went all the way to 10-10 and Lucy stayed positive and took a 2-0 lead.
Rebecca, clearly disappointed with her form in the first two sets seeked advice in her corner from South Ayrshire coach Roy Claxton to how she could find a way back into the match. Lucy in her corner taking the advice from longtime Drumchapel stalwart Phil McCallum probably saying keep doing what your doing. At this stage there is still a long way to go in a best of seven set match but did we have a potential shock and could Lucy stop Rebecca winning a 5th title.
In set 3 it is probably with little surprise that Rebecca started to find some form she able to stop Lucy dictating with her big shots and took control and won the set 11-6 and set 4 followed a similar theme with Rebecca dictating play from the serve and the return able to gain early advantages in the point with lucy becoming frustrated her form in the first two sets were deserting her.
In set 5 it started to become closer but the defending champion was always able to keep on top and at key points in the set was able to always be ahead and took the set 11-8. Could Lucy find a burst of energy where she could bring herself back into the match?
In set 6 again Rebecca didn't take her foot off the pedal, always nudging ahead closer to the title. Lucy trying to throw all she could at her just could not get the run of points required to forge ahead. Rebecca at championship point leading 10-9 played a trademark counter forehand cross court to capture her 5th National Championships. The two great friends embraced at the end which brought a close to the ladies championships.
What an achievement for Rebecca to win five titles which is the most in the modern era of our game. Lucy put up a great fight early in the match where she was a worthy opponent. Did the earlier semi final take a little bit out of her we won't know but to take on Rebecca you certainly need to be firing on all cylinders and the talent of Lucy means this is possible. I look forward to these two players playing each other in the future.
Men Singles – Group Stage
15 groups started in the Mens Singles with the top two players progressing through to the knockout rounds. The group stages threw up some interesting matches with highlights coming in the following groups
Group 9 – promising junior Rayyan Khalid from Drumchapel defeated the experienced seeded Gordon Muir from Murrayfield to top the group and Gordon moving through to the knockout rounds as runner up, more to come with Gordons day later
Group 15 – had a three way countback with another Gordon, Falkirk's Mr Waddell returning to his first national championships since 1986. Surely a player of this experience and calibre has not played in this in so long? However, it was fantastic to have him here. In his group he faced off against the two young talents of Charlie Morton from Glasgow South and Murrayfields Borui Chen. Charlie defeats Borui, Gordon loses to Borui and in the final match of the group Gordon has a fantastic win over the seeded Charlie. After top table review the matches countback Charlie tops the group and Gordon moves through as runner up.
All other seeds from the morning groups moved through to the knockout rounds unscathed.
It would be wrong not to mention the fantastic match in Group 3 where Drumchapels Martin Perry and North Ayrshires Ryan Henry played out a fantastic five set match where Ryan came out on top on this occasion but this certainly was the start of the drama for the day ahead.
Last 32
With top seeds Gavin Rumgay and Colin Dalgleish receiving byes to the last 16 the rest of the players battled it out to join them.
Match of the round has to go to Dumfries 6th seed Danny Bajwa and the wirely awkward veteran from Fife, Peter Aird who battled it out over 5 sets. Peter went into a 2 set lead winning set 2 15-13. The spectators fixated on what could be the shock of the weekend however Danny worked it out and managed to fight back to win the match and moved through to the last 16. Letting out a massive sigh of relief as the match closed. This match showed how fantastic our sport can be with old v young and Peter showing age is certainly just a number.
Gordon Muir got over his disappointment at losing to Rayyan Khalid in the group stages by overcoming his older brother 12th seed Zaid in a 4 set win.
Another highlight of the knockouts was seeing Drumchapels Scott Barton back in competitive action after a hiatus away from table tennis. He lost out to Nottingham University student Caum Morrison in the last 32 but certainly signs of the major talent which grazed our tables previously in an entertaining encounter from the two left handers.
In the battle of the youngsters North Ayrshires cadet Nathan Hogg stopped Rayyans Khalids progress by winning their encounter in 11-9 in the 5th set
Last 16
Number 1 seed and 14 time National Champion Gavin Rumgay entered the knockout phase and comfortably overcame the veteran Gordon Waddell. Very commendable the progress Gordon made and we hope he doesn't leave it so long before returning to a national championship.
In the matchup of the round, 3rd seed Niall Cameron took on another player returning to competitive table tennis after some time away Mnachester based Sean Doherty. This match certainly was intense with both players showing high quality throughout but Sean took victory in 4 sets with set 3 proving decisive with a 13-11 swing to Sean after Niall had a lead in the set.
In the other round highlights saw North Ayrshires Chris Main ending the remarkable run of cadet Nathan Hogg. This was dubbed as the coach v apprentice with Nathan being a pupil of Chris at the North Ayrshire club.
2nd Seed Colin Dalgleish came through with little in trouble against Charlie Morton
Gordon Muir continued his progress with a win over clubmate John Hannah in 4 sets.
Calum Morrison moved through against Danny Bajwa in 3 straight sets
Martin Johnson defeated Yaser Razouk in 4 sets
Dylan Curry defeated Andrew MacPherson in 4 sets with set 4 being very tight with a 15-13 win
I would have loved to go into more detail regarding each match cause the quality was phenomenal and the intensity of each individual match brought a great buzz to the hall. You just didn't know what match to watch as a neutral.
Quarter Finals
In the match of the round Calum Morrison faced off against Sean Doherty and what a match it was. starting with the 1st set which Sean captured 18-16. Calum won the next 11-9 but Sean took the 3rd set 11-9. This match was such nip and tuck throughout however Calum showed great spirit by winning the next 2 sets both 11-8 to progress to the semi finals. Where throughout you just did not know who was going to come out on top.
Gavin Rumgay progressed in 3 sets against Dylan Curry from Aberdeen. At times produced sparks of brilliance throughout the match with some wonderful winners but Gavins tenacity showed through in the end.
North Ayrshires young hope Martin Johnson brought Gordon Muirs run to an end winning in three straight sets.
Colin Dalgleish moved into the semi finals with a three set win over British League clubmate Perth Grand Prix winner Chris Main .
Semi Finals
Gavin Rumgay v Martin Johnson
On table number 1 Gavin Rumgay faced off against Martin Johnson in an eagerly anticipated encounter from the watching crowd. Martin fired out the blocks with some devastating winners from both the forehand and backhand sides and took the 1st set 11-5.
Was there a shock on the cards? Would the young pretender be able to keep producing such high class table tennis? In Set 2 the watching crowd sensed it could be with Martin being provided with support from the extensive North Ayrshire clubmates and Gavins loyal band of supporters from his home town of Perth shouting at every chance "cmon Gav" and becoming increasing nervous at what was unfolding (if you know Gavins mum J this is in fact the normal) however Gavin is not a 14 time champion for no reason he was able to compose and win this pivotal set 11-9.
The standard of this match did not let up but Gavin was able to cope better with Martin's high intensity all action game. Martin never let up but missed winners at key points for Gavin to take the set 11-8 and move into 2-1 lead. Gavins experience was able to take over and gain more control. Still attempting some fantastic shots, Martin could not peg back the lead from Gavin and lost the set 11-7. Gavin, clearly relieved at the end of the match, moved through to the final.
The crowd applauded as they were treated to a high quality semi-final and would the young Martin Johnson be chasing Gavins multiple title haul with the years to come, Time will tell?
Colin Dalgleish v Calum Morrison
In Semi Final number two saw Colin Dalgleish face Calum Morrison although both have played around the country in their Table Tennis careers you could regard this match as the battle of Auld Reekie for the younger readers this means the battle of Edinburgh.
With an apology to both players where I hope they can forgive me. It was hard to keep an eye on the action with the battle going on in the other semi final both players take a quieter approach to their matches with the chos and come ons going on the other court it does distract the attention however maybe this was just what the match was all about with no fuss.
Calum would be frustrated as he never got into gear to challenge Colin. Possibly the marathon encounter in the previous round had some bearing on this. Colin took the match in three straight sets 11-9, 11-6, 11-6 with the outcome of set 1 being key in the flow of the match. Colin progressed through to the final without dropping a single set throughout the day.
Mens Final
Gavin Rumgay v Colin Dalgleish
The thoughts going into the final from the crowd gathered, would be thinking can Colin deny Gavin his 15th title. In the 2020 final Colin produced a faultless display to win his first National Men's title however if you know Gavin he would be out for revenge and want to add his record breaking haul of titles.
Into the 1st set there was nothing to separate both players with serve and receive turning out to be the absolute key throughout the match in general. With the set reaching deuce it was clear winning set number 1 may turn to be pivotal in how the match would play out. Both players had their chances to take it however it was Gavin who was able to make the breakthrough and took it 15-13 in a nerve racking exchange.
Both men retired to their corners in a comparison to two boxing champions, Gavin taking advice from fellow Perth born David Tait while Colin reflected in his own thoughts. In Set 2 Gavin was able to gain control similarly in the latter stages of his semi final, giving no cheap points and a strong serve and return took the set 11-7. In set 3 Colin found his stride going up early in the set and maintaining the lead. Did these quiet thoughts between ends start to work? Could he claw back and level the match at 2 sets all.
To use the boxing analogy once more, you better watch out when you strike the champion he will come right back at you and this is exactly what happened, Gavin was ruthless and took the set 11-1. It all proved too much for the 2020 champion to claw back in set 5, Gavin took the set 11-6 and the match 4 sets to 1.
This brought Gavin his much coveted 15th National Singles Title and he gestured after the winning point to his supporters and particularly his family who once again were there from start to finish.
On reflection speaking to both finalists. Gavin did say that the 1st set was key as the match could have swung the other way. If Colin could have grabbed it the flow of their match up may have been different. Colin being disappointed questioned his tactics however this is no surprise with the attention to detail that Colin prepares at Im sure he will go away further analyse what would he do differently but Gavin is our 15 time champion for a reason and always been the toughest competitor.
Ladies Doubles
After reading the singles report from both the mens and womens I hope you have taken a well earned rest and ready for how the doubles competitions played out.
The ladies doubles brought us our first national champions of the day where we had a straight out semi final and the final being played straight after.
Semi Final 1 we saw top seeds Rebecca Plaistow & Lucy Elliott v Tessa Yau & Holly McNamara. There was little trouble for this formidable pair who progresses through in three straight sets.
Semi Final 2 we had Ameila Norbury & Paula Callaghan v Lara Stirling & Ailsa Khalid. On paper you would have fancied the Stirling/Khalid combination but it wasn't meant to be for them, losing out in four sets. This goes to show how close the ladies game is within Scotland as the group of players are all capable of beating each other.
Final
Rebecca Plaistow & Lucy Elliott v Ameila Norbury & Paula Callaghan
The fancied top sets inserted the dominance early on in our first final of the day. Taking early leads they captured the first two sets. The young pair however did not let their more experienced opponents celebrate too early as they clawed back set number 3. In set 4 our ladies singles finalists would not be denied and took the match 11-5 in the final set.
Men's Doubles
Starting the day for mens as their first event was the mens doubles.In a change of a format to the 2020 competition the men were drawn into a straight knockout rather than the groups previously played out. Referee Stewart Mcgowan commented that the aim of this in 2020 was to give the entrants more competition and matches however due to how long this initial group stage took to complete, the more traditional format made a return as 2020 competition did start to be delayed. I wonder if the author of this report, if able to take part in this year's competition due to injury, would have still made another national semi final. I'm sure readers who know me are shocked it took me so long to mention this.
Maybe it's wise just to get back and tell you how the competition played out. In the draw for the knockouts we had a straight last 16.
Highlights of this round was the John Hannah/ Callum Riddoch combination who lost out in a 5 sets to Zaid Khalid/ Yaser Razouk team. The young Walker brother combination Euan & Kieran lost out to Ikenna Asogwa & Patrick Cao in the match which finished last in this round in a marathon which Ikenna & Patrick took victory in the 5th set. This was certainly the start of Kierans weekend of being involved in Marathon matches which would bring a headache to the top table and their schedule. There was no other shocks in this round the expected winners moving through.
Quarter Finals
Lets go straight to the match of the round with the defending champions Martin Johnson/Danny Bajwa facing off against the Razouk/Khalid combination. This match was fantastic, a great display of who could out hit their opponents with winners. No player stepping back but it was Martin and Danny who would progress to the semi finals winning 11-9 in the final set with set 4 being a particular highlight where Yaser and Zaid took it 19-17.
In the other matches there was little surprise as the combinations of Cameron/Morrison, Dalgleish/Curry and Doherty/Main
Semi Finals
In a further classic the defending champions faced Cameron & Morrisons both teams playing out the classic left and right combinations which brought an entertaining spectacle. It was nip and tuck throughout where again the Johnson/Bajwa pair were able to hold out and move to their second consecutive final winning a very tight match 11-6 in set number 5
In the other semi final I feel I could give it the same write up left and right combinations. A very tight match, both teams never taking a step back and wanting to dictate the play. In the end the combination of Chris Main & Sean Doherty were able to hold out against Colin Dalgleish & Dylan Curry.
Final
Martin Johnson & Danny Bajwa v Chris Main & Sean Doherty
The defending matches may have decided early that this time unlike the previous rounds they were not interested in playing a marathon. Martin/Danny compliment each other very well and this close partnership that they have formed edged further in their experience at Dusseldorf in Germany make them a formidable team.
In the first set Martin/Danny took it 11/6, tight services followed up by a big attack made it difficult for Chris and Sean. Set number 2 was the opportunity for them to get back into the match and what a fantastic set it was. It went right to the wire with both teams never able to get that lead and in the end the defending champions took it 16-14. This I believe was pivotal in the outcome. If it swung the other way then it would have been interesting to see how the match would play out. In the 3rd set the young combination continued to shine and took the match 11-5 in set 3 and their 2nd National title in a row.
Mixed Doubles
I will ask for my second forgiveness of the report by saying i was not able to stay around to watch the outcome of the Mixed Doubles and unfortunately the knockout rounds I was unable to keep a close eye on due to the non stop action. The efficiency of the top table in putting matches on my eye was on the other matches taking place in the hall. This should not deflect from the importance of the mixed doubles competition where we have the one chance of the year to watch our top men and women play together.
I would note one of the doubles matches did catch my eye where I witnessed the shot of the weekend from Yaser Razouk playing with partner Lucy Elliot against Danny Bajwa & Paula Callaghan. Yaser played a running diving forehand able to hook the ball round the net as he went head first through the barrier winning the point for his team.
Six teams entered the competition and a preliminary round saw a semi final before the winning teams would play out the final. This was the curtain closer of a long day where this action just did not seem to stop.
In the final we saw Colin Dalgleish & Rebecca Plaistow v Danny Bajwa & Paula Callaghan. Colin and Rebecca justified their number 1 seeding and took the title.
The senior championships were simply outstanding from when the first match began at 9am to the close of play in the evening. The passion and commitment from the competitors who had entered just shows how healthy our game is within Scotland.
It would be wrong not to note the fantastic work done by referee Stewart McGowan and his team at top table and the volunteer umpires who would officiate game after game with no complaint without these people we would have no tournament to enjoy.
The countdown to March begins where the usual time of year for our championship will commence once again.
Recommended Posts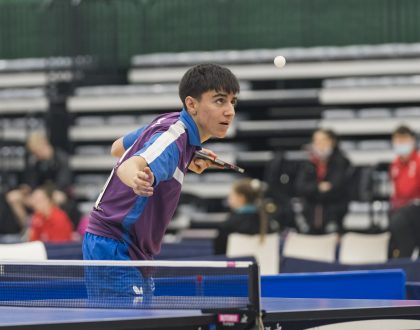 December 05, 2021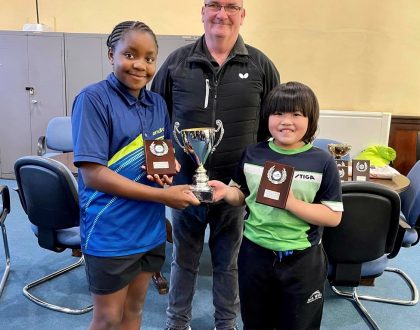 November 30, 2021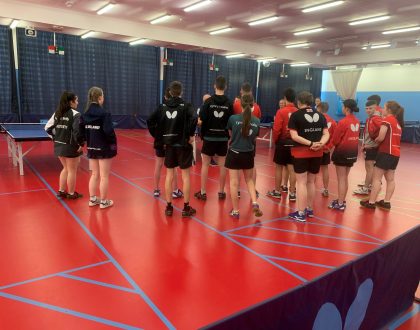 November 29, 2021