---
Howieson Cruises to Jarvis Win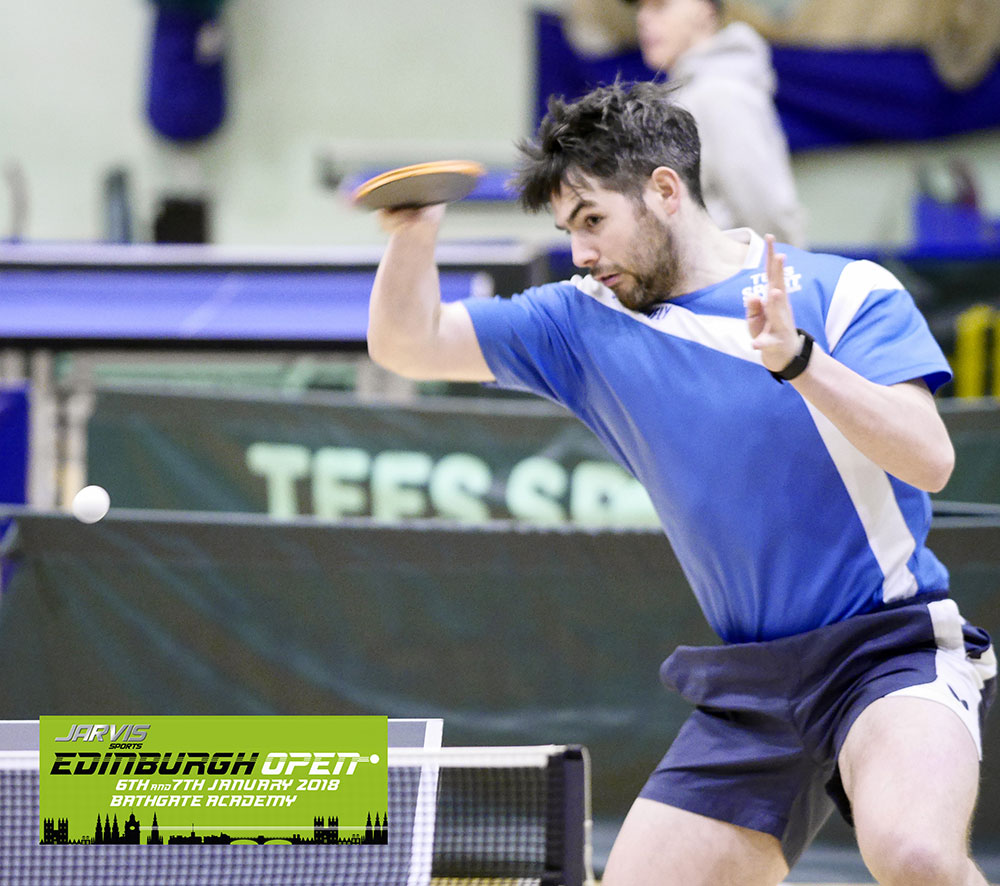 Craig Howieson, Yuhuan Wang and John Hannah took the top honours in Saturday's events at the Jarvis Sports Edinburgh Open, played at Bathgate Academy (6/1/18).
Men's Singles
Top seed Howieson was untroubled as he eased through the rounds of the men's singles, setting up a meeting with Sepehr Bidari in the final. Howieson started slightly slowly against an on form Harvey McDonald in the quarter final. McDonald took a surprise lead before Howieson gradually took control the match, winning 3-1 (-8,7,3,3). In his semi-final, he made swift work of John Hannah with his younger opponent unable to find a way to prevent the Scottish number two from returning his serves with interest ('nothing worked', Hannah ruefully reflected) (8,3,5).
The final was not so one-sided but Howieson was consistently stronger on both wings and though not at his best won in three sets (6,8,11). The closeness of the set scores left Bidari frustrated, feeling that if he'd followed his initial tactics (to aim most of the shots down the line) more strictly he'd have had a chance. Bidari felt that his service that let him down; allowing Howieson too many chances to get in with his strong forehand flick.
Bidari had reached the final via an unexpectedly straightforward win over Calum Morrison (9,10,9). Morrison's form throughout the day was below his usual consistent level and he showed some untypical signs of frustration during his matches. However, Morrison did show some good form in an entertaining match versus Andrew Macpherson (6,-6,-7,6,4).
Howieson was satisfied with his performance as he builds towards what is his primary focus- the Commonwealth Games in April. He is unable to train and play as much as he'd like (due to an on-going shoulder problem and work commitments) but he intends to take part in a two-week training camp prior to the games. He now feels he's played enough over the years to be able to produce a decent level of performance without intensive training. Saturday's comfortable victory was clear evidence of that.
Women's
The women's event went down to a decider between the two top seeds-Faye Leggett and Yuhuan Wang. Leggett's play was based around her fast backhand punch which Wang was able to counter with her equally swift play.
Though Wang felt tired in the latter stages she remain determined-wishing to avenge her loss to Leggett in the Edinburgh Closed (in December). After blowing an 8-3 lead in the 4th, Wang herself mounted a comeback in the deciding set. Trailing 3-8, the title seem to be heading towards her younger opponent before Wang unleashed enough good forehands to edge it 13 -11 (9,-5,4,-8,11). For Wang it made up for a disappointing performance in the morning Band 2 event in which had found some of her opponents' styles difficult to cope with. Leggett was phlegmatic about the loss, feeling she'd played pretty well against an opponent of similar level to her.
Band 1
The morning banded events involved players playing in 8 bands. Band 1 produced a minor surprise with the 6th seeded John Hannah claiming the top prize. Hannah was delighted with his win which he believed was based on a good week of training ('the first decent period of practice I've had for ages') with his Murrayfield clubmates and to sticking to his big forehand even when he missed some.
The top band of 10 players was split into two groups of 5, with the group winners playing off in the final. It was the Murrayfield TTC pair of Calum Morrison and John Hannah who came through the groups, both winning all four of their matches.
The final was, Hannah admitted, 'not the best match to watch', with few extended rallies. Key to his win, Hannah believed, was his return of serve – he felt that he had 'outreturned' Morrison throughout the match (5,4,-4,7). He thanked Stewart Armitage for helping him get used to left-hander's serves immediately before the match. In his key group match (vs number 2 seed Sepehr Bidari) he produced his best display of the day. Looking sharp throughout Hannah soon found himself ahead, eventually winning in four sets (-10,7,7,9).
Other matches of note in the Band 1 event included an excellent tussle between Harvey McDonald and Andy Macpherson- South Ayrshire vs North Ayrshire. Both players produced sharp and incisive play with McDonald's greater service variation helping him take the match (10,-10, 5,-8,9).
John Hannah and Martin Johnson produced a tightly fought match, though Johnson wasn't able to reproduce his excellent form of other recent tournaments. Colin Green almost sprang a surprise when he took Calum Morrison to a deciding set- a few too many service return errors put paid to his chances (6,-3,-9, 5,6).
Report by Charlie Ellis
Photo by Gordon Muir
Recommended Posts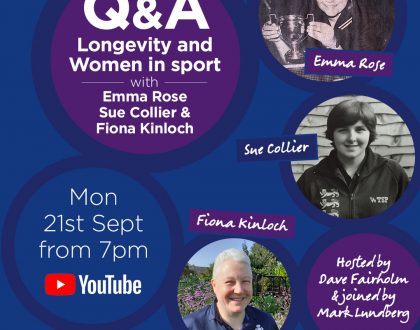 September 21, 2020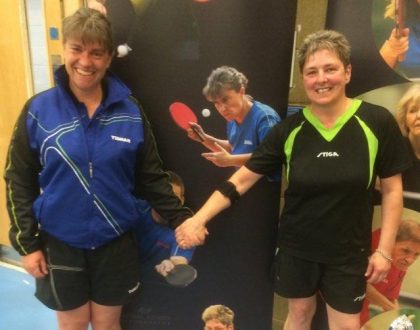 September 12, 2020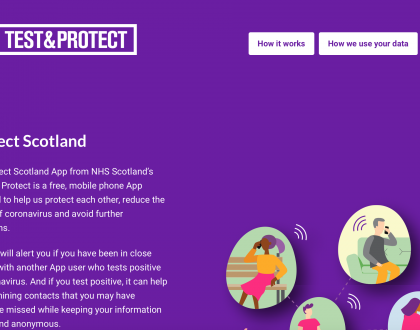 September 11, 2020