---
Hannah Takes Banded Title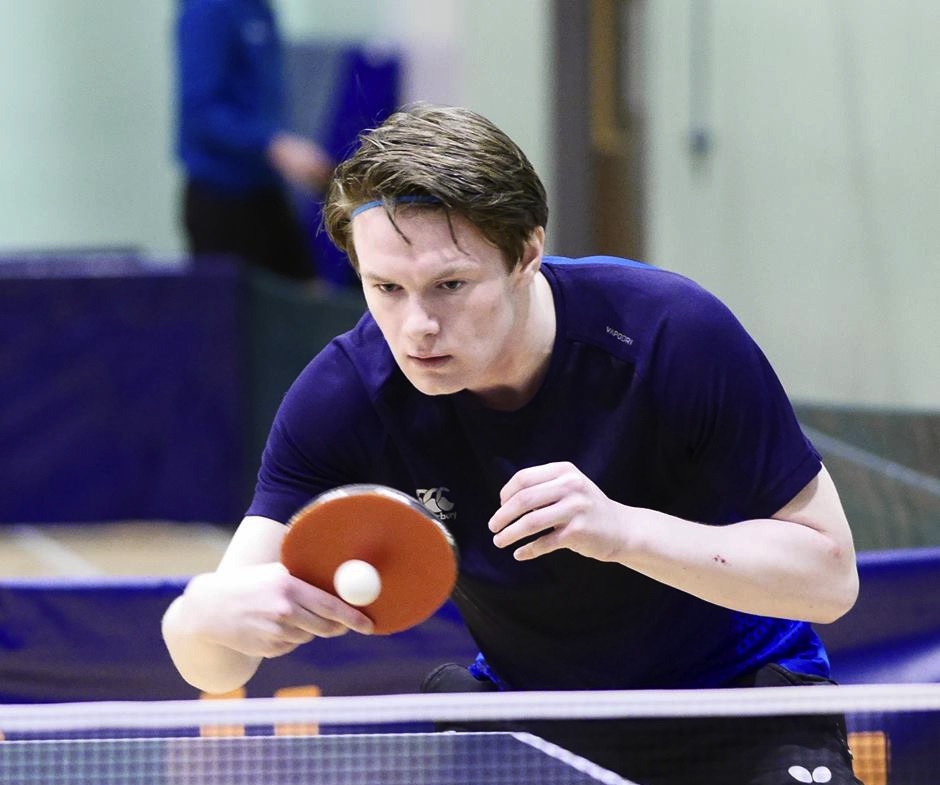 by Charlie Ellis
photos by Gordon Muir
John Hannah secured one of his best results by taking the top prize at Saturday's (17th March) Edinburgh Banded at Bathgate Academy- the third and final banded event of the 2017-18 season. In total 71 players took part in the (oversubscribed) event; playing in 8 single group bands.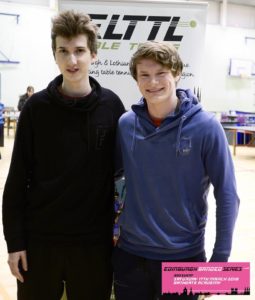 Hannah did so by overcoming the top seed Johannes Laute of Edinburgh University. As per the seeding, they both went into the final match undefeated with a close match expected. The final match started in subdued fashion with neither player finding their attacking rhythm. After failing to convert a 10-8 advantage in the first set, Hannah leveled up the match by taking the 2nd. He also took the 3rd and it was only in the fourth set that the match caught fire. Laute clearly raised his intensity and this also brought out the best from Hannah-the rallies became both longer and more dynamic. A rocket of a forehand counter loop gave Hannah match point at 10-9 and while he narrowly missed with another big forehand on his first match point he eventually closed out the match 12-10.
Hannah thanked his dad Derek for some sage advice in the latter stages of the match. Aware that Laute wasn't at his best, Hannah played a little more conservatively rather than forcing the play. It was only during the final stages that he felt he had to 'really go for my shots'. Hannah was satisfied with his play during the day and felt that his service return had been an important factor in the final match.
Laute was phlegmatic about the result though a 'bit disappointed' by the number of basic errors he made- including a number of service faults which prevented him gaining any real momentum. He congratulated Hannah on the win saying that he found him a tricky opponent (it was the first time they had played a competitive match)- and that some of Hannah's serves had taken him time to adjust to.
The eight man top group was reduced to 7 when Charlie Morton pulled out due to a foot injury sustained in his first match- an entertaining five setter against Harvey McDonald. Though he bravely battled on for his second match (against Stewart Armitage-a 2-3 loss) it was clear he couldn't continue.
McDonald had more than a bit of an off day though he did come very close to beating Hannah in a 'crazy' five set match. It was certainly the loudest Band 1 match of the day with both players getting pumped up and McDonald lucky to escape a yellow card. After being 'demolished' in the first and third sets, Hannah switched to 'less conventional tactics', including targeting McDonald's forehand. So while he felt that McDonald's played most of the better table tennis, his tactics were superior and that this helped him dominate the final two sets (-9, 11, -2, 8, 4). McDonald believed that Hannah's massive forehand counter loop at 8-9 in the second set had been a turning point in the match- 'I certainly didn't expect that from John at such a key moment'.
Laute also had a bit of an early scare- being taken to five sets by Gordon Muir (though Muir didn't really feel close to a victory).
Despite 10 minutes of service practice prior to the match, Laute fault served on five occasions ('nein, nein!'). At 2 sets to 1 up and 7-1 ahead in the fourth set Laute lost his focus and found himself dragged into a deciding set. In fairness, he soon took command in the 5th, winning it 11-6. Laute was also made to battle by Brian Hunter. Together they produced some of the most entertaining table tennis of the day with Laute displaying all of his attacking abilities- the spiny forehand loop and his fast backhand punch. Hunter's determined defence frustrated his German opponent (' what are you doing!!') until Laute powered away in the 4th set (6, -10, 8, 4). Hunter finished a creditable 5th, defeating Gordon Muir having trailed 1-2.
Band 2
Band 2 was very tight with a high proportion of five set matches. Despite battling past an unlucky Lewis Hills in an early match, Rafal Wilowski was- for once- bettered. Peter Aird eventually came out on top with 8 wins from 8 matches as his 'bloody awkward style' confused and confounded his opponents. Aird felt that he was rather lucky to come through his match against Grant Williams- it was his opponents mistakes ('he fell apart at the end') which eventually won him the match not his own play (9, -9,9,-9,7). Another to be frustrated by Aird's style was the runner up, Lara Stirling. Despite being seeded 7th, Stirling had an excellent day, winning 6 of her 8 matches- most of them with some ease.
Band 3
Despite losing the final match of the day (a highly entertaining match with Jake Somerville), newcomer Amit Agarwal took first place ahead of the rapidly improving Tony Nelson. Agarwal was happy with his play over the day-though he had struggled against Alex Asyunkin's 'tricky' combination bat play (5, −4, 5, −8, 9).
Winners & Runners-up
Band 4: Steve Collins, Ikenna Asogwa.
Band 5: Graham Muir, Richard Lo.
Band 6: Andrew Nimmo, David Hay.
Band 7: Josh Orr, Chad Duncan.
Band 8: Holly McNamara, Nathan Hogg
Player of the day: Anders Lundberg.
Results and ratings changes:
https://www.ratingscentral.com/EventSummary.php?EventID=28507&SortBy=FinalMean
Particular thanks should go to:
Team Muir and Yuhuan Wang for running top table (Yuhuan inputted all of the results). Julie Jackson for running the spot the ball competition (won by David Hay) – an excellent new innovation which raised a sizable amount for charity. Dawn Macnamara and Stewart Hennessey for running the refreshments stall. Elaine Morrison for the home baking which was enjoyed by all and contributed significantly to the amount raised for charity. Grant Williams for stepping in to do some additional umpiring.
Recommended Posts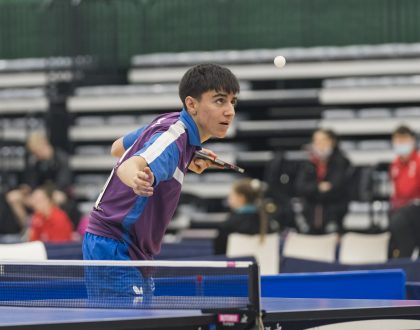 December 05, 2021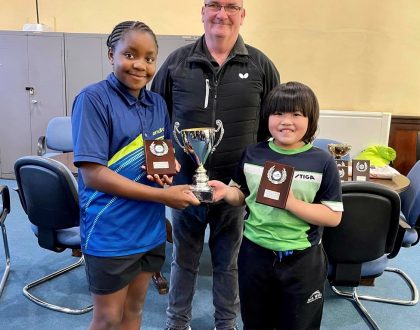 November 30, 2021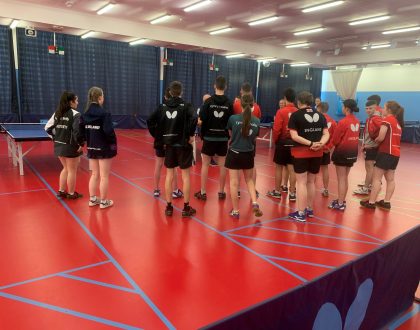 November 29, 2021