---
Hannah Takes Banded Honours
The second and final Edinburgh Banded event of the year took place at Bathgate Academy on Saturday (30th November).
In his opening comments, Tournament Referee David Fairholm praised the efforts of the Scottish team in the recent Home Nations championships, especially Colin Dalgleish, Calum Morrison, Martin Johnson and Lucy Elliott. It was another recently capped international John Hannah who began the day as the clear top seed. He went on to claim the Band One trophy though was tested by several of his opponents, not least by runner-up Gordon Muir in their final deciding match. Both players went into the contest undefeated (Muir coming back strongly to beat Charlie Ellis 3-2 in his penultimate game). Some trademark spiny backhands and a couple of left-handed winners helped Muir keep close to Hannah, before the latter exerted some control in the final set as he simplified his tactics. An edge ball at 7-5 up in the decider help his cause as he eventually took it with some comfort (6, -8, 11, -8, 5). Cameron Hussain also gave Hannah a good test in a match of long exchanges; especially in a lengthy second set which Hussain won 13-11 and according to Hannah 'got everything back'.
Hannah admitted that he felt some pressure as the top seed and found it far from easy as his opponents included several people he plays with and against regularly in Edinburgh and Dundee 'so they all know my game well…I couldn't surprise them'. He found Muir's chop blocks 'difficult to deal with' and couldn't get into a real rhythm apart from in the 1st set and the end of the final set. He was impressed by Muir's ability to read his tactics, which meant he had to constantly change his. His main aim today had been to start to become more ruthless in his match play 'as I'm aware I often give away sets and let people into matches'. He felt that –apart from one bad set against David Simpson – he'd avoided doing that. The 'aim was not only to win but to win well and I feel that I achieved that today'.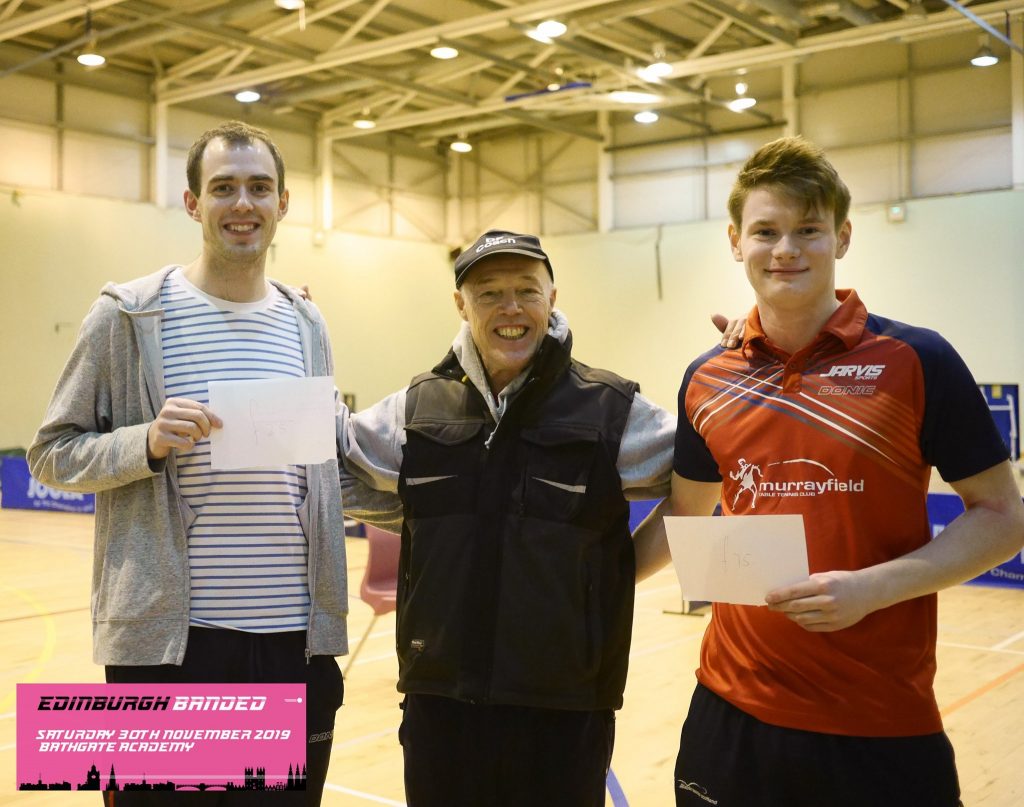 Key to Muir's second place was a 5 set victory in a 'bit of an epic' against Mark Lundberg, in which Muir was forced back from the table on the regular basis and several times crashed through the barriers. A nice down the line backhand sealed it for the Murrayfield player who was in consistent and controlled form throughout the day. David Simpson impressed in claiming third spot with his mix of defensive play and strong forehand hits. A 12-10 in the fifth win against the unfortunate Lundberg was vital for Simpson. Lara Stirling did well how to recover from what she described as a 'brutal' first group picking up two handy wins. Andrew Nimmo also did well on his first appearance in Band 1 with three good wins but was left frustrated by his 1-3 loss to David Simpson. Ryan Docherty had a day to forget but at least picked up the Umpire of the Day award for stepping into umpire several Band 2 and Band 3 matches at the end of the day.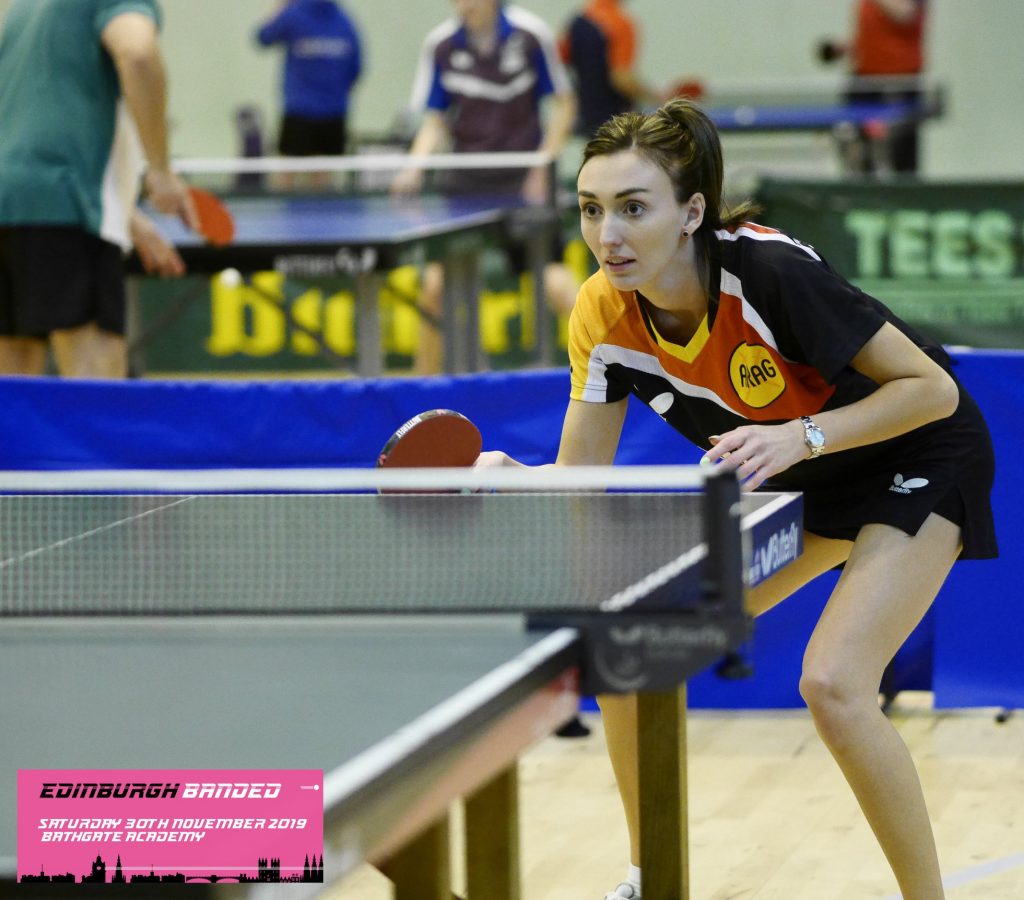 Band 2 was played in 2 groups with a final played by the two group winners and a playoff between the two runners up for 3rd and 4th places. In the final Charlie McGowan came through a close match with his languid Murrayfield clubmate Leandro Golinski (8,-9,13,8). Golinski had edged out Jacob Munro for top spot by dint of winning their head to head match 3-1 (9,5,-4,7). Jamie Sloan kept everyone entertained with some superb strokeplay and finished 3rd in his group. When playing Peter Shaw (who was wearing a Murrayfield TTC shirt probably twice the age of his opponent..) he lost the 1st end at which point his opponent generously told him what he was doing wrong…Jamie took the next 3 sets with some ease (-6,6,8,1). Ikenna Asogwa, was runner-up in the 2nd group, losing only to Charlie McGowan by the narrowest of margins (-5,-7,7,8,11). Asogwa was a comfortable winner in the 3rd/ 4th place playoff off against a highly frustrated Jacob Munro who played some good stuff but couldn't maintain sufficient consistency (6,8,9). One of the matches of the day saw Luke Hennessey, no stranger to dramatic and noisy matches, somehow defeat Brian Irvine 13-11 in the fifth having been 1-10 down! (-11,10,-7,5,11). Irvine was left muttering…'all I needed was one bloody point!').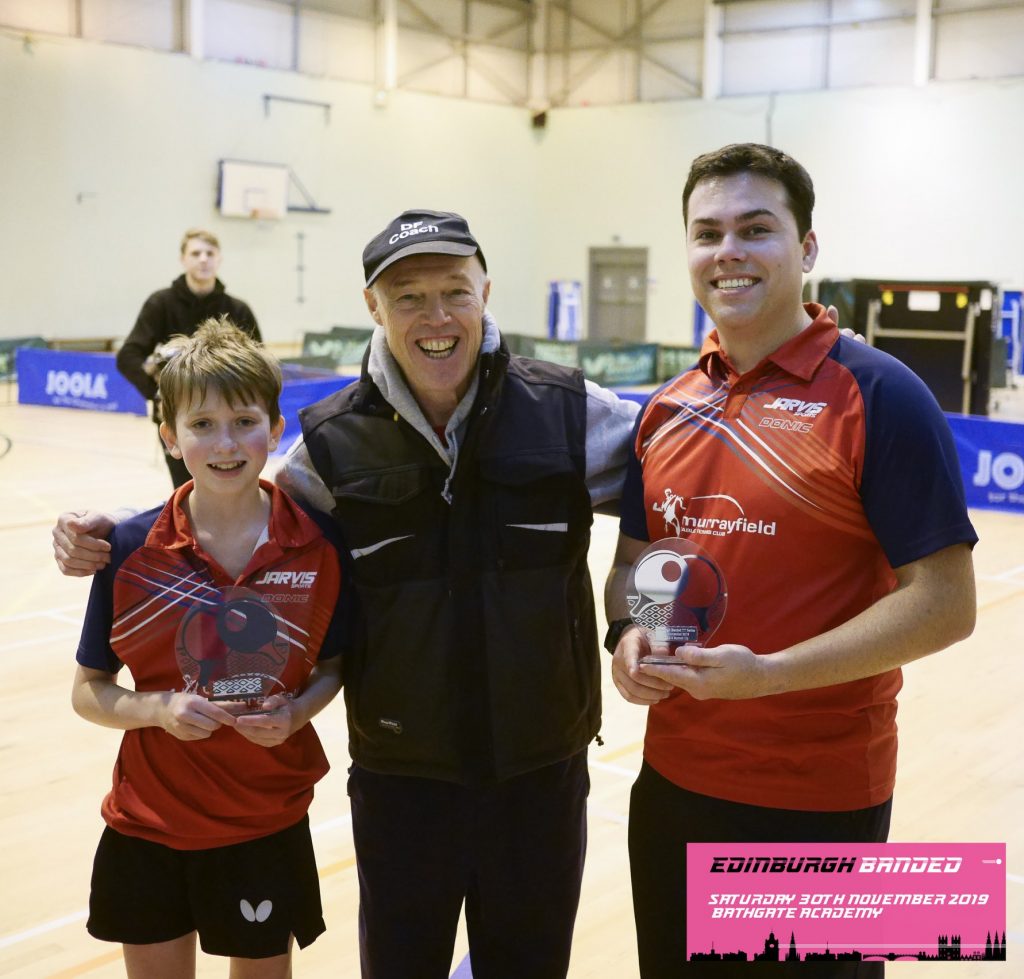 Band 3 was also played in two groups with Haydn Jackson and Andrew Breen (narrowly ahead of Derek Paterson) topping the groups. Jackson was soon 2-0 up in the final before the left-handed Breen came back well in the 3rd. Jackson eventually closing it out in the 4th as a confidence booster ahead of Sunday's Edinburgh Championships (6,6,-7,7). Euan Walker was named player of the day by the tournament referee for his 'good results and excellent attitude'
Band 4 was the tightest of all with 3 players (Shannon Brown, Philippe Alamichel and Noel Sison) finishing with 7-1 records. Brown (of Dumfries TTC) came out on top in the sets countback with Alamichel the runner up (Alamichel actually won their head to head match from 2 sets down: -5,-3,9,11,7).
As always a big thanks to Yuhuan Wang for her efforts on top table; David Fairholm for keeping things running smoothly as Tournament Referee; Lindsay, Graham & Gordon Muir for their organizational efforts; and Stewart Hennessey for manning the refreshments stall.
Report by Charlie Ellis.
Recommended Posts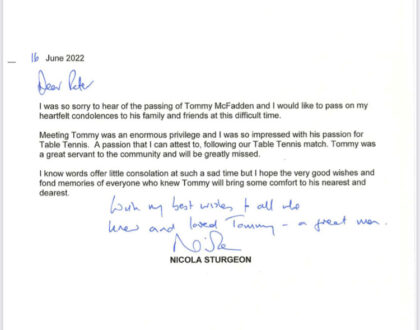 June 27, 2022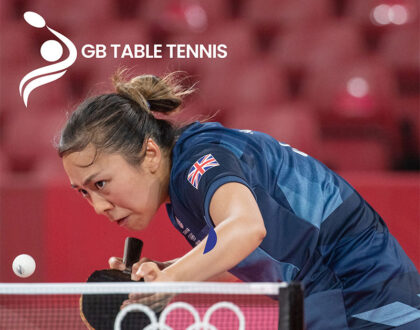 June 10, 2022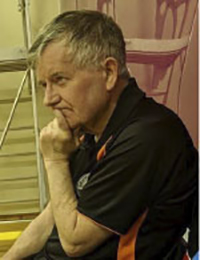 June 06, 2022