---
Familiar faces, familiar leaders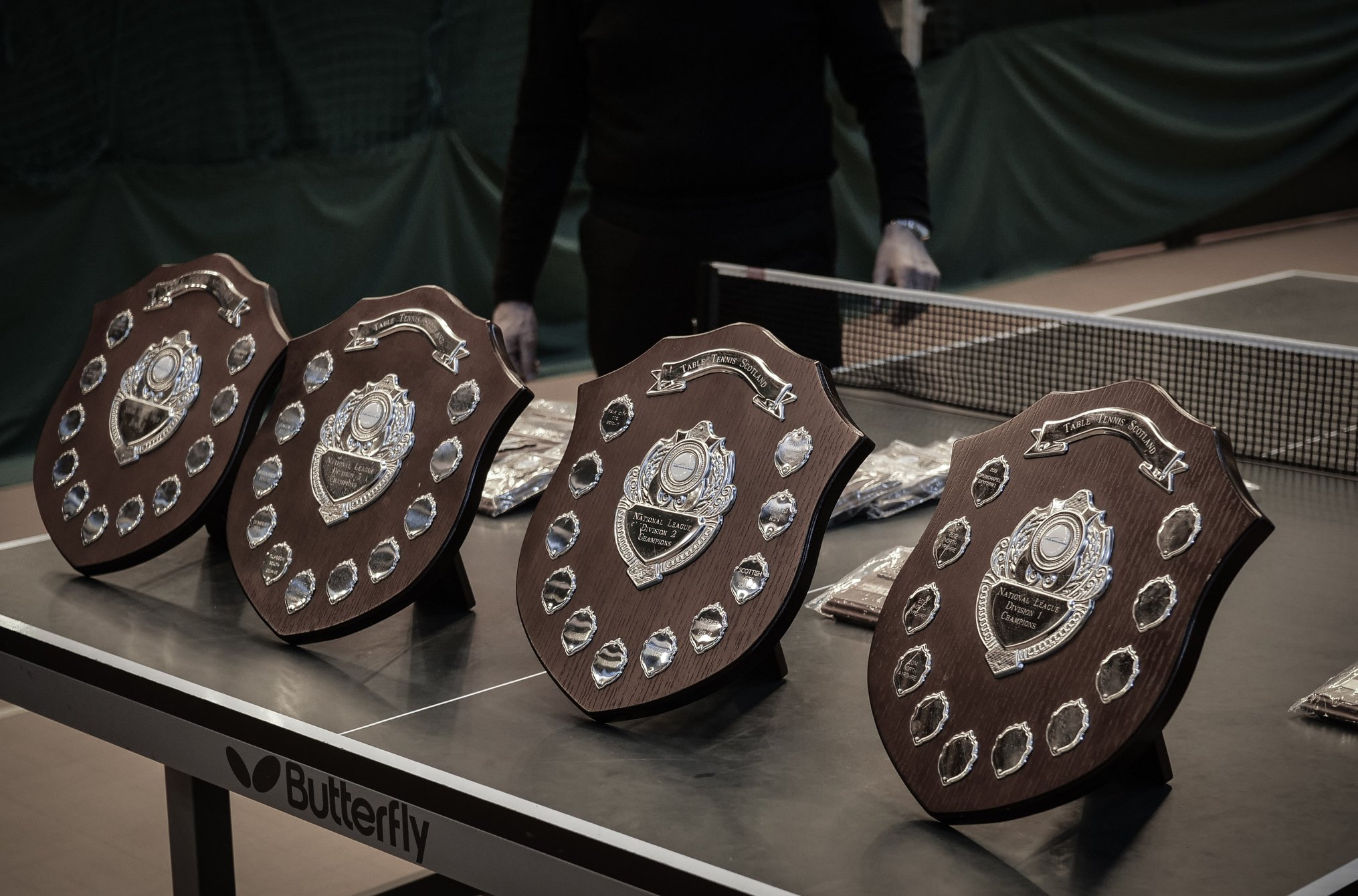 The Scottish National League burst back into life as the 2021-22 season kicked off on Saturday (9th October) at Bell's Sports Centre in Perth.
The SNL's biggest entry yet saw 48 teams compete on 24 tables-the maximum number the hall can take for tournament play. It was great seeing the hall so full and copious excellent matches taking place. Above all, it was fantastic that everyone in the Scottish TT community had the chance to catch up with those they hadn't seen for over 18 months. The familiar faces were there, though some were noticeably taller…and some greyer.
Richard Yule welcomed everyone and led applause for Lindsay Muir and his efforts in organising the league. The previous few days had seen some last minute team changes but everything was ready as the first balls were struck. Though busy, with almost 150 players in action, there was a slight quietness to the atmosphere, as players readjusted to playing tournament table tennis again. Only as the hours passed did the familiar sounds of table tennis competition start to echo around the hall; the chos, applause, and groans of frustration following missed 'sitters' and nasty net dribblers at deuce in the 5th.
Normal service resumed
Already, the top of Division I has a very familiar look to it. North Ayrshire A again lead the way, having completed two 6-0 wins. They were in imperious form, with the ever improving Martin Johnson further strengthening their side. Colin Dalgleish looked to be in fine form, cruising to four straightforward wins. North Ayrshire A's match against their own B team (helpfully playing in different colours) displayed the club's strength in depth and produced some really entertaining matches. Jamie Johnson gave his brother Martin a real test, losing out in four tightly contested sets (11-9, 8-11, 12-10, 11-9). Chris Main and Ryan Henry entertained with some exhibition style long-range rallies, though Main was always in control of the match.
One of the highlights of the morning session was a fine tussle between Dumfries A and Dundee A. New Dumfries recruit Kieran Walker and Andrew Nimmo battled it out over five intense sets. Walker took a 2-0 lead before Nimmo produced a spirited comeback. This led to a dramatic final set which was even throughout. Walker, his face now rather puce, scrambled over the line to take the final set 11-9 (11-8, 11-9, 6-11, 7-11,11-9). This result was key in Dumfries A's victory, with Danny Bajwa leading his side with two wins. Bajwa also produced two wins against North Ayrshire B, but was unable to prevent his team losing that match 4-2. Jamie Johnson secured the win for his side in the very last match to finish, overcoming a determined Kieran Walker 3-1-Johnson's big 'Come on!!' reverberating around, what was by then, a near empty hall.
The Scottish Vets A side had the colossal task of taking on the top two sides from the 2019-2020 season, North Ayrshire A and Murrayfield A. They battled manfully but unsurprisingly lost both matches heavily. They will surely find the remainder of the season significantly easier.
Murrayfield A's Krzysztof Borkowicz was satisfied with his team's performance as they produced two wins. They started with a 6-0 win against Scottish Vets A, though didn't have things all their own way, especially in some tough games against Tam Lawler. Borkowicz praised John Hannah's efforts, who produced some excellent stuff after 'starting a bit sleepily….he played well once he got fired up'. Borkowicz was also encouraged by new player Christopher Wong's efforts, who produced some real flashes of brilliance (especially versus Borui Chen) even though 'he's not in full training yet'. Murrayfield A were given a really thorough test by Murrayfield B, with Kevin Qu securing a good win against Borkowicz and Gordon Muir's unusual variations helping him beat Christopher Wong 3-1.
New recruit Alicja Czarnomska was the key player for South Ayrshire A, winning three of her four matches. Her only loss was in a close encounter with Gordon Muir- the final stages of the match were particularly nervy, with Muir very relieved to edge it 12-10 in the fifth. This helped secure a 4-2 win for Murrayfield B in what was a very well contested match with good quality play on both sides. The quality of the match illustrated by the fact that both Borui Chen and Rebecca Plaistow ended it winless
Division 2 is topped by Glasgow South A, with Charlie Morton leading the way with 4 wins out of 4. He was ably supported by Cameron Hussain and local boy and new recruit Mark Lundberg. Their 2nd match was a 5-1 win over North Merchiston A, with that one loss being in one of the matches of the day. Geoff Hunter digging deep to beat Cameron Hussain in a superb match – 11-8 in the 5th. Though Glasgow South A also won their opening match 5-1, it was a really long and tough contest with four 5-setters. Drumchapel A can count themselves very unlucky in losing all of these tight matches, with Zaid Khalid collecting their sole win. Drumchapel A also lost out to Aberdeen A, who sit alongside Glasgow South A with two victories. Fresh from his success in the recent Vets' tournament, Ross Martin won three matches on the day- only losing out to an on form Zaid Khalid of Drumchapel A. Murrayfield C lie in the spot, though they were a little fortunate to eke out a 4-2 win versus Stirling A, having trailed 0-2. Keith Dingwall winning the deciding match for his side in a battle against a typically obdurate Brian Hunter.
It was a good day for Aberdeen whose B team lie just behind Scottish Vets B at the summit of Division 3. Despite 2 wins for Carsten Giebler, Aberdeen B beat Bellway West Lothian 4-2, and followed that up with a 5-1 win vs Nomads. Colin Green led the way for the Vets, with 4 good wins, including a 5-set victory over Edinburgh University A's Faye Leggett (11-4, 4-11, 11-6, 9-11,11-4). North Ayrshire C lie in 3rd place, courstest of one win and a draw versus Murrayfield D.
An experienced Drumchapel C side lead Division 4, with Adam Smolarek winning all four of his matches, including in a really good contest with Peter Taylor of Nuffield Health Milngavie (12-10, 9-11, 11-7, 11-13, 11-9). Edinburgh University have a strong squad this season. Their B team lead in Division 5, with Mae Ng and Haonan Ji both winning their four matches as they collected wins over Joe Wilson A and Knightswood. North Merchiston B also produced two victories with Eddie Scott winning four from four. Stirling B top Division 6 following comprehensive wins over Murrayfield F and Scottish Vets C. Newcomers to the league, Highlands, won one (vs Heriot Watt) and lost one (Edinburgh University C) as they made an encouraging SNL debut. I'm sure future SNL's will see more teams from that region.
Thanks to Richard Yule for his assistance. Also, thanks to Graham Muir for inputting many of the results and Kenneth Benjamin for his photos. But most importantly, thanks to all the players who participated – and the coaches and family members who assisted. The efforts made by teams getting to Perth (with many leaving home at the crack of dawn) illustrate the widespread enthusiasm for the league, undimmed by the pandemic. See you all back in Perth for the second set of fixtures (3 matches per team) on November 27th.
Full SNL results and league tables are available at: http://www.tabletennis365.com/ScottishNationalLeague
Charlie Ellis
Recommended Posts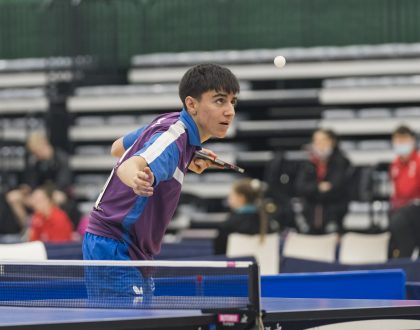 December 05, 2021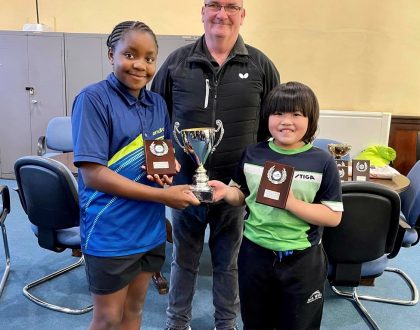 November 30, 2021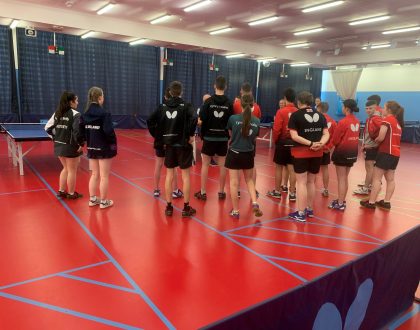 November 29, 2021