---
European Men's Team Championships
2023 European Men's Team Championships Qualification Stage 1, Group C
1st-3rd April, Nicosia, Cyprus
Colin Dalgleish, Danny Bajwa and Calum Morrison, NPC Gordon Muir
The team met at Heathrow on Thursday 30th and embarked on a 5 hour flight and hour transfer to our hotel a couple of miles outside the old town of Nicosia. We arrived at the hotel at 7pm after a full day of travel. With an early start the next day for lateral flow tests and an opening ceremony, we had dinner and an early night. Every day saw us have a match at 10am and 5pm, with the top 3 of 6 teams getting through to stage two of qualifying.
The hall was part of a cavernous sports complex which was home to a range of other sports, with the table tennis hall set up with 3 large match courts and 4 practice courts on slightly slidey Gerflor like flooring.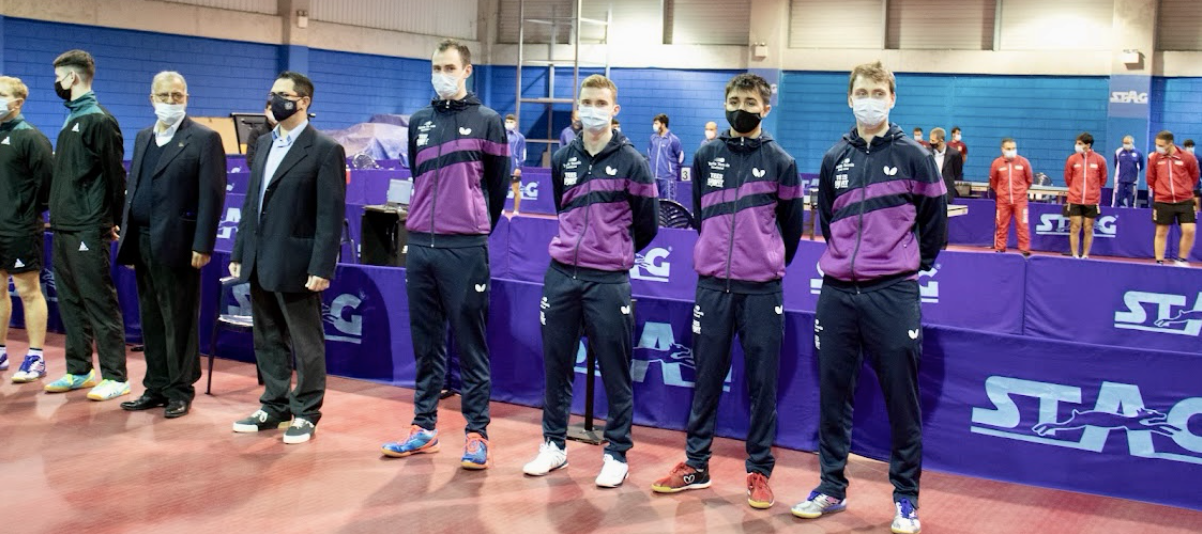 Our first match was against Lithuania. In our morning warm up our players had noticed that conditions made it difficult to serve short and heavy spin was difficult to control. We struggled to make adaptations in time but tried to attack first with good quality where possible. Colin played well in our first game against their no2, but lost out 12-10 in the 5th. Danny then looked in control at times early on against their number 1 Kestutis ZEIMYS, the only player that remained undefeated throughout the competition, but missed a few smashes, and Zeimys got into the game, winning 3-1. Calum also went to 5 against their number 3 but it was not to be. However, it was a promising start considering all other teams had been there at least a day training and preparing in the match conditions. In hindsight, it was always going to be a tough game as this Lithuanian team went unbeaten throughout the event.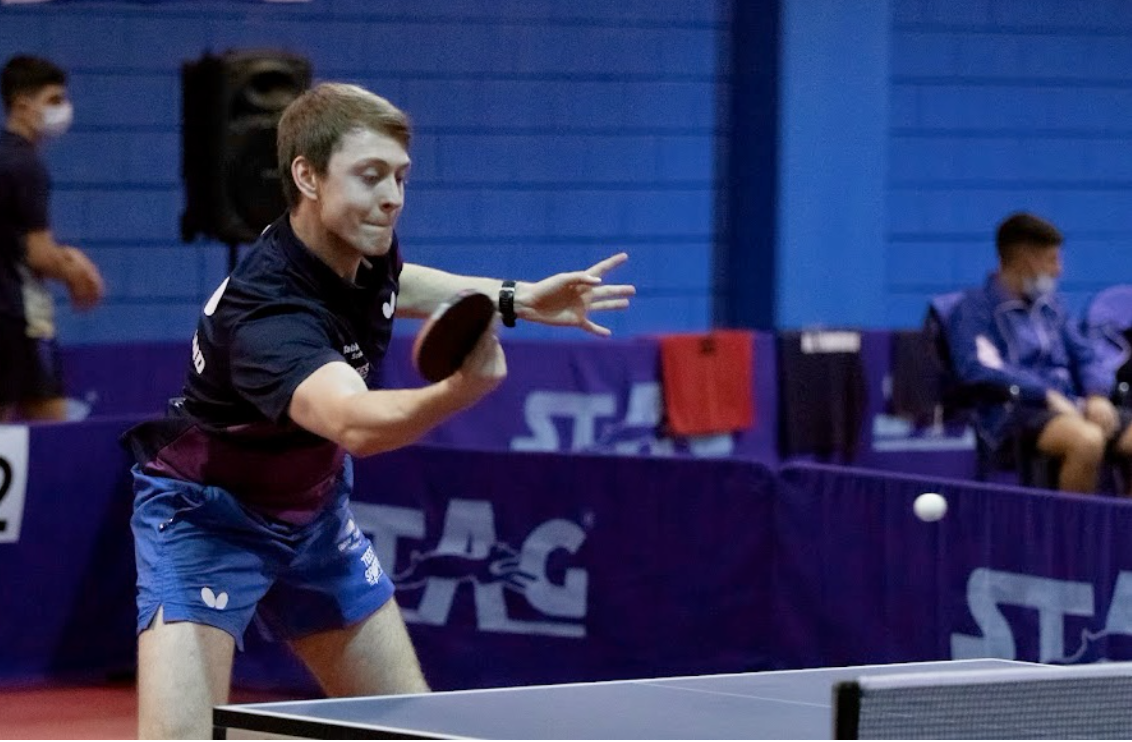 After lunch and a rest we were back at the hall to play a team of slightly older players from Armenia. Danny was on first against HARUTYUNYAN, who had a strong backhand topspin service, which caused problems. Danny started to be more aggressive and did well on his 3rd ball attacks but lost out 3-1. Colin went on next against BAGHDASARYAN, who had strong and awkward pendulum and reverse serves. Colin looked uncharacteristically unsettled by this, but got his head together and played superbly to win 13-11 in the 5th. Once off the court, the Armenian was not happy to say the least! At 1-1, Calum went on in third spot and had a bit of a slow start, not expecting his strong spin-ups to be returned. After some adjustments, Calum came back really well from 2-0 down, often hitting 6+ loops in a row to win the rallies. We were then 2-1 up, with Colin going on against HARUTYUNYAN, with Danny and myself preparing Colin to be ready to flick the topspin service. This was a tight game, with Colin playing well and having some opportunities to seal the win when up in the 4th and 5th sets. It was not to be, and in the deciding match Danny went on against BAGHDASARYAN. Danny did better against the service, and was perhaps unlucky not to get a point replayed when the Armenian coach 'cho-ed' during the point at 11-10 – Danny going on to lose 3-0. This was a solid performance allround against a tricky team, which ended up finishing 2nd in the event behind Lithuania.
On the morning of day two we played Malta. Their no. 1 had tested positive on the first morning and had to be quarantined. They had to play each match with two players (apart from against San Marino, when their coach stepped up!). Calum did well to beat their no. 1 3-0, then Colin went on and looked a bit sluggish but managed to get going and also win 3-0. Danny got the walkover and we got our first victory and an early finish allowing us to scope out our evening match opponents Cyprus while they played Armenia.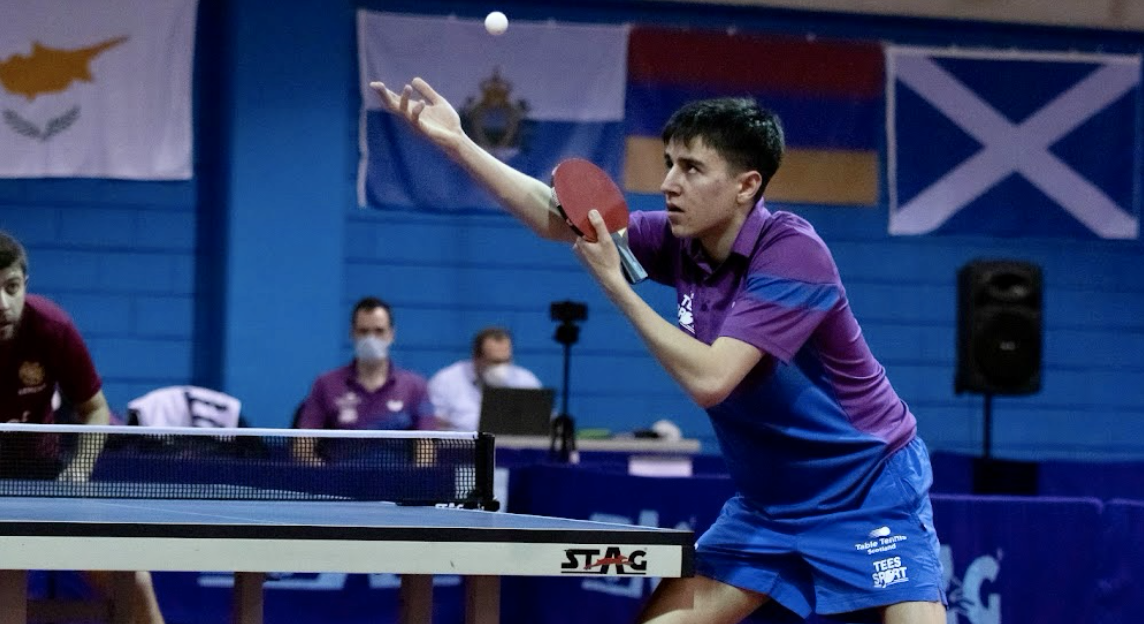 The evening match against Cyprus was going to be tough. Gavin Rumgay's current 3rd Bundesliga Champion teammate Marios Yiangou led their line up, with the fiery and strong pocket rocket ELIA brothers in no. 2 and 3 spots against us. Calum went on first against Marios and did well on serve and receive, but found it hard to match the quality in the rally and lost in 3. Colin struggled to stop Iosif Elia from playing forehands, but adapted well after the 1st set, successfully targeting the backhand and winning 3-1. There was an enthusiastic home crowd assembled by this point, with perhaps 40 Cypriots enjoying the match (And 1 Scot, Calum's Dad Craig!). Danny was a bit nervous before his match, but did a fantastic job of channelling his energy in a positive way, flicking, serving and 3rd balling his way to victory 3-0 in an almost flawless performance. Now we were 2-1 up, with Colin going on against their no1 Marios. After Colin stole the first set from behind, Marios came out flying, winning the 2nd 11-2. Nerves set in a touch for him and Colin played brilliantly to take a 2-1 lead. Colin perhaps played a bit too much to Marios' stronger forehand in the 4th, losing it 11-7. In the fifth, Colin again played really well, and was up in the 5th 8-5. However, it was his opponent who finished strongly, the Cypriot winning 11-8 in the 5th. Calum then played well in the deciding match, including making a spirited comeback to deuce in the 4th, however his service receive and rally play couldn't quite match the strong attacking play of Losif. It was a tough loss to take, but a fantastic match nonetheless with the team giving it their all.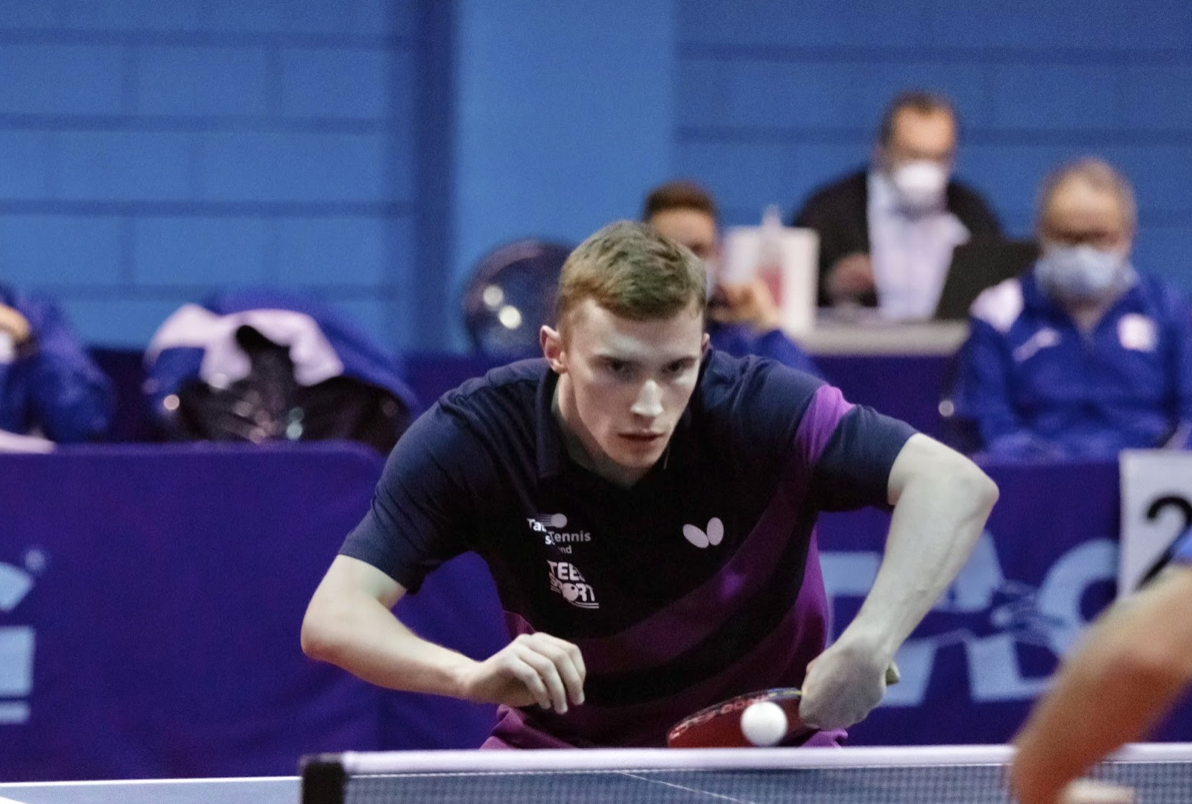 Our final match on Sunday morning was against San Marino, who had lost out to Cyprus 3-2, 16-14 in the 5th of the deciding match. Calum went on first against their no. 2 GIARDI, but didn't test out his opponents weaknesses until after a time-out at 8-8. He was unlucky to lose that set 12-10, but did well in the second set to win 11-6. GIARDI then adapted well and won the final two sets. As on the Saturday morning, Colin started slowly losing the first 11-4, but after resetting, relooped and served well to win 3-1. Danny elected before the match to play the only modern defender at the event, and started well, hitting some great forehand fades and getting the first thumbs up from one of our opponents congratulating him on some nice play! His opponent started to attack well with the forehand and targeted Danny's wide forehand with heavy backspin, making it difficult for Danny to finish off the rally. However, Danny's excellent use of angles sealed the match in the end; 11-7 in the 5th putting us 2-1 up in the match. Colin was fired up and in the zone for his final match, winning the first set 11-3. However he did allow his opponent to play a little too much, losing the next 11-5. However, Colin was too strong, particularly on the backhand, and sealed the game 3-1 and with it the match to leave us with a 4th place finish overall.
After lunch, we walked into the old town to explore. We saw the Turkish border in the city centre, enjoyed the sun in the modern Eleftheria Square park, and had some excellent kebabs before heading back to our hotel ahead of a 7am start the next day to travel home. The players were a pleasure to have on the trip, professional and made the most of the experience.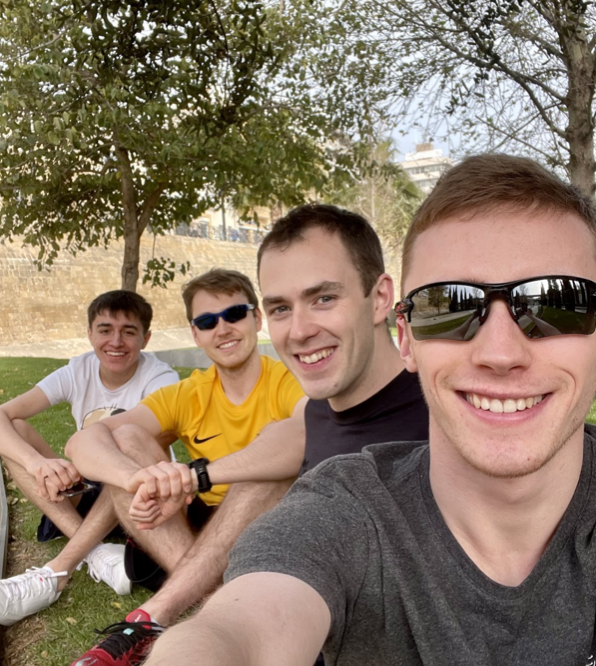 Although we do not have the table tennis schools, full time halls, coaches or players that several of the countries we faced this weekend do, added to the fact that Colin and Danny were not feeling 100%, we were in the mix and unfortunate not to qualify. However, I do feel that we as a country can do more with what we have. Although our three players have very different styles, I think one area that our players could collectively improve was their receive against short topspin and no spin serves.
A big thanks to the organisers at the Cyprus Table Tennis Association, who looked after us well and organised a great event. Thanks also to Richard Yule for organising the trip and Martin Johnston for being a last minute standby in case one of our players tested positive in the run up to the event.
Colin Dalgliesh – 5 wins 3 losses in no1 position
Danny Bajwa – 3 wins 3 losses in 2nd / 3rd position
Calum Morrison – 2 wins 4 losses in 2nd / 3rd position
Written by Gordon Muir with thanks to Charlie Ellis for comments on an earlier version of this piece. Action photos courtesy of the Cyprus Table Tennis Association.
Recommended Posts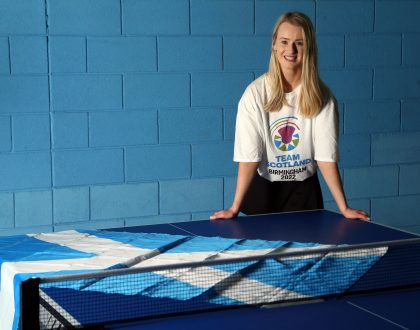 April 30, 2022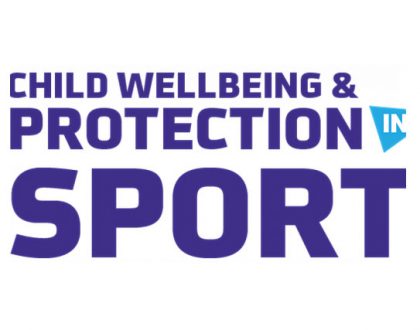 April 30, 2022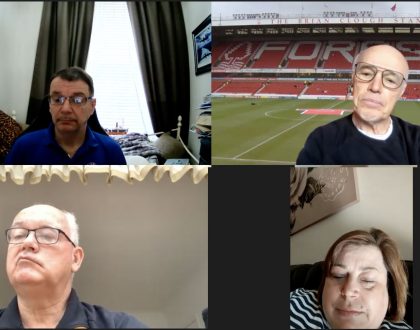 April 28, 2022