---
SCOTLAND V WALES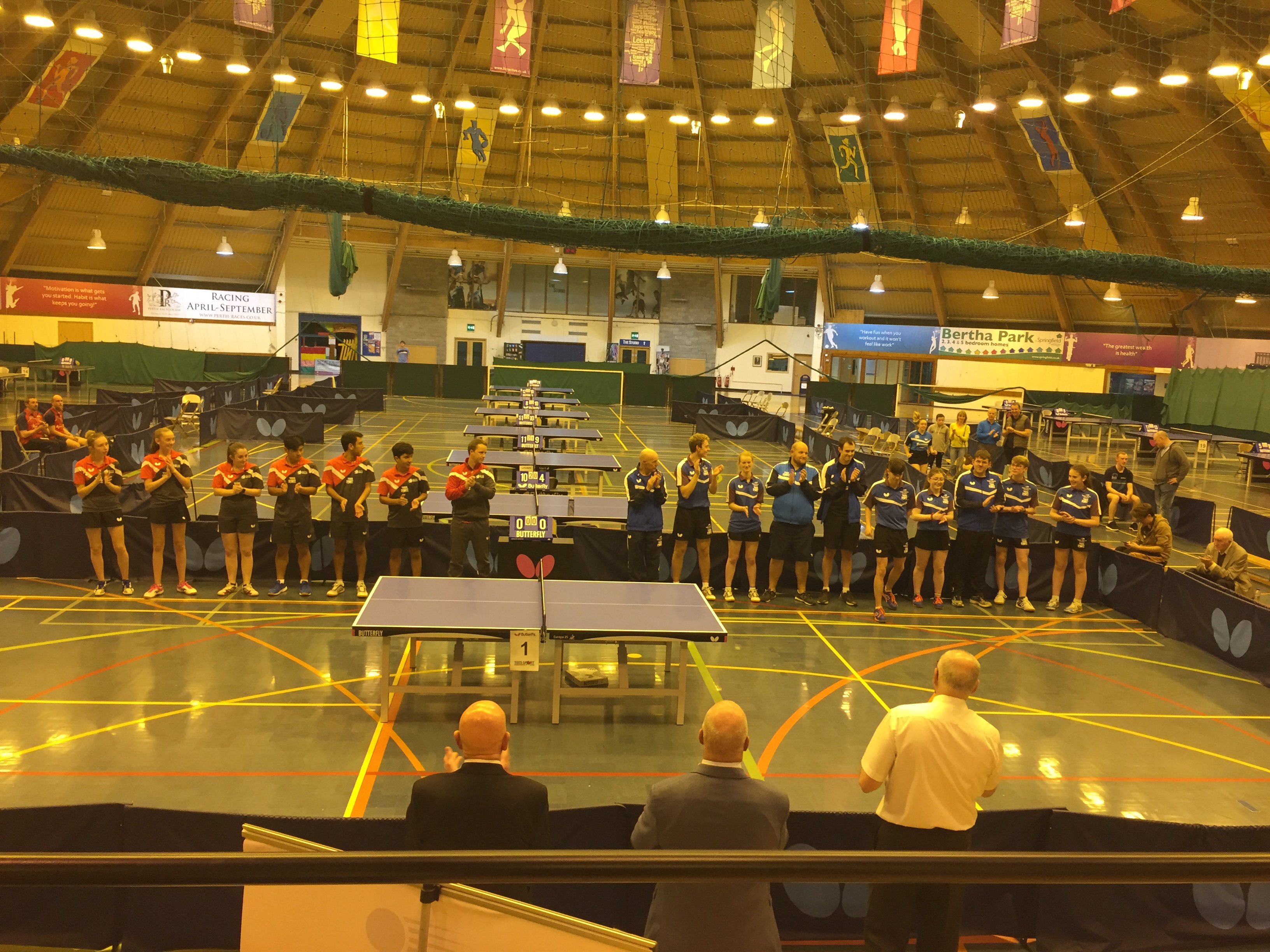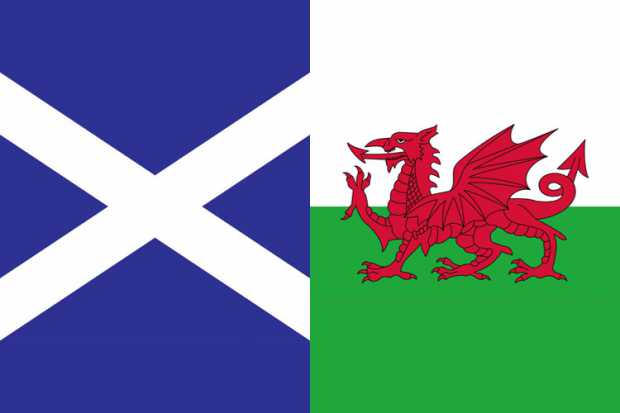 BELL`S SPORT CENTRE, PERTH, 13 OCTOBER
Scotland emerged comfortable 8-1 winners against our visitors from Wales in a most entertaining match held in Perth as part of a mini festival of table tennis at Bell`s Sport Centre. The match was sandwiched between the first day of the Scottish National League and the Perth Grand Prix open Tournament.
It would be fair to say however that the score flattered to deceive in that there were several closely contested games which on this occasion went Scotland`s way. Welsh Legend and Team Manager, Ryan Jenkins travelled north with six players, two seniors, two juniors and two cadets for competition in three mini matches comprising two singles and a mixed doubles. Scotland won all three matches, Senior 3-0, Junior 3-0, Cadet 3-1.
A big vote of thanks to Match Referee, Stewart McGowan and umpires, Catherine O`Neill, Paul Jackson and Barry Johnston.
CADET MATCH
Scotland, Holly MacNamara and Josef Bokedal : Wales, Morgan Day-Davies and Rashad Al Dahiri
Josef and Holly were not overawed by the occasion and started the doubles in impressive style going 2-0 up before the Welsh duo rallied to win the 3rd end convincingly. But the Scots' consistency proved stronger and they gained the upper hand in the rallies to secure an impressive win. Both players remarked how surprised they were with how well they performed.
In the singles, Josef won 3-1 against a tricky opponent with short pimples with both players executing strong consistent forehands throughout. In the final analysis Josef's variation on serve and return was the deciding factor.
Holly was up against an experienced Welsh player who also had an excellent backhand topspin. Her service was under pressure repeatedly with her counterpart attacking as much as she possibly could. Despite this Holly was able to rally well in general and whilst she lost 0-3 she scored respectable in each end. Again, her superb performance in the doubles was crucial alongside Josef.
Both players should be proud and it was a pleasure to coach them.
Paul McCabe (NPC)
JUNIOR MATCH
Scotland, Paula Callaghan and Dylan Curry: Wales, Lydia John and Yameen Al Dahiri
Paula and Dylan did well to win the opening mixed match 3-1, having lost the first end 10-12. It was interesting to see the two styles of Dylan and Paula building on their experience of playing together at the European Youth Championships in Romania in July, complimenting each other in the doubles, Dylan's power and strong service game with Paula's great consistency, placement and awareness.
Dylan Curry continued to impress in his singles match and proved to be too powerful on both wings for his Welsh opponent Yameen Al Dahiri. The Scots were both match tight and benefiting from having played earlier in the day in the Scottish National League.
Paula showed great maturity and an excellent match temperament in overcoming in five closely contested sets her experienced opponent, Lydia John, to close out the match tie and give Scotland a 3-0 victory.
Both players were a pleasure to captain and appear to have a bright future ahead.
Gordon Muir (NPC)
SENIOR MATCH
Scotland, Rebecca Plaistow and Colin Dalgleish: Wales, Beth Roberts and Marc Castro
First match in the evening was the mixed doubles in a highly entertaining 5 set match Colin and Rebecca started the match very strongly, with positive play forged a good lead but credit must be given to their welsh counterparts who clawed their way back into the set and edged to take the first set. The next 3 sets the spoils where evenly shared where all 4 players seem to cancel each other out with attacking table tennis. In the final deciding set Colin and Rebecca built a large lead which was unassailable for the Welsh team to overcome. A good start from the team especially after a long day where both players had played 6 singles matches for their respective teams in the Scottish National League.
The next match was the men, played over best of 7 sets. A highly entertaining match developed where Colin showed a fantastic display from both wings where he overpowered his opponent to win 4-0.
The final match of the evening was the ladies where both players showed some fantastic skills with some great rallies. Rebecca prevailed with 4-1 victory but each set was very close where Rebecca's ability to close out the set showed great progress in her International Career.
Overall a great match for Colin and Rebecca where their fitness and positivity has to be commended after a long day playing in Scottish National League. I believe the further experience of playing for their country in a fantastic evening of international Table Tennis will greatly benefit their season ahead.
Mark Lundberg (NPC)
Recommended Posts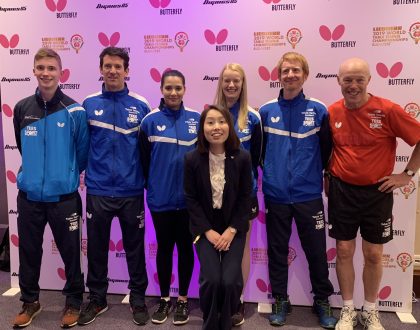 May 13, 2019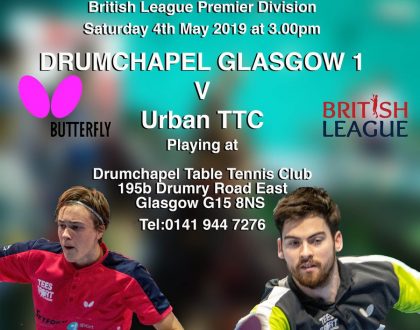 April 25, 2019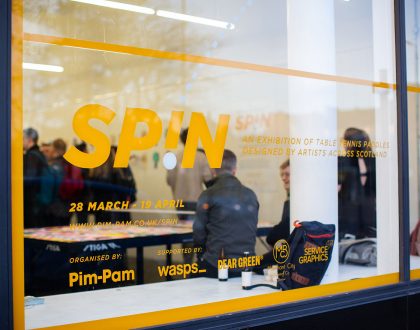 April 19, 2019