---
Jarvis Joy for Morrison, Morton and Yao.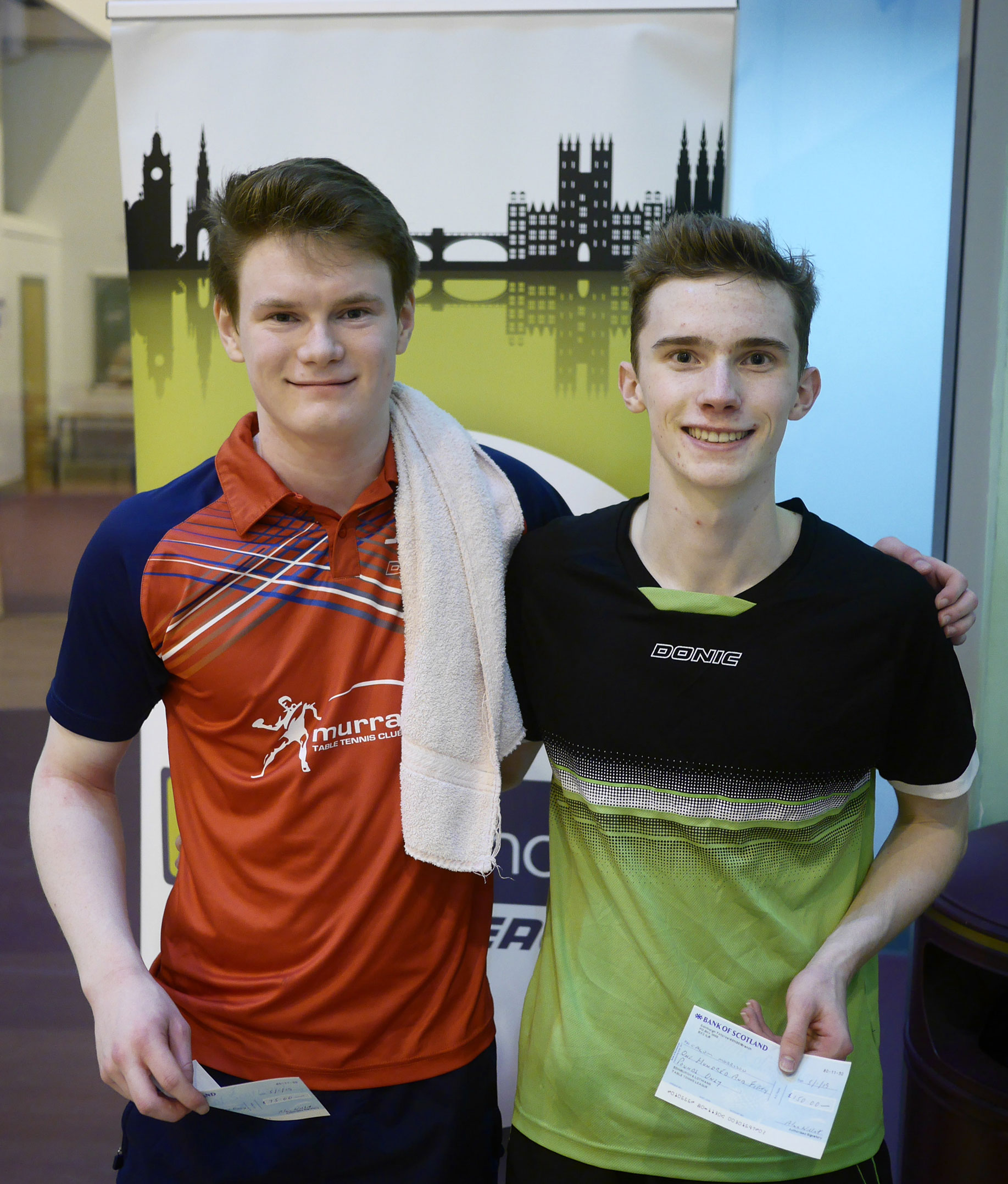 Please see all the links to the points changes, full results, report and photos.
Ratings Central Points Changes
Saturday Prize Winners and Full Results
Sunday Prize Winners and Full Results
Saturday Report by Charlie Ellis
Presentation and Action Photos
We had a record-breaking 134 players for an Edinburgh tournament this weekend, and they played 492 matches over 17 hours of play. Huge thanks to everyone that made the event possible, all the volunteers, Jarvis Sports and the Wongs for sponsoring the event and all the participants for supporting the event.
Jarvis Edinburgh Open- Saturday events (5/1/19).
The first Scottish tournament of 2019 took place at the weekend- the Jarvis Sports Edinburgh Open. 104 players from far and wide took arrived in Bathgate hoping to burn off some of the Christmas excess. The quality of the field was elevated by a squad of strong players from Ulster who played a well attended international match versus Scotland team at Haddington the previous evening. Haddington's own Pete Lugton made a welcome return to the tournament scene- his match in the Band 4 final against Andy Dunlop saw both players rolling back the years. Dunlop eventually taking a highly entertaining 5 set match (11,-5,5,-10,4). Also making a comeback to tournament action (as a player than as an official) was TTS's Stewart McGowan.
The day was divided into two parts: 8-banded events in the first part of the day, followed by a range of knock-out events in the 2nd half.
The opening set of matches began with an epic pushing contest between veterans Brian Irvine and Joy Daniels which had umpire Mando Notarangelo losing the will to live and tournament officials seriously considering whether employ the expedite rule! Though, mercifully, all the other matches were shorter, the banded character of the morning events lead to a large number of close matches.
Band 1.
In Band 1, Thomas Earley (of Ormeau TTC) added some variety and contrast to the matches with his accomplished chopping (mixed with varied attacks). In his opening match, Earley recovered impressively from 0-2 down to defeat Calum Morrison. Morrison felt that his returns had been 'a bit predictable' in the match and that Earley's service variations had 'made it hard' for Morrison to attack. In an energetic match, one of the day's most impressive performers- Martin Johnson of North Ayrshire- tussled with Kris Borkowicz over 4 tight sets, with the Edinburgh-based Pole coming out on top has he produced some forehand thunderbolts. Johnson was also very impressive in his 3-0 victory over Calum Morrison, while Borkowicz battled back well to beat Thomas Earley in the fifth (a returned edge on a key point helped him).
In the Band 1 final, Keir Morton stormed into a two sets lead before Kris Borkowicz edge game 3 and threatened a big comeback. This didn't fully materialize and Morton closed it out 3-1 (9,7,-8,8). Coach Dylan de Silva felt that the match was classic case of who 'got in' first generally won the point: 'it was a physical match' with Keir's big forehand prominent. Crucial to the win, he believed, were the adjustments Keir made to his service return which helped 'nullify Kris' excellent short serves. In general, it was a frustrating day for Borkowicz who wasn't able to maintain his usual level throughout the day.
Women's singles.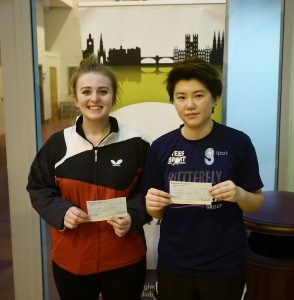 The group stages largely went according to the seeding, though Joy Daniels again displayed her impressive blocking and countering ability with a surprise win over Yuhuan Wang.
The semi-finals saw very comfortable wins for Yao Tang (over Faye Leggett) and (the consistently mispronounced!) Alicja Czarnomska (over Joy Daniels). The final was a fast-paced affair with Yao Tang generally on top and sealing a 4 set victory (8,8,-9,7).
Men's Singles.
The quarter-finals brought together some of the leading players in Scotland and produced several fine matches. The pick of the games saw Martin Johnson edge out Danny Bajwa in five sets (-7,5,-8,5,10). Bajwa did however have the consolation of taking the Band 2 event.
The men's singles final saw John Hannah take on Calum Morrison – the latest of countless encounters between the Murrayfield pair.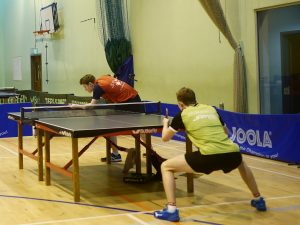 Hannah produced his best performance of the day in beating an in-form Martin Johnson 3-0 (8,4,11). Morrison also raised his game to overcome Borkowicz in an enthralling match (-10,8,8,-3,11). As usual, the Hannah vs Morrison match was an edgy affair with few extended rallies. Hannah seemed on course when he eventually (after 6 game points) took the third set 18-16 but Morrison bounced back quickly to dominate the 4th and then take the fifth by the narrowest of margins (8,-7,-16,4,9). Hannah was left a little bit frustrated with the result but admitted that he'd been below his best throughout the day. Morrison too had a day of mixed results which makes his final victory highly commendable.
Veterans' singles.
After comfortable semi-final wins over Dylan De Silva and Colin Green respectively, Daryl Strong and Gerry Campbell met in an excellent final- one of the matches of the day. Strong's sharp flat hitting contrasted with Campbell's more languid strokes; between them they produced several rallies which entertained the spectators (one rally had everyone on their feet in appreciation). After a tight 1st set (was there a fine edge on the final point?), Campbell pulled his hamstring early in set 2 bravely played on before conceding at the end of the second set. Strong's victory was though well deserved (9,10,0).
Under 23's.
After a tight match which he trailed 1-2 Andrew Nimmo finished the final very strongly, taking the closing 2 sets with some fluent attacking play versus his increasingly frustrated North Ayrshire opponent (9,-7,-11,2,2).
report by Charlie Ellis
Recommended Posts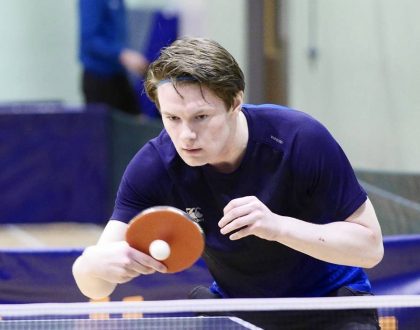 December 05, 2019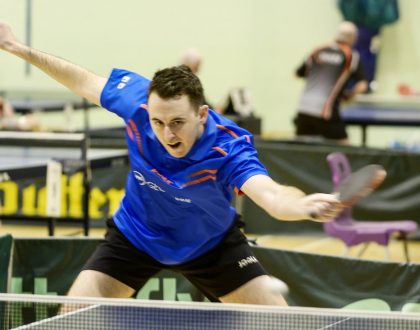 December 03, 2019